So yes, our little trip to my Granny's house in Huntington, WV was focused on a makeover mission – but that doesn't mean it was all business.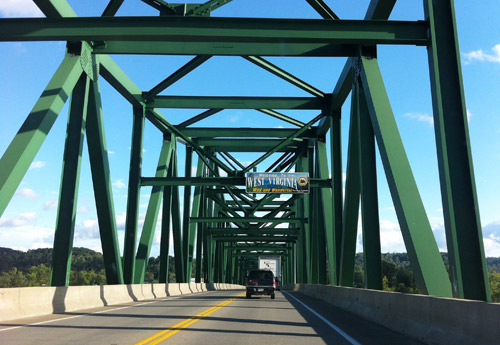 My parents joined us for the trip, so they spend much of the day having fun with Granny and Clara while we worked on the bathroom. But one night were able to sneak out with them after dinner for a quick trip to the playground at Ritter Park, our favorite green space in Huntington.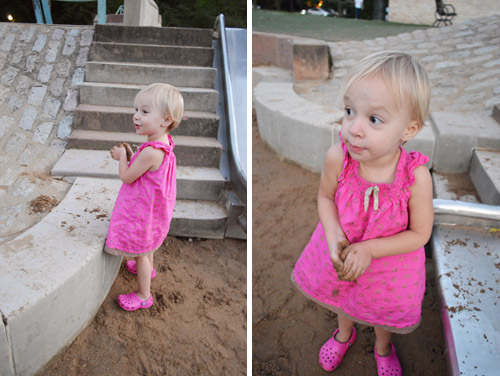 But most of our "free time" came the last morning while we were waiting for Granny to return home so we could reveal the space to her. While Sherry worked on some last minute bathroom touches, Clara and I used the time to browse Granny's many box-fulls of old photos. Clara even got into character by borrowing one of Granny's hats.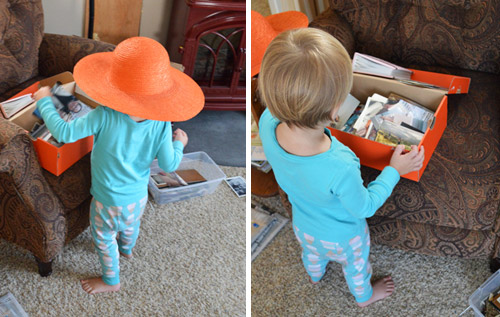 I could've looked at these all day.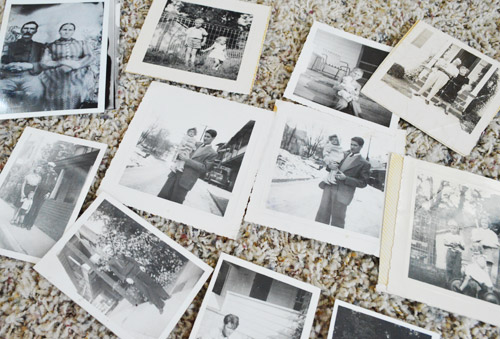 And apparently Clara caught the house-sprucing bug while we were there and wanted to go "paint" outside with water.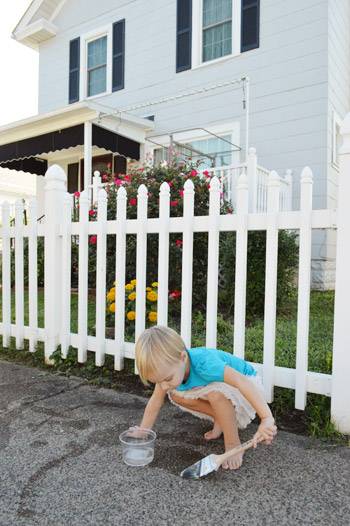 We love this pic because it looks like some old-school Huckleberry-Finn-esque picket fence painting.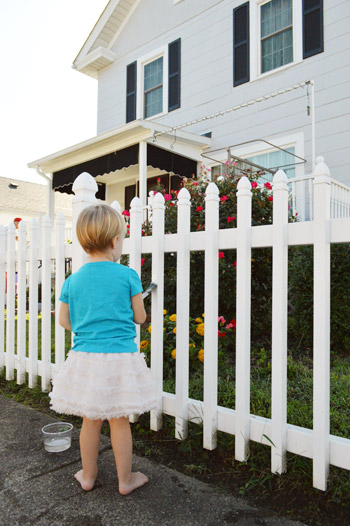 But as cute as that moment was, this one below totally takes the cake as our favorite of the trip. Clara was OBSESSED with the stairs (perhaps the first carpeted stairs she's ever encountered). She slid, jumped, and made her parents nervous in all sorts of other ways on them all weekend.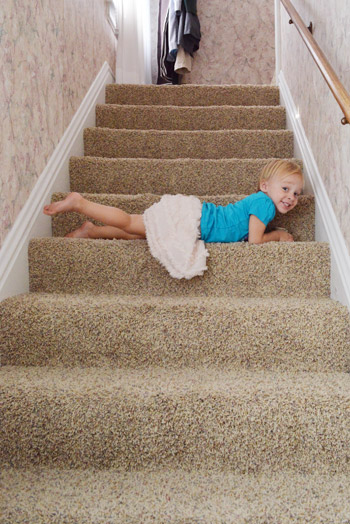 It's also a special photo to me because I have fond memories of playing on these stairs myself. Though my sister and I preferred to highjack a mattress and turn it into a slide. I'll give it a few years before I let Clara in on that little secret…
&nbsp
Clara started preschool last week. Who took our baby and replaced her with this little girl?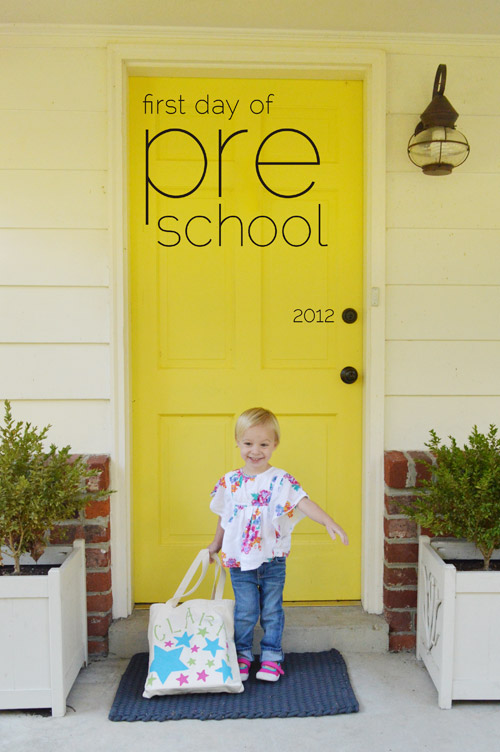 After some debate, we decided to enroll Clara in a local 2-day per week preschool. It's just the mornings, so she's there for three hours on each of those two days. She loves being around other kids so we thought it was the right time for her… but we still held our breaths a bit on the first day. Would she cry? Would we cry? Would we get called half-way through to come pick her up because she was having an all-consuming sobbing fit?
Nope. There were dry eyes all around. Heck, Clara was so excited when she arrived that this is the only photo we managed to snag before she disappeared into the classroom. Seriously, she sprinted in without a look back in our direction.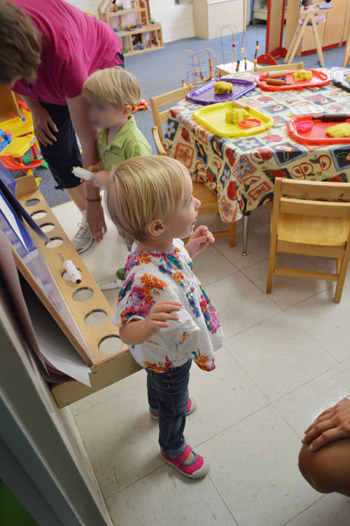 When we picked her up three hours later she was all smiles and kept telling us how they sang and painted and played on the playground. Her teacher even reported that it was "the best first day of school" in all of her years of teaching. Apparently there were no tears from any of the twelve kids in her class, which has never happened before. So she is really excited about what the year ahead holds. And so are we.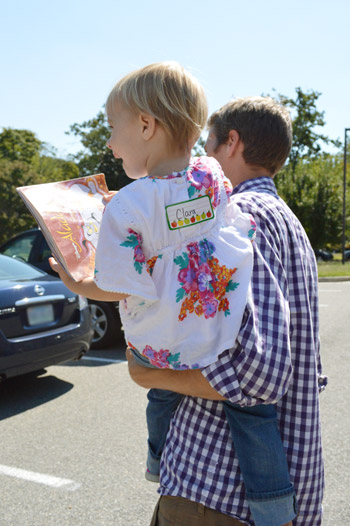 Since her first day, she has gone four times, and she still loves it. In fact almost every morning that she wakes up she says "I go to school today?" with a big hopeful grin. We almost feel bad saying "not today, Clara" when it's not a school day. But we're so glad that she's having such a good time.
As for the all important first day of school photo, we decided to take them in front of our front door with Clara and her school bag (a sweet handmade gift that we got from our friend Abby).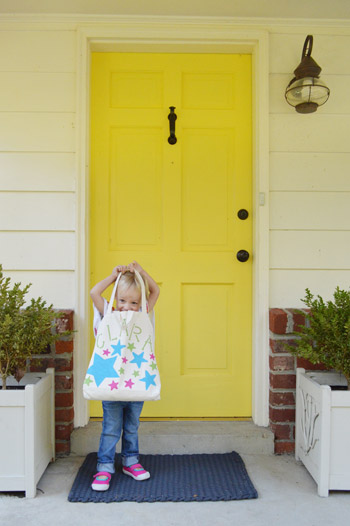 As usual, she was a ham.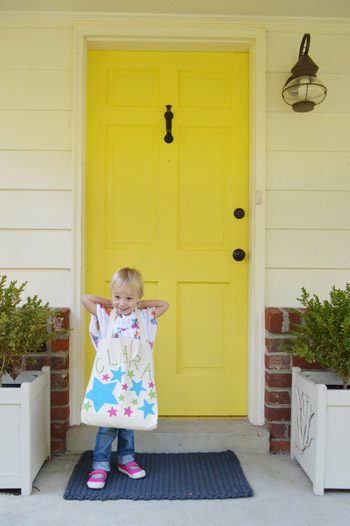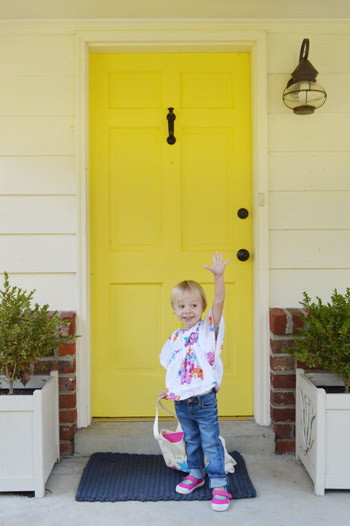 Apparently the "hand in the air" is her new favorite pose.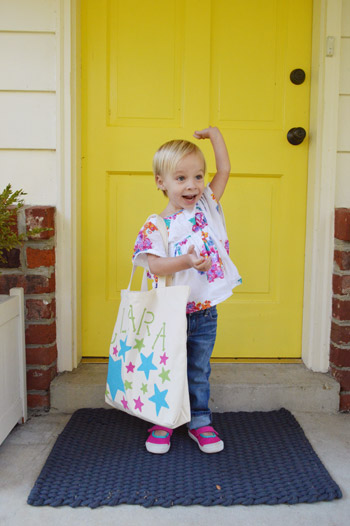 This was her watching the elementary school bus roll by our house. Just a few more years 'til she'll be on it. Crazy.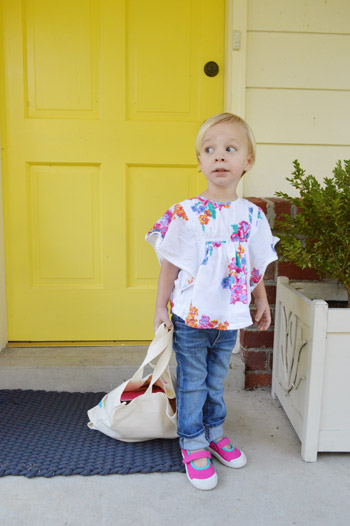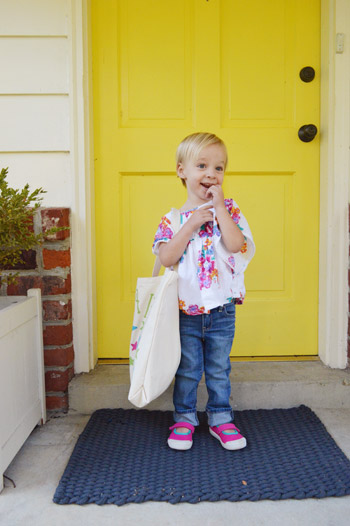 As you saw from the first image in the post, we chose to Photoshop the information about what grade she's in right onto the door itself (the font is called Raleway in case you're interested). We broke the words up and spaced them that way intentionally so we can keep things somewhat consistent for all future years – like when this occasion rolls around in 2016 (although hopefully she'll be a bit taller by then)…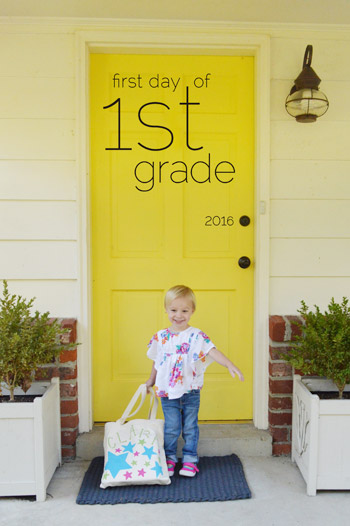 How'd the first day of school go for your household? Any big milestones? Any "emotions" from you or your kids? Sherry got a little "misty" but no tears actually fell, so she's saying it doesn't count as crying.
&nbsp