Random
Clara often reads books in the car (our faves are a big stock of Berenstain Bears books that we inherited from Sherry's childhood because they're thin and Clara seems to love them). But often if she's in the middle of one when our drive is over, she wants to bring it with her – whether that's into a store or just back into the house. We resist because it depletes our reserve in the car. Often our explanation to her is "we don't want you to lose it, so let's keep it in here so we know where it is."
Well, on this particular rainy day as we parked at Target, "losing it" turned into "someone taking it" and then somehow Clara taught herself a lesson in sharing, thanks to an imaginary girl named Lolly. So glad I caught this on video.
Let's file this under randomly funny things we've seen around town. You know, like this. When we first spotted this sign, our eyes barely registered that it was anything other than one of those typical "Yard Sale" signs that pops up around town each weekend. But then we realized it was a very special kind of yard sale…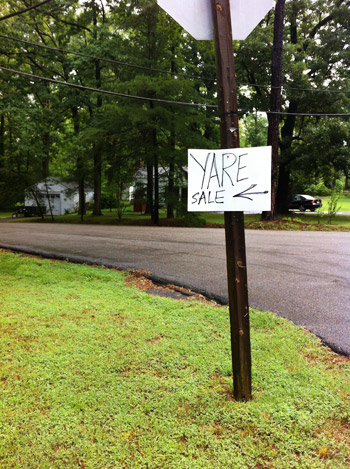 I'm not one to talk when it comes to typos, but this sign was especially hilarious to us (mainly for the obvious pirate reference). The same sign maker had several other correctly spelled directional signs up nearby, so we're guessing this one was a case of "I've written the word sale so many times making these dang signs that my muscle memory took over on this particular attempt at writing yard and I ended it with an e."
We also made up a hypothetical back story that after exhausting herself making all of the signs, this imaginary woman tasked her husband with hanging them all. He probably noticed the error, but (like we good husbands are known to do) just kept his mouth shut and followed instructions.