I just discovered this old iPhone screenshot from a couple of months ago that cracked me up slash filled me with relief. I was texting Katie B about how nervous I was about all of the book signings that were coming up. Apparently I was so freaked out that I feared I might actually upchuck. And like the true friend that she is, she came up with a workable solution.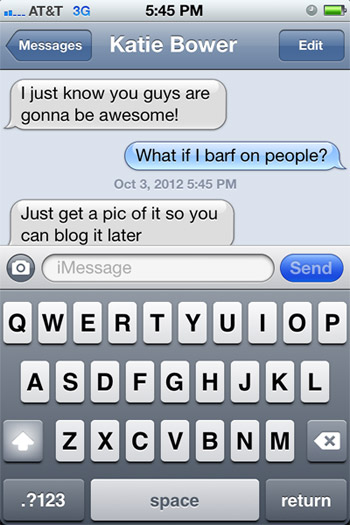 The good news is that I haven't barfed on anyone yet. And the better news is that it means no photos of that have been posted. Everybody wins.
What makes you guys nervous? Do you have a sarcastic text friend who makes you feel better about your odd neurosis?
&nbsp Comment

&nbsp&nbsp&nbsp

&nbsp

&nbsp
If you enjoyed this post, please leave a comment or subscribe to the feed and get future articles delivered to your feed reader.
75 Comments