Clara's a big fan of the concept of money (aren't we all?). For example, when we go to Target or to get gas she always says "we have to pay with the monies." She also seems to like playing with quarters and other coins on occasion (always under our supervision so nothing goes in the mouth), so when it came time to turn our piggy bank and other loose change into cash (via our grocery store's Coinstar machine) I enlisted our little banker-in-the-making's assistance to transfer all of our hard earned "monies" into a plastic bag to take with us. Update: to those who don't think Coinstar is a good frugal option since they take a fee, they actually don't take any fee if you choose the gift card option, so we get a gift card to a place that we regularly buy things (ex: Old Navy, amazon.com, etc) and we don't lose a penny by using Coinstar. Just a little insider tip for ya!
Oh, and to explain the system a bit more, I shook out the piggy bank into the first empty box I could find in our to-be-recycled pile (an empty Ziploc box). And since I didn't want to roll up to Coinstar with a Ziploc box full of coins, I asked Clara to help me put them into a plastic bag. Oh yeah, and the fact that Rachael Ray tried to get her mug all over this next video is a total coincidence.
Update: For those in complete and utter suspense, she did find the teeny tiny one, there was just some snot going on when that happened, hence the video cutting off. But she got it done!
And if any of you follow us on Instagram, you may have already connected the dots that this was the Coinstar trip that helped us discover the Tanzanian shillings that we mysteriously had in our possession. Still can't figure out where these came from…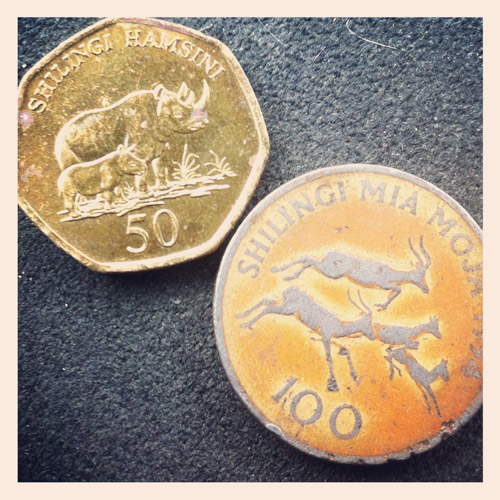 &nbsp Comment

&nbsp&nbsp&nbsp

&nbsp

&nbsp
If you enjoyed this post, please leave a comment or subscribe to the feed and get future articles delivered to your feed reader.
98 Comments