John
By now you probably know going to the State Fair of Virginia each fall is a family tradition of ours (here are pics from 2012 and 2011, which started off with a very similar picture – although Clara was willing to pose for it that time). This is one of those you-sit-in-a-fake-roller-coaster and take the picture shots – and then you turn it upside down to look like you're really riding. I love that Sherry pulled her ponytail up to add to the illusion.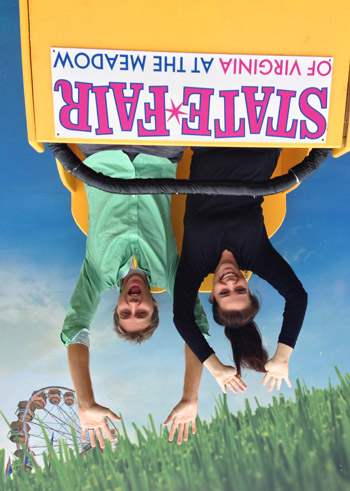 This year we went while Nonna was in town, so we ended up there on a crowded, cloudy Saturday afternoon instead of our usual weekday evening approach. It was a bit tougher to navigate and the sights weren't quite as pretty, but a good time was still had by all.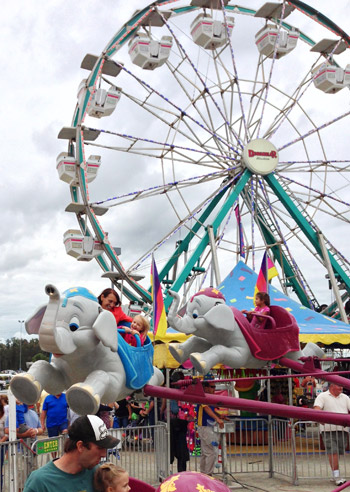 Most of our time was actually spent riding rides this year, marking a slow transition away from the animal- and food-centric trips from before. So there was a spin on the imitation Dumbos and the Nemo-ish fish.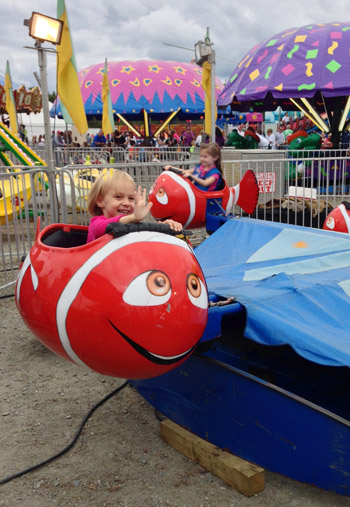 And rounding out our knock-off Disney trip, there was even a stop at the teacups. Which I was convinced Clara was going to hate (and tried to talk her out of, partly for my sake too) but we both ended up having a great, not-too-dizzy time.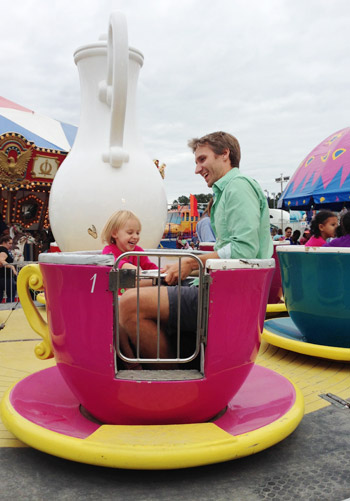 Although my favorite ride moment was on the "Rockin' Tug" which spun you around while it went back and forth. Clara dubbed the scary face behind the ride as a "shark" and everytime we passed it she excitedly screamed "Don't get us shark!" No fear. All fun.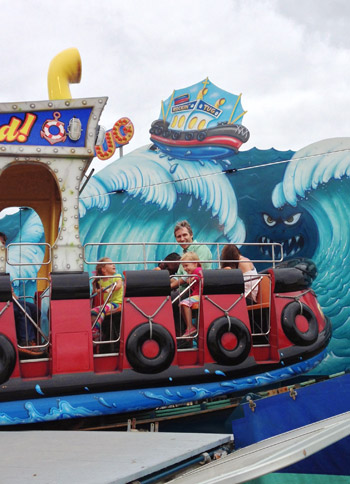 And of course there was another trip down the big slide together.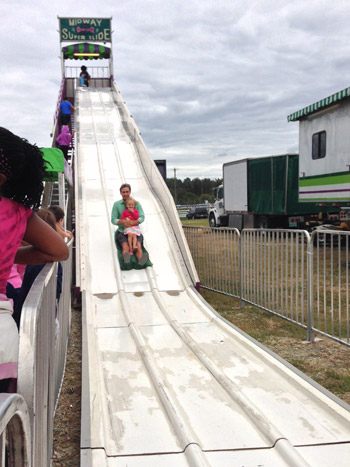 Clara finally got the joke of putting your face in these holes to make it look like that's your body, so we stopped at just about every one we saw. Here she and Nonna are rocking American Gothic.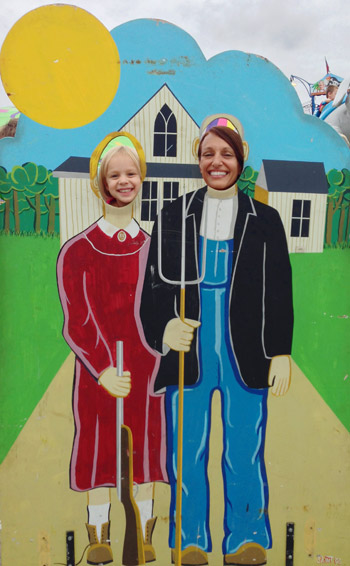 And she even went solo at the Sesame Street one (why an Ernie, but no Bert? Isn't that against the law or something?)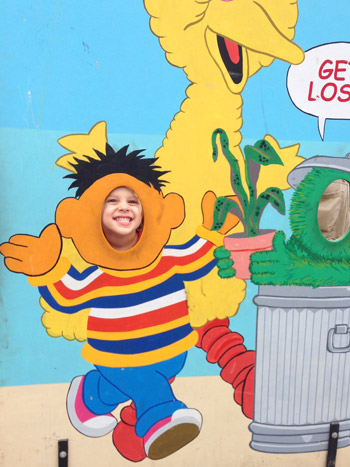 We did take some time out to look at the animals and eat some food, but none of the stereotypical fried-on-a-stick variety. So no good photo ops there. Is anyone else hitting up the state fair these days? Or otherwise enjoying the fall weather?
If you caught this Instagram photo we posted back in July, you could probably tell it wasn't your average trip to the beach.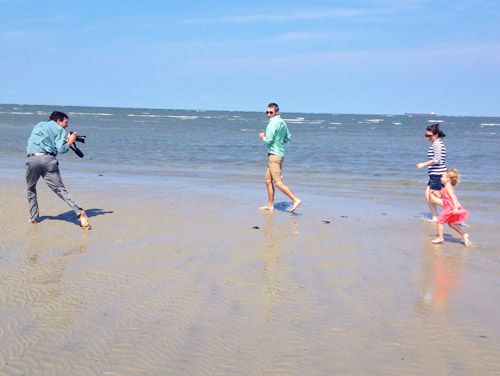 We were actually participating in a photo and video shoot for Virginia is for Lovers, the fine folks who promote tourism in our home state. They were starting a new series featuring real Virginians taking new adventures in the state, and they actually asked to feature us (!!). I know, we couldn't believe it either. It's pretty obvious that we're VA lovers to the max, so we couldn't wait to sing our home state's praises and check out a few places we'd never been.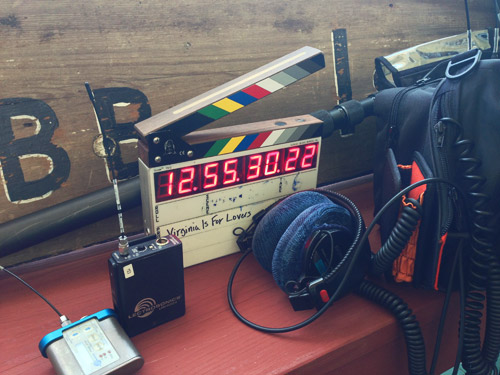 We were invited to explore Virginia's Eastern Shore for the day with them, which, for those unfamiliar with the geography of this region, is a sliver of land that sits on a peninsula on the opposite side of the Chesapeake Bay from the rest of the state (it's only connected to mainland Virginia by the state of Maryland and a 23-mile long bridge). We'd driven through there several times on longer road trips, but admittedly never stopped to take it in.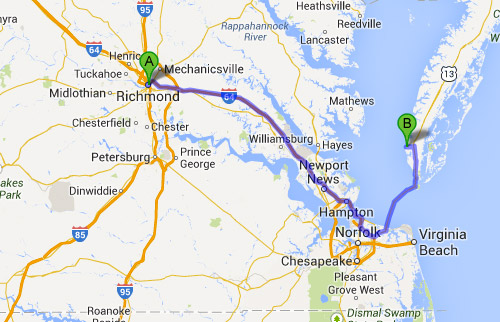 But man did we fall in love with it. We were primarily in a town called Cape Charles, which had the most perfect beach for any Clara-aged kids. It's on the bay, so there were basically no waves and the bean could run and play in tons of shallow water. That Instagram pic was actually taken on a sandbar, hence the shallow water that you can see rippling in the foreground. Sherry couldn't believe that we've previously traveled so far for calm kid-friendly beaches (to places like Hawaii & Florida) when there was one hiding just 2.5 hours away from us. Note: Sherry said I was remiss not to point out her crazy hair in this shot, but I think she looks perfectly windblown.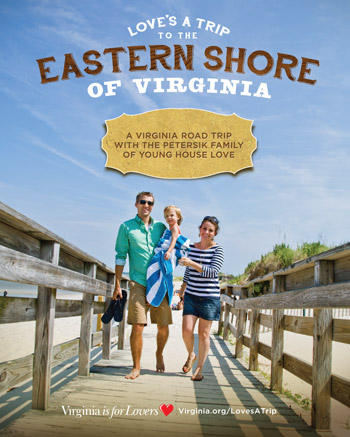 Of course, being a photoshoot and all, we had to apply a bit more than just sunscreen that day. Even me. Don't mind that half-eaten apple of Clara's that I'm clutching.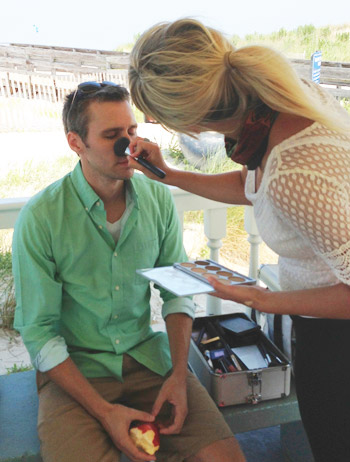 She had a great time raiding the craft services table on her tip toes. #kidtricks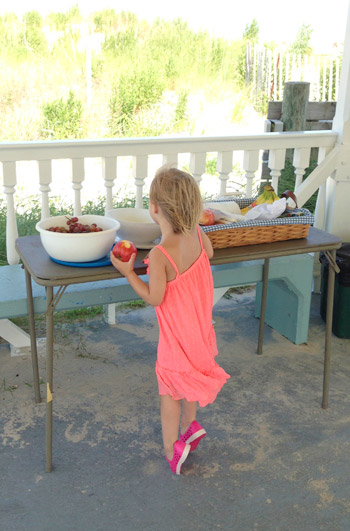 The crew was really fun to work with. The main photographer they hired (coincidentally) was our brother-in-law Todd, so it was nice having a family face behind one of the lenses, which Clara especially appreciated. And Kevin was the videographer who entertained Clara on the drive between the beach and lunch (don't worry, we already told him that he looks like Ed Helms). She was cracking up about two minutes into the ride. After giving him the stink eye that we captured here…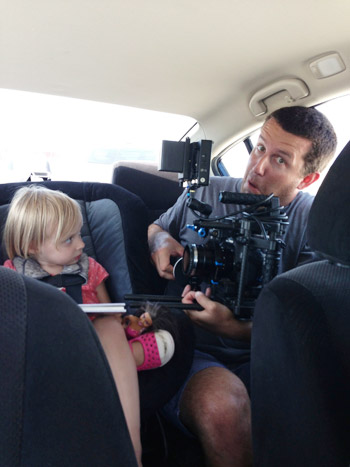 Lunch was at this charming waterside spot called Shanty. We ate seafood and grilled corn. They even photographed me holding a live blue crab here (not sure it got used though). It only tried to claw off my fingers once. Victory!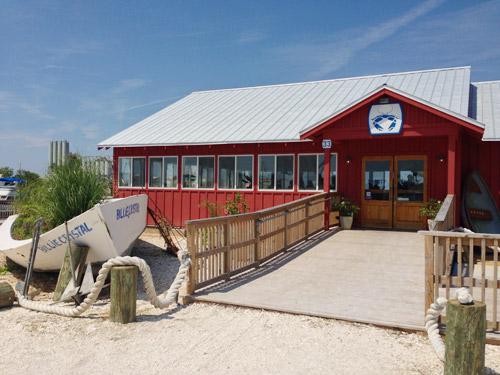 Of course, the biggest hit with us was the ice cream. I believe it was key lime flavored… and it was awesome.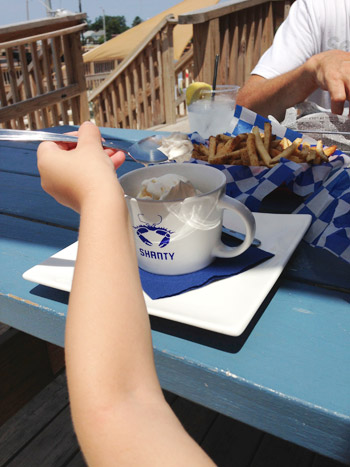 My parents actually joined us on the trip so that they could take Clara home after lunch (so she could rest from an already busy day). Sherry and I continued the tour by checking out some thrift and antique shops in the area, of which there were plenty to choose from. Considering I always love an old wooden box, I wanted these. But we collectively decided that boxes of dynamite and embalming fluid didn't necessarily scream "cozy" – although they would make for some pretty great conversation starters.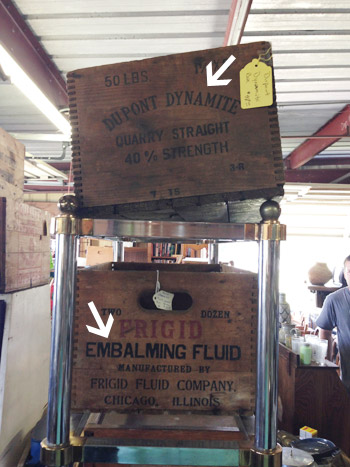 After junk-tiquing, we did an excursion that we'd never heard of before. Basically, a guide takes you in a kayak and you paddle to a winery, have a tasting, and then paddle back. I'm a kayaking fan. Sherry's a wine fan. It was a win-win all around.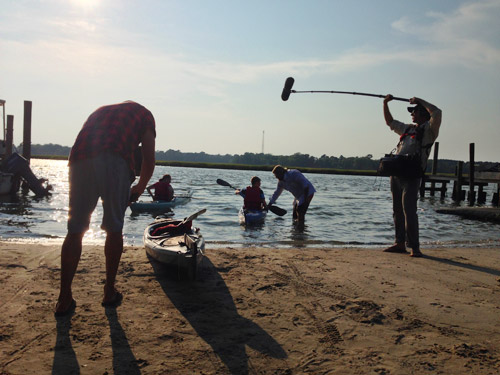 After a long and sweaty day (it was July, after all) we made the drive home to get some rest before Day 2 of the shoot – which took place at our house. Time for more make-up, eh Burger?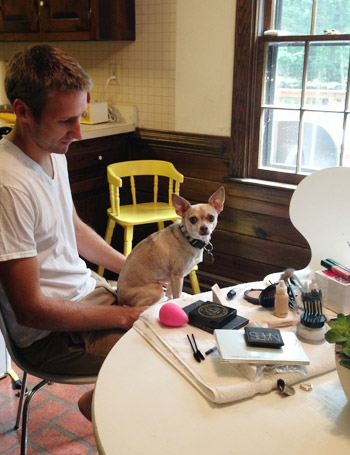 Clara and the make-up artist Logan were besties by this time, so Logan kindly gave Clara a turn in the chair (with some pretend make-up of course).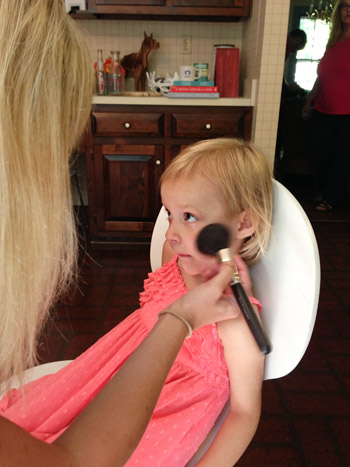 It was kind of funny having a crew over, especially since their intention was to shoot some of the items that we brought back as souvenirs in the supposedly beautiful setting that was our home (we warned them that we had just moved and our house was far from pretty yet). Fortunately we had just finished painting the foyer so it looked relatively presentable… if you didn't swing the camera around to catch the blue stair balusters.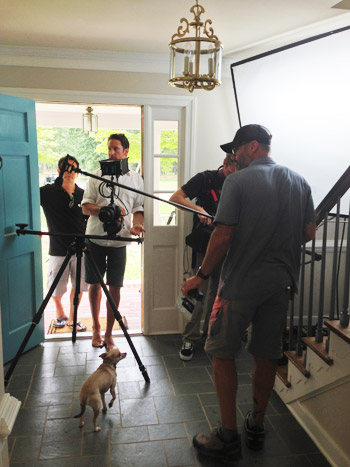 Since the schedule didn't allow any time to really "transform" anything that we found while junk-tuquing with things like paint or upholstery, we ended up just grabbing some pretty items that we thought would look good together on a table or console. Sort of "not-your-average souvenirs of the day" if you will. So instead of shot glasses or key chains, we brought home a couple of cool old glass bottles (the milk bottle is my favorite) plus an old oyster can and even some vintage skeleton keys. We also purchased the mug that our Shanty ice cream came in and kept the corks from our wine tasting to commemorate those experiences.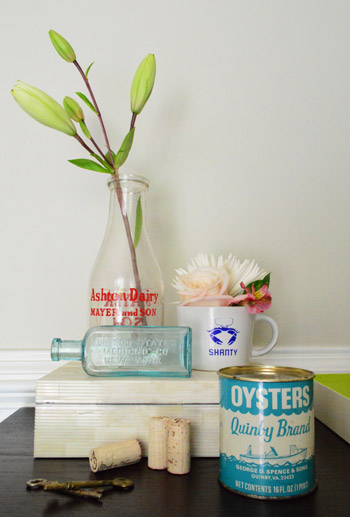 Here's Sherry doing her best oyster spokesperson impression during a break from shooting a little clip about what we brought home.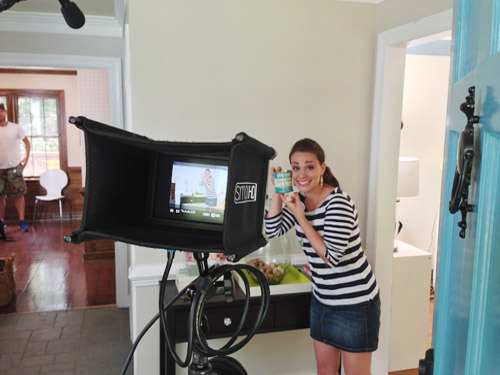 The day wrapped up with a quick interview on the front porch (another area that was thankfully presentable enough at this point to be a backdrop). It was mainly shot for audio purposes, which is why no one minded that Burger slept like a wet noodle in my arms the whole time.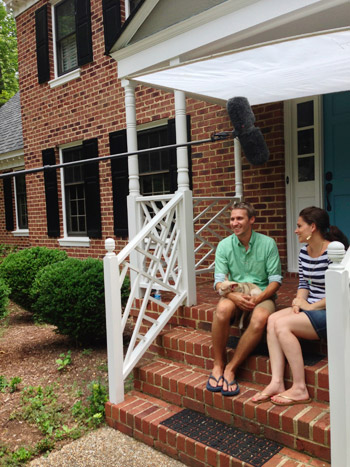 We're excited to go back to some of the spots we discovered on our little whirlwind tour – especially the beach at Cape Charles – just to spend some more time exploring and relaxing. And maybe this time we'll just bring our own camera…