John
On a last minute whim last weekend, we decided to participate in a local biking event called the Anthem Moonlight Ride. You may have even spotted this shot on Instagram from that evening.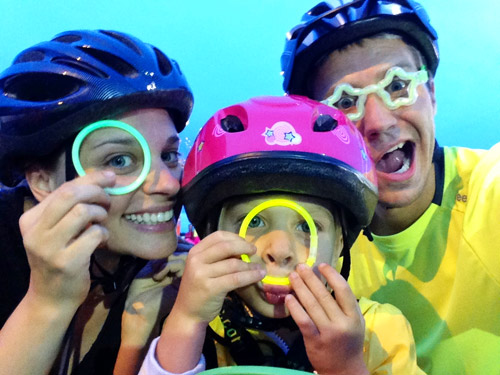 We'd never done it (or any other organized bike ride) as a family before, but it was put on by the same organization that does the 10K that I run annually (amongst other things) so we knew it would be fun, well run, and safe (important since the whole event involved biking the streets of Richmond after dark). So with rain mostly out of the forecast, an evening without plans, and a hankering for some glow sticks, we loaded the bikes on the car and joined thousands of others in Richmond's Northside.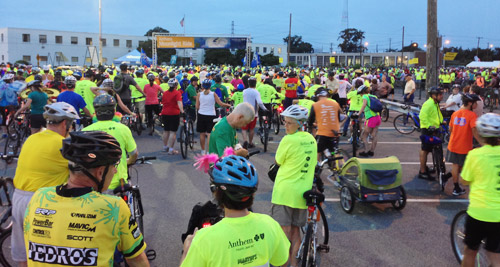 We chose to do the 8 mile course (there was also a 17-mile option) and waited 'til the "Family" wave left so we didn't have to worry about the speed at which we rode (or the amount of spandex we weren't wearing). The event started at 8pm (Clara's usual bedtime) but we didn't pull out of the gate 'til about 8:45. Just as it started to drizzle…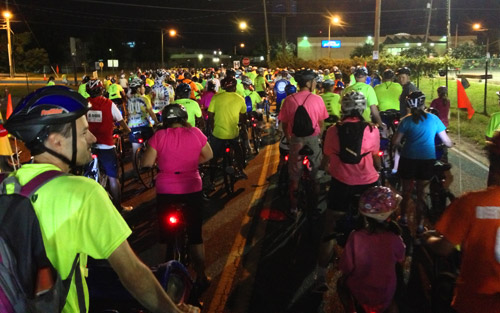 The light rain was barely a bother, so it turned out to be just as much (if not more) fun than we expected. There were costumes and fun lights, plus it was just generally invigorating to be out with so many other riders on streets that had been closed off for the event. Being that it was dark and we only had the iPhone in my pocket, this is our best picture of the ride itself. Stellar photography, eh?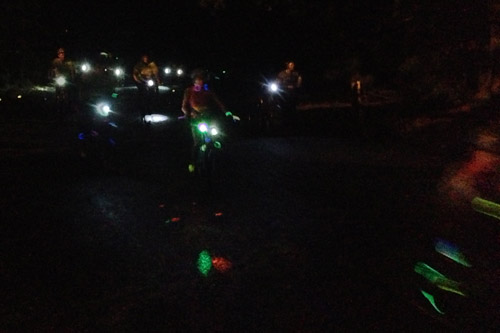 The Sportsbackers have a much better slideshow on their site if you wanna get a better idea of what the ride was like. This one below was from our favorite portion of the ride, which went through a park whose paths had been lined with glowsticks (the message below was spelled out with them as well).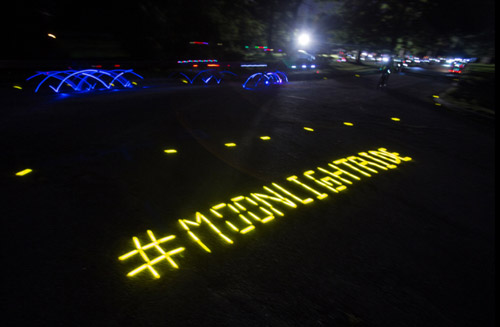 The event photographer even caught this pic of Clara and I rounding one of the last few turns. You can barely see the glowsticks that we decked ourselves – and our bikes – out in (they also provided flashing safety lights for everyone too) but you can tell by my face that we were enjoying ourselves. And that I saw the photographer with enough notice to actually smile.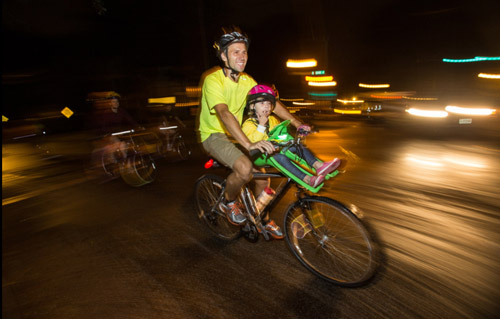 It took us a little less than an hour to finish, I think. The course was relatively flat, though there were a couple of hills that took some effort (okay, and maybe a bit of walking). The best part was that Clara managed to stay awake for the whole thing – even the ride home!
Last two photos courtesy of Richmond Sportsbackers
If you caught our Instagram feed at all last week, you probably know that Sherry's mom was in town. And Clara was in Nonna heaven.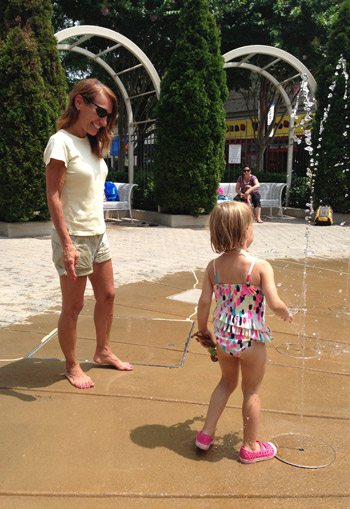 I'm not sure who is more infatuated with whom in this pair, but it makes for lots of fun – even in small activities like raiding Nonna's purse to put make-up on Barbies.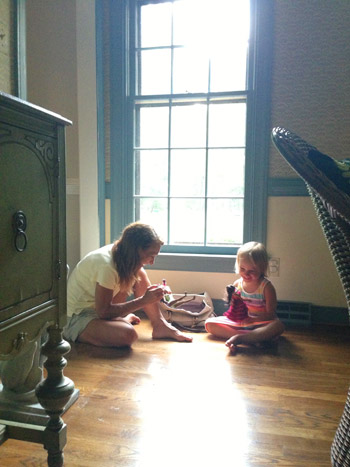 It was a pretty low-key visit. There was some swimming, a few walks around local parks…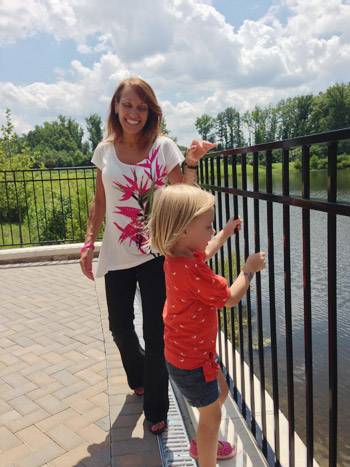 …and maybe even a playground or two.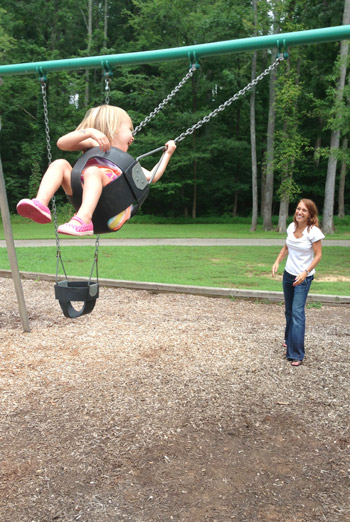 We took Nonna out for a couple of chill dinners. Clara loves showing her around.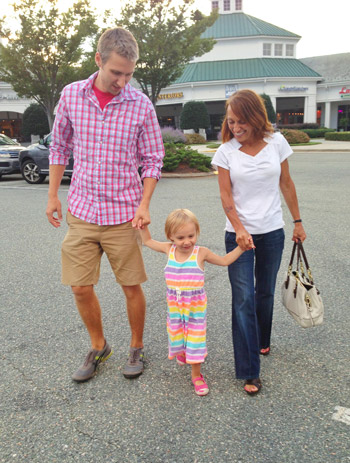 And one night Sherry and I even snuck out for a date night at a local restaurant that we've been eager to try at Nonna's insistence (she's one of those people who says "oh goody, I get to babysit!"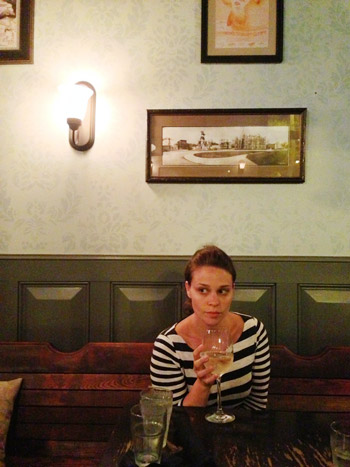 One of the more "rigorous" activities was a trip to Jumpology, a indoor trampoline park that recently opened up about twenty minutes away. They have a "Kids Hour" in the morning where only those under 6 can jump, so it's a perfect way for Clara to get some energy out without getting nervous or jockeying for space among the bigger kids.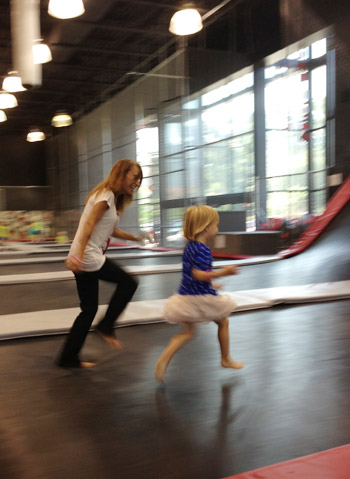 Here's a snippet of the action from Instagram.
Sherry and I got a little jumping time in. Sherry really went for it. This picture cracks us up because Clara's just standing there looking at her.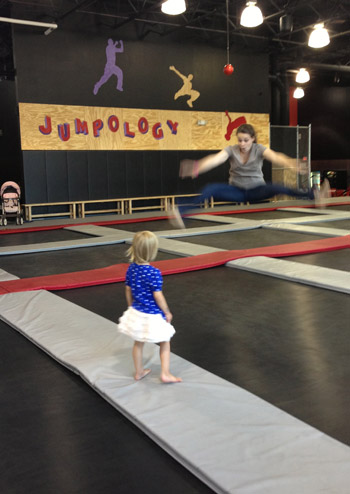 Despite living all the way up in NY, we're incredibly grateful to Nonna for going above and beyond to make the drive to see us every few months. Clara's a very lucky granddaughter.