John
As you saw on our Instagram feed, we woke up to a snow surprise on Thursday morning. Maybe it had been in the forecast or on the news and we just missed it, but considering it had been 60-degrees and thunderstorming the day before… well, it was just not what we expected to see out our window.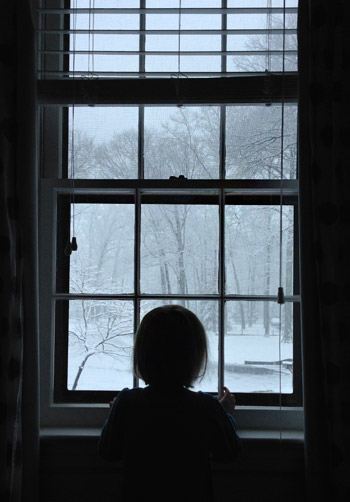 It was probably only 3-4 inches, but it was beautiful. It was that fluffy snow that gently coats all of the tree branches and it made for a pretty awesome "first time" of seeing our house all covered in white.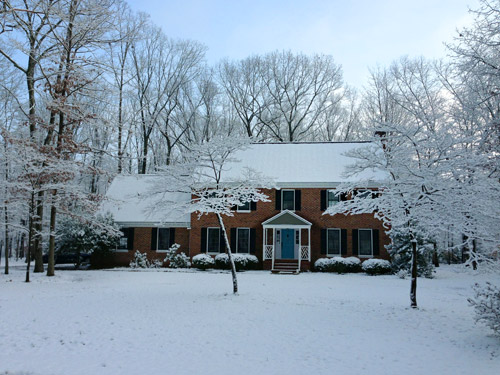 Temperatures quickly moved above freezing as the sun rose, so the roads were clear in no time (there weren't any school delays or cancelled activities for anyone).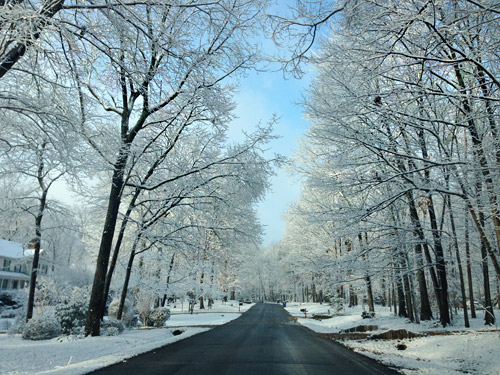 Clara was more excited about snow than she's ever been before (I credit Frozen for that) and she gobbled down her breakfast and was dressed in record time to go outside. Thankfully last year's hand-me-down snowsuit still fits… sorta.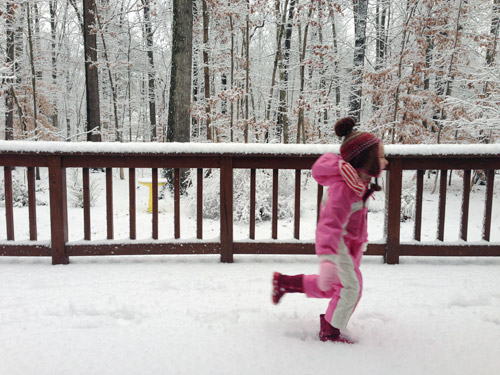 Once outside, she was like a movie montage of snow activities. There was running and making footprints…
…a brief and very lop-sided snowball fight…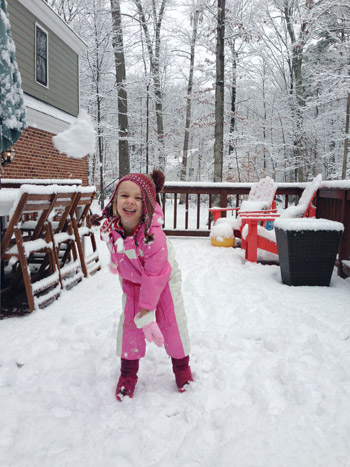 …some snow angel making…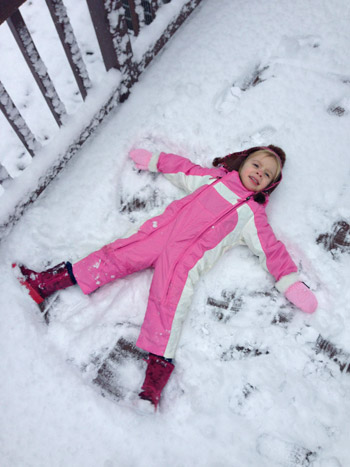 Whatever this is happened too.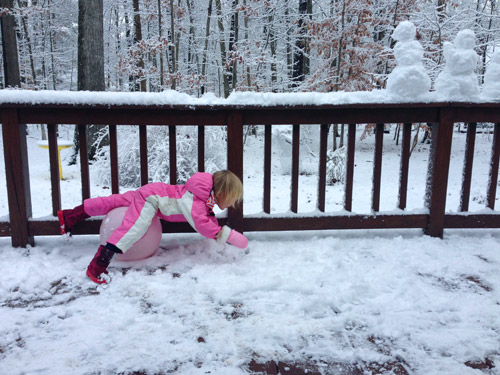 Things culminated with the creation of a small snow family (complete with Burger and tiny bun out of the oven – which Mommy is holding). The snow wasn't actually as good for packing as I thought it would be, so we couldn't roll anything much bigger than this.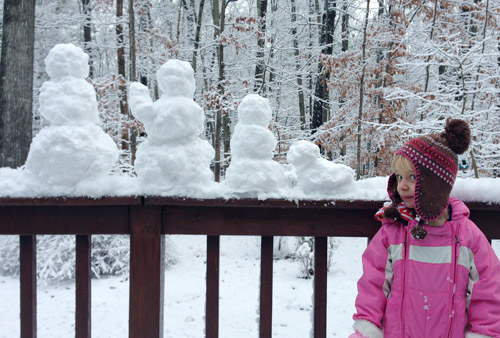 My only regret from the morning is that poor Sherry was inside dealing with morning sickness for most of it (although she did get to peek out on us occasionally).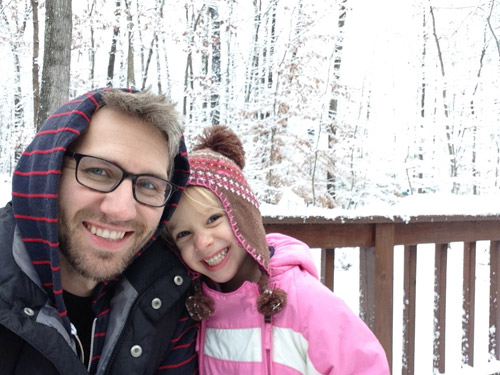 And let it be known that right now Clara's only "make a funny face for the camera" is a frown. But it is pretty funny…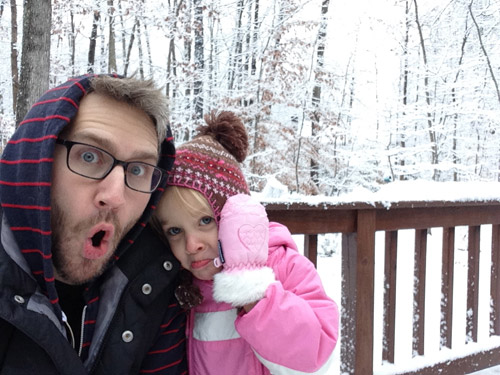 Oh and as for our tiny snow family, it became a game to check on them out the living room window. In case you're wondering who prevailed the longest, I fell off the deck within hours, Sherry stuck around a while, but the final two remaining snow-folks were Clara and Burger, which is pretty funny because they were the smallest, so you'd figure they'd melt away first. Small but mighty…
The pregnant bellies were out in full force in Richmond last weekend. Yep, Katie Bower, her boys, and her bun-in-the-oven came for a whirlwind visit, so of course we had to squeeze in a bump shot while standing in the middle of a giant rock.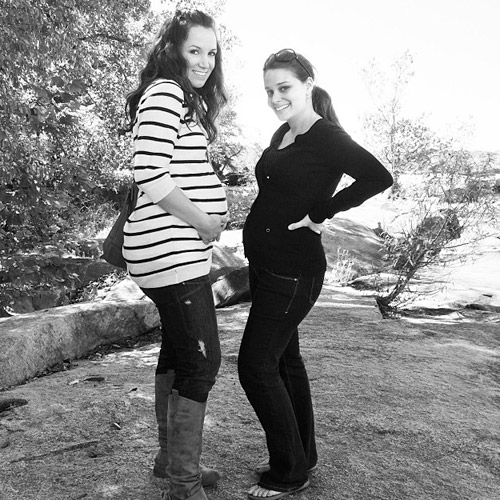 Katie even convinced the guys to get in on the action.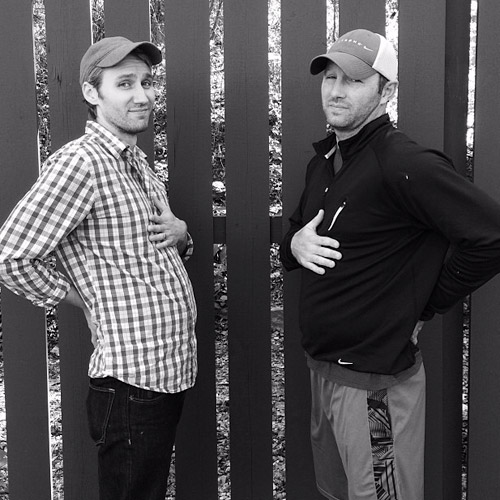 But of course the sweetest duo of the weekend was Clara and Will, who are probably starting to forget that they live eight hours away from each other considering that this is the third time in one calendar year that they've seen each other. #besties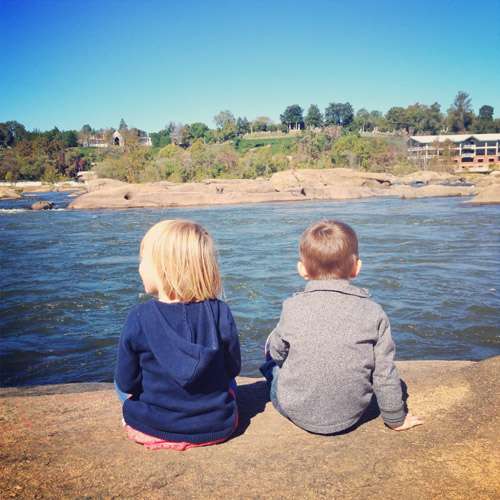 The visit was short, but we told Katie & Jeremy that we'd make the most of whatever days they could spare out of Jeremy's work schedule. So they arrived late Friday night and we got to hang out until early on Monday morning when they hit the road. The sad thing about waking up on Saturday, raring to go, was that it promptly rained all day. But the kids still had fun playing inside, helping to make a delicious pancake breakfast (in the real kitchen – although they logged a lot of quality time with Clara's play kitchen) and we had some good meals at a couple of family-friendly places and checked out a local garden center (where the kids had some moon bounce fun).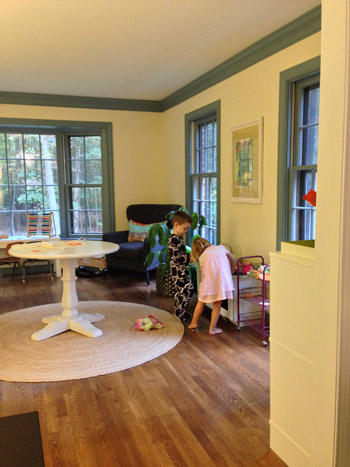 And there might have been some ice cream at one point.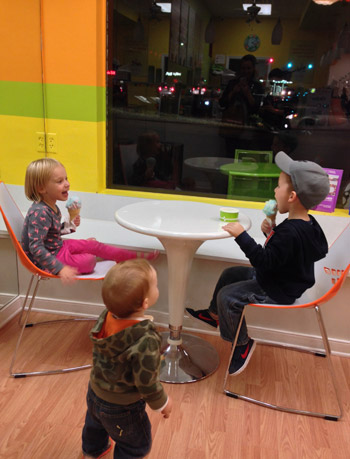 Aaaaand some donuts at another.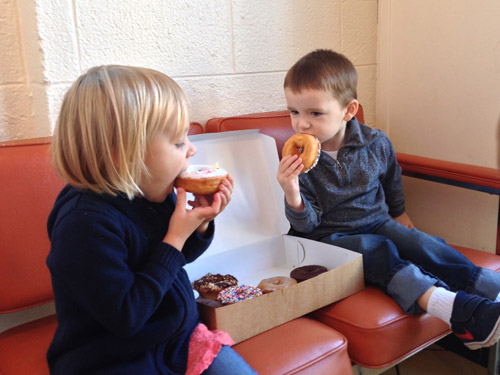 But our visit wasn't all about food. Especially since the clouds cleared on Sunday for a perfect fall day, which meant that we could venture out to one of our favorite spots in Richmond: Belle Isle.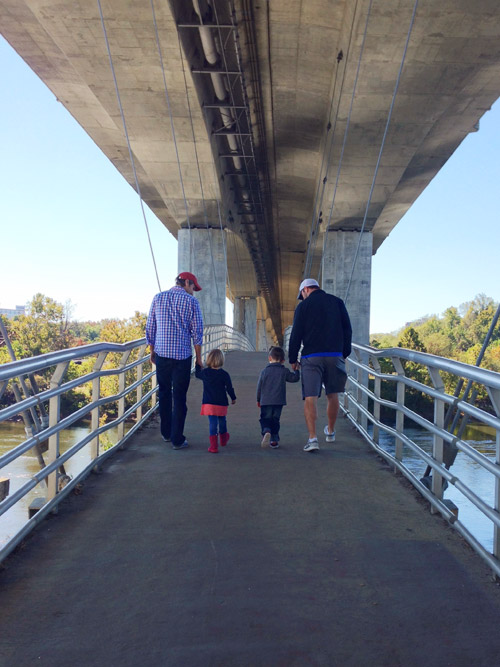 It's a little spot in the middle of the river that's connected by a suspended foot bridge, so it's an awesome spot to catch a view of the city skyline – and do some kayak watching while you're at it.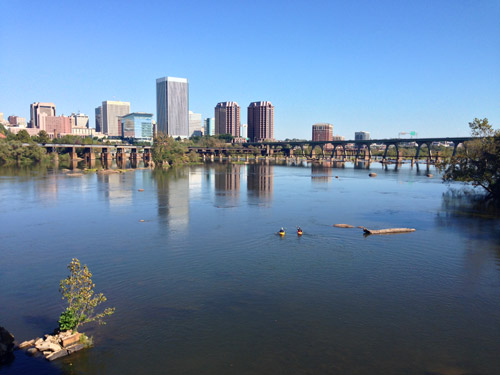 We usually go there for nice long walks, but we decided just to let the kids have fun out on the big exposed rocks that extend into the river. "Have fun" loosely translated into throwing rocks in the water. And man, Will can throw. Future baseball player status going on.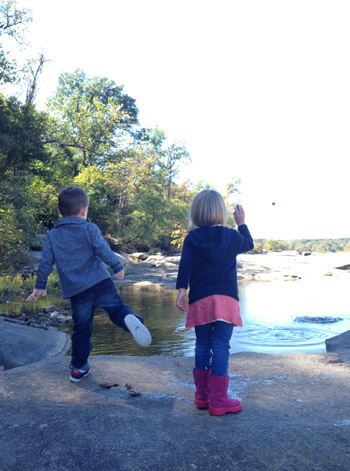 After lunch and getting the kids home for a nap, Katie and I walked to a couple of open houses in our neighborhood just because we're nosy like that. How cute is this little playhouse nook that one of them had in their bonus room? The back wall was chalkboard paint and it was covered with kid doodles. Adorable.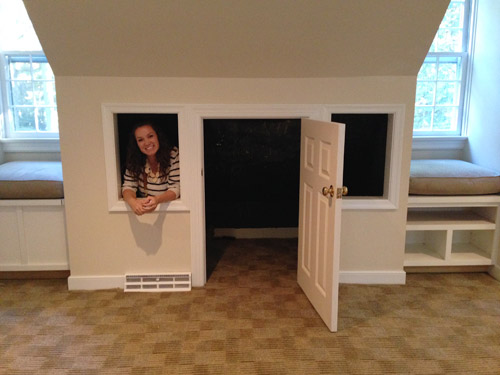 But the visit was over before we knew it and by the crack of dawn on Monday morning the Bower 4 (and a half) were packed up and headed south again. But at least we'll always have Belle Isle…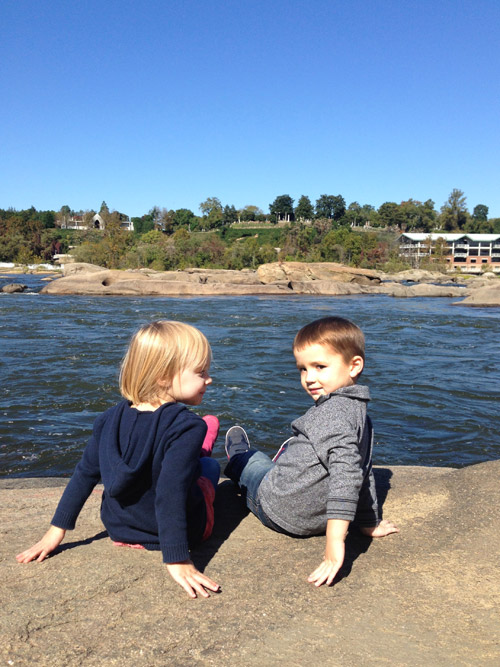 Oh and Katie and I were totally unproductive during this visit and completed neither a craft project nor a Pinterest Challenge announcement photo (or video) as planned. Forty eight hours goes by much faster than you'd think it would, especially with three kids running around and some morning sickness (mine) in the mix. So… next time!