Holiday Fun
Last Christmas we posted this video of Clara dancing with her older cousin John (he's now 3). Well, the two of them were at it again this year. There wasn't any falling over this time, but there was some belly showing, some hugging, some singing, and some of Clara being bossy.
In case you feel like subjecting yourself to enjoying this Elmo dance video with your toddlers, here's a snippet of it on YouTube. The full DVD version that Clara was dancing to was one my mom got when she bought the tickle hands a while back.
Yeaaaaah, boy.
A couple of weekends ago, Santa came to town. This is the same Santa that we visited last year in my mom and dad's neighborhood. He's one of their neighbors who, once he's decked out in red and white, is a pretty darn convincing St. Nick. He's even married to a Mrs. Claus look-alike.
Last year we (we = Clara) barely got a few feet from Santa before getting scared, so we were cautiously optimistic about how this year would go. It helped to watch cousin Emanuel sit on his lap like a champ.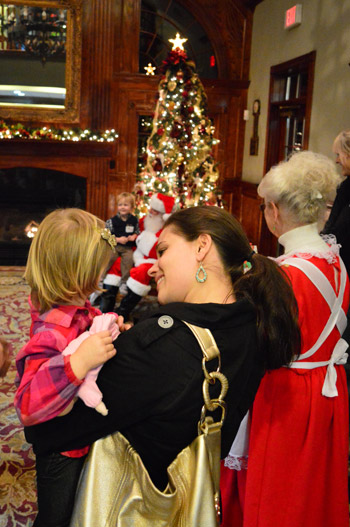 But when it was our turn we still clung to mommy hardcore.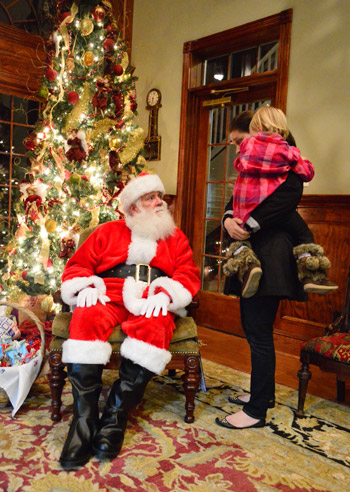 Fortunately Santa is a pro at breaking the ice with shy children. He politely introduced himself…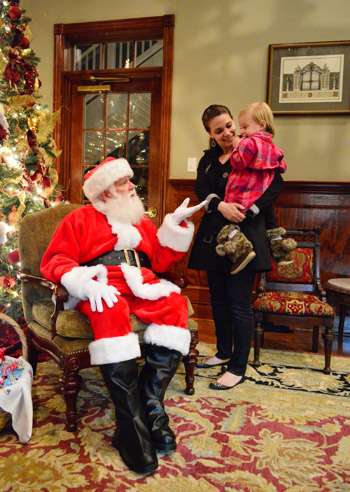 … and complimented Clara's furry boots.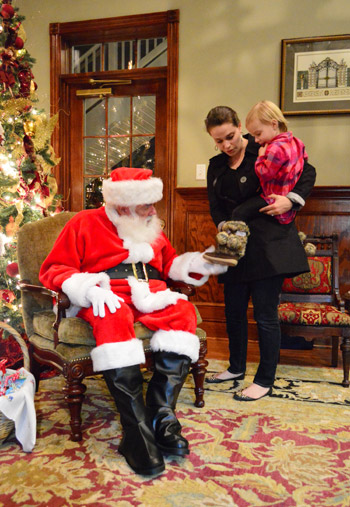 And sure enough, she eventually loosened her grasp on Mommy and this happened. Victory!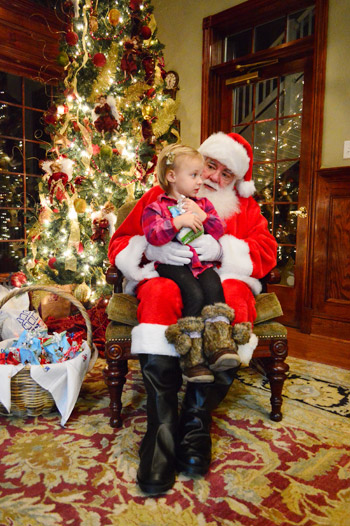 Although I'm not sure Clara was feeling quite victorious.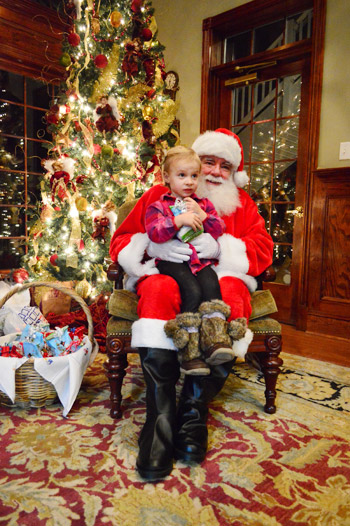 Even if Clara wasn't giddy to be so close to Santa, we were happy there weren't tears or a meltdown. She just quietly slipped out of his lap after a few moments and whispered a quiet thank you once she'd gotten a safe distance away. And then as soon as she heard there were crafts, she was right back to her excited, constantly-jumping-up-and-down self.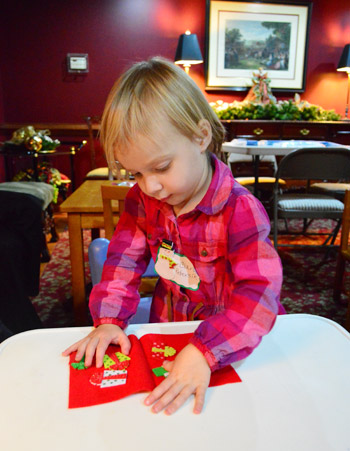 It was really nice of the neighborhood to put this whole thing together for the various kids and grandkids that live/visit there. We must've missed the crafts last year (or maybe it's new this time around), but Clara had a great time decorating various felt and foam objects with stickers. Here she is making a gingerbread ornament.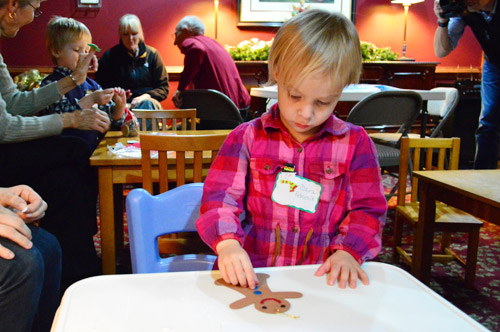 This ornament now sits proudly on our tabletop tree. You can see that she "redesigned it" at some point. The bow kinda became sunglasses, I think…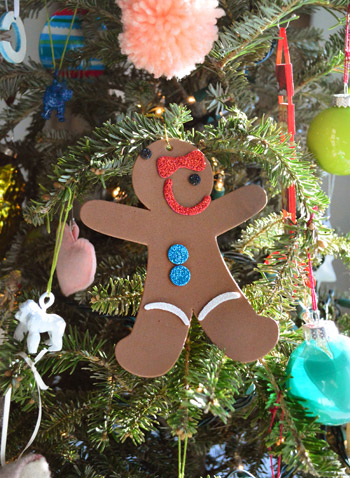 After craft time was over, we all gathered 'round Santa again for a quick story and a snack. That Santa really knows how to show these kids a good time.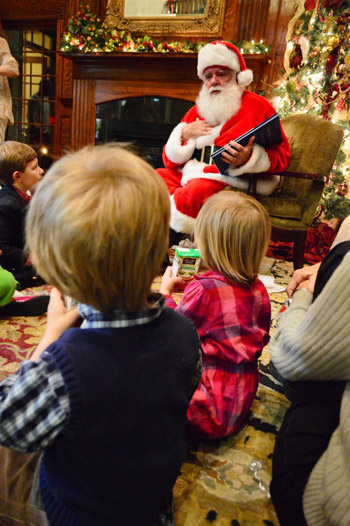 How'd your Santa encounters go this year? Any tears? Or funny requests? Clara asked Santa for "ice cream and some eggs." Hilarious, no?