Holiday Fun
Last year I shared what we did for Clara's little Valentines, er, classmates – so this year (with about 10 hours to spare) I thought I'd show you what we put together (she was a great little helper this time around). These are always final-hour creations for me (we ran through Target yesterday, right before the big snow storm hit), but then putting them together and seeing Clara tote them off to school with a big ol' smile never fails to melt my heart.
Speaking of hearts… behold, Clara's pirate-tastic V-day treats: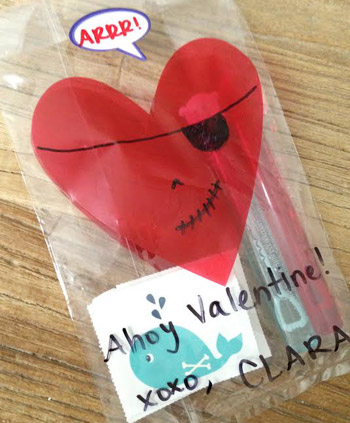 Each bag has a little stack of temporary tattoos and small tubes of bubbles (hand selected by Clara of course).
Our "ingredients" were all cute finds at Target: two 24-count packs of temporary tattoos (98 cents each on clearance), a little $1 set of clear heart envelopes, and a $3 set of bubbles with anchors on the end of them. There were a few different themes we could go with (cupcakes, coloring, pirates, etc), so I just left it up to Clara and she said she wanted to do pirates (she's loving Jake & The Neverland Pirates these days).
So here's our booty all spread out at home before we assembled it. Yarrrr.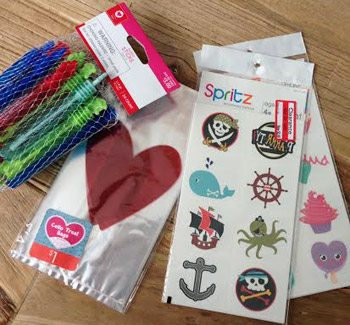 In total we spent $6 to make 14 valentines for her classmates (technically we could have made 24, but we doubled things up so everyone got duplicates of each item except for the heart bags, which we saved for a future project). That breaks down to 42 cents per valentine, which made me smile (last year's clocked in at 43 cents each, so it's funny how similar these were).
The first thing we did was open everything up and carefully tear the tattoos apart (Clara helped me fold them along the perforations and I did the tearing. We made little piles of them so everyone would get a few candy/treat themed ones (just in case someone wasn't as into pirates as Clara) and a few from the pirate set of tattoos. We also pulled out two tubes of bubbles for each person (Clara was great at helping me make piles on the table) and I quickly sketched a little eye patch on the heart and added "Ahoy Valentine! xoxo, Clara" to each bag with a Sharpie.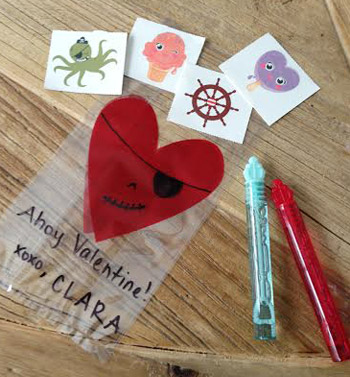 Clara's school asks that you don't address them to each child by name since it's faster for them to just stick one in each kid's bag without hunting for the right names, so that simplified things. Then all we had to do was seal up each bag after Clara helped me load them up with bubbles and tattoos. The set of clear bags came with little twist ties for closing each one, but we looked through her sticker basket and found these little voice bubble stickers, which we thought would be funny to add with the word "Arrrr!" on them. You know, so our little eye-patched heart guy could be saying that to reinforce the whole pirate thing.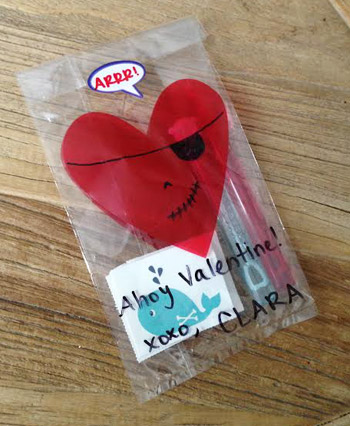 Of course with all this freshly fallen snow, she won't get to deliver them until next week, but she's very excited to show all of her friends what she helped me put together. What are you guys doing by way of school/kid Valentines this year? Are you baking? Sending candy hearts? I might be just as excited as Clara to see what she comes home with this time…
A few folks asked what we gave Clara's preschool teachers for the holidays, and although there's a room-mom who's happy to collect $5 from each kid per teacher and grab a gift card, they always encourage anyone who wants to do something else to go for it. We thought giving them something to unwrap would be a nice supplement to the gift card, but had no idea what we were going to do. Then I saw the cutest gold leather journals in the dollar spot at Target, and a "writing theme" idea was born. Here's my haul: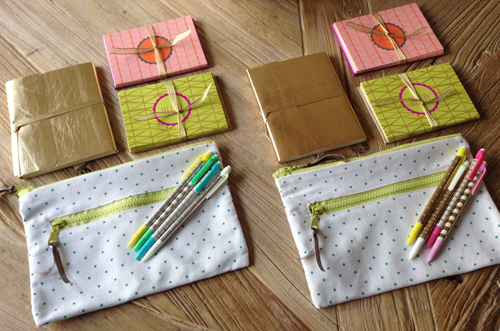 The polka-dotted pouch and the journal were both $3 (dang, dollar spot, why you gotta play me like that?) but the stationery and the patterned set of pencils were $1, so each teacher's gift ended up at $9. Everything except for the pouch came packaged in a clear plastic cover, but unwrapping the cards and re-wrapping them with gold ribbon and freeing the leather journals and pencils from those plastic cases made everything a little cuter.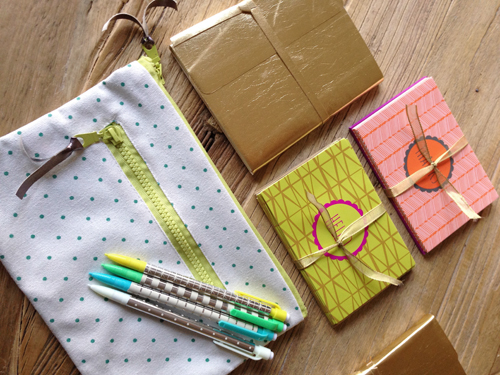 Then I just slipped it all into the pouch, and voila.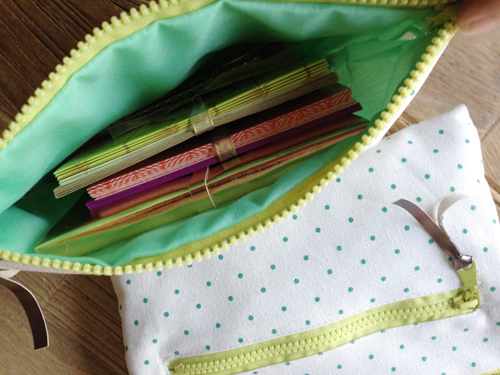 The finishing touch was tossing a little "You've got the WRITE stuff!" card into each one. Thanks for the inspiration, New Kids On The Block. Clara even helped me color them. Don't mind this bad cell phone picture, I was running out the door when I realized I never grabbed a photo of them.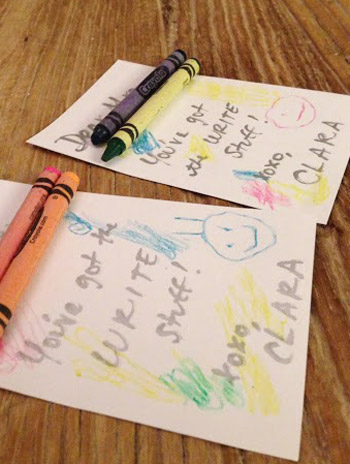 Is anyone else singing "oh oh oh ahhhh ohhhh" now? Don't forget the sweet dance moves that go with it. What last minute gifts did you guys toss together?
Psst- You can check out last year's teacher gifts here and peep some quick Valentine's Day treats that we made for Clara's classmates here.