Holiday Fun
Last Wednesday (aka Halloween) marked Clara's first legit trick-or-treating adventure.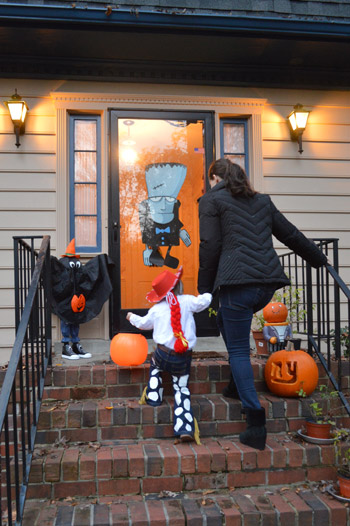 We got rained out last year and the first year she could barely sit up unassisted, let alone knock on doors begging for candy. So it was a treat in itself that this year the stars aligned and we could take Clara out for some good ol' fashioned T-or-T-ing.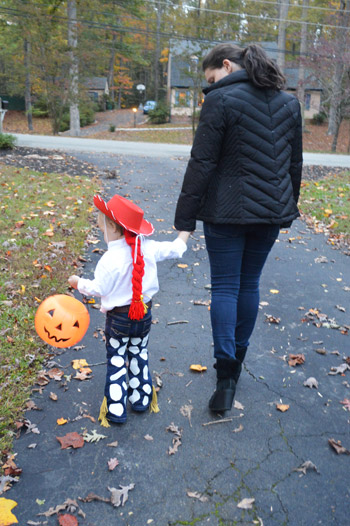 The verdict? She loved it. As demonstrated by this pic (the only one that we got of her smiling face, since she spent most of the adventure dragging us down the street so we just had a view of her braid).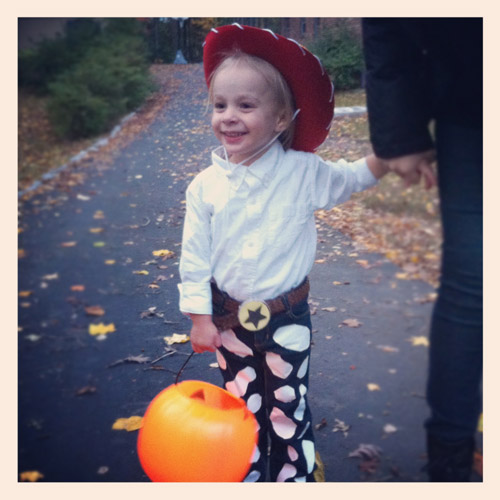 She proudly donned her homemade Jessie the cowgirl costume, grabbed her pumpkin bucket, and marched with us to about 8 or so houses.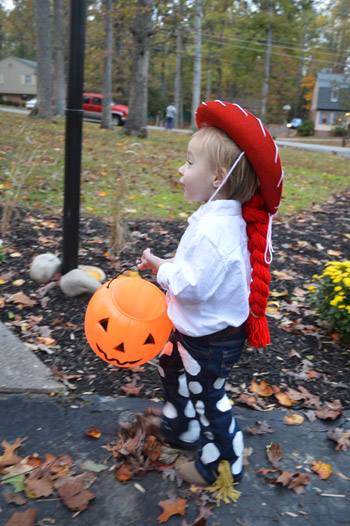 We left Burger at home because, well, he only wears his costume for about 10 seconds before shaking it off and he's the shy one of the family. Meanwhile Clara could hardly wait to see all of our neighbors and shout "trick or treat!"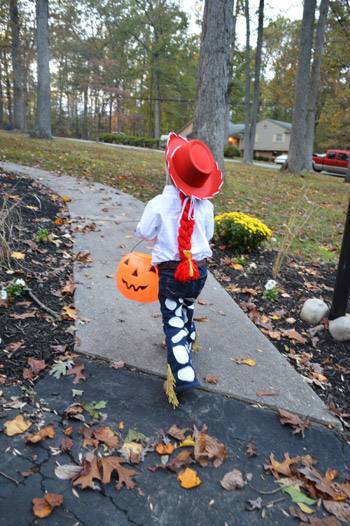 It got darker faster than we expected, so our photos quickly became blurrier and grainier than we had hoped. But there were at least a few sweet moments that got captured on film.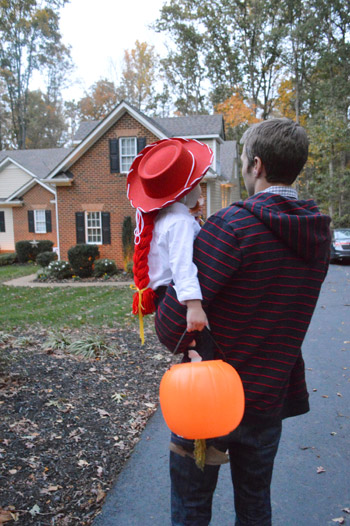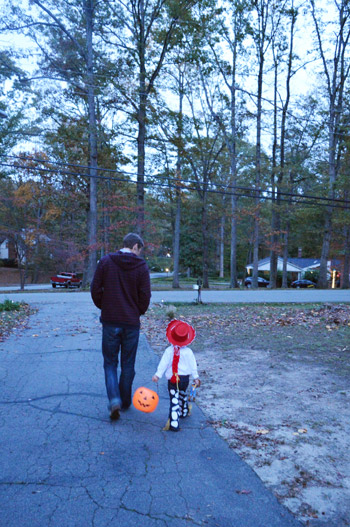 And we probably would've made it to more houses had a band of tweenagers dressed in scary costumes not crossed our paths (and by scary costumes I mean no costumes at all, except for a couple of bloody masks). Clara, whom we've learned is easily frightened by realistic Halloween decorations, was immediately a crying mess and just began wailing "I want to go to my house!" It was a pretty clear sign to call it a night.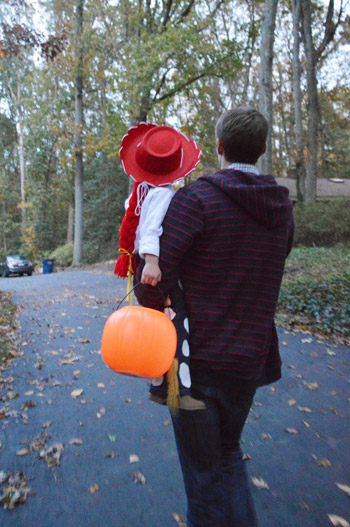 Her loot was pretty meager, but that's more than fine by us. And once we got home and she calmed down she had fun answering the door with me and handing out candy to the rest of the trick or treaters. She was so into the game of "What is he/she dressed up like?" that even this week she still asks us questions like "What is the tree going to be for Halloween?"
How was your All Hallow's Eve? Any especially spooky costumes or houses? Any full size candy bars on your trick or treating route? Clara got one and we were like "wow, they're high rollers." It was awesome.
Did everyone have a nice Easter weekend? We had a fairly casual one around here, mainly centered around eating and hanging out with family. And since John's sister and her two sons and hubby had a long drive to NY ahead of them on Sunday, we did most of the celebrating (and eating) on Saturday. Though we did squeeze in a mini Easter morning get together at our house on Sunday morning before everyone headed out.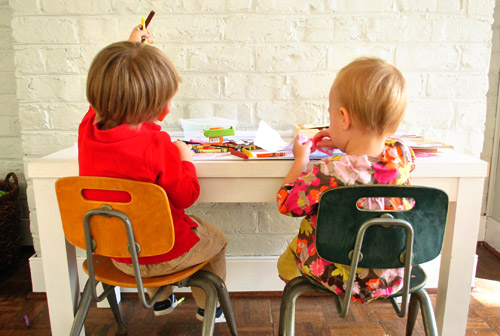 That's Clara and her cousin John (who's about 10 months older) getting their color on: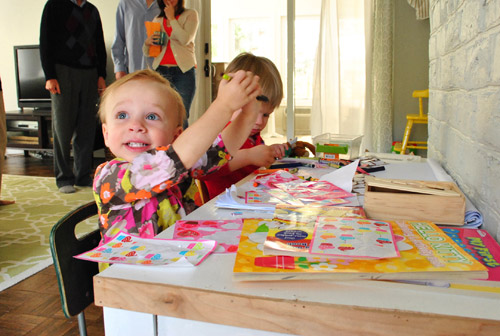 The main event was giving the kids their Easter baskets – each had one from their parents and one from their grandparents to discover (we ceremoniously "hid" them around the living room). Here's Clara finding the one from her Grammy and Tom Tom: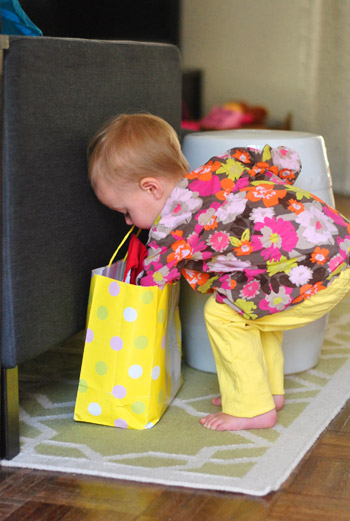 Clara's rather slow with things like this, since she's wants to stop and play with (or eat) each item as she gets to it.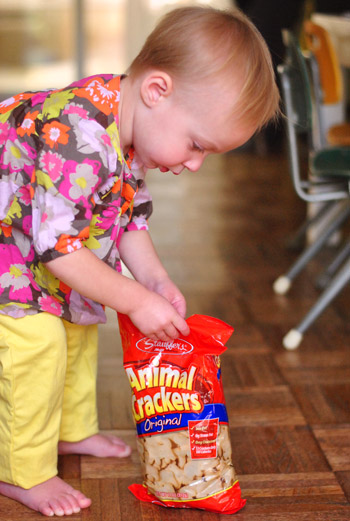 She got lots of fun stuff to enjoy from her grandparents – like snacks, coloring books, toy cars, stickers, etc. But she'd just have to enjoy them later, since there was still more Easter basket goodness to find. Update: Thanks to lots of outfit questions, those are birds on my shirt, not turkey legs (it's an Old Navy clearance rack score). But in all fairness, I would probably buy a shirt with turkey legs on it too if I saw one.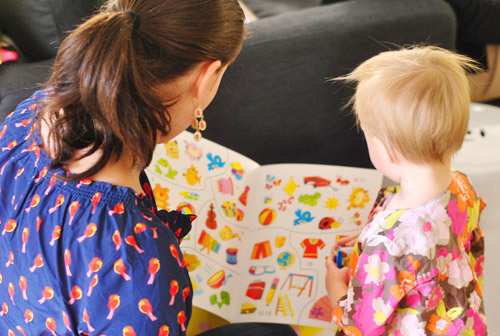 Watching the kids hunt for their baskets was so much fun. Obviously at this age you can't make it too difficult (which is why Clara's first bag was just behind the arm of the sectional). Mostly we relied on slipping them behind the curtains.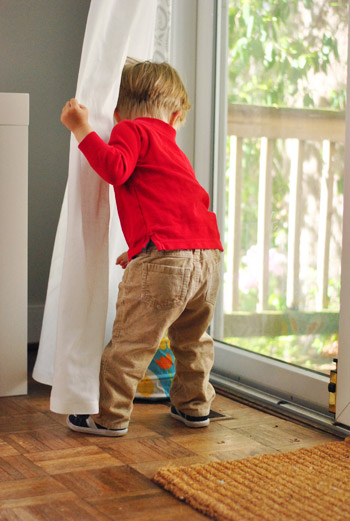 Even then, we had to give both Clara and her cousin John a few hints to get them headed in the right direction. Burger is also a good hint giver.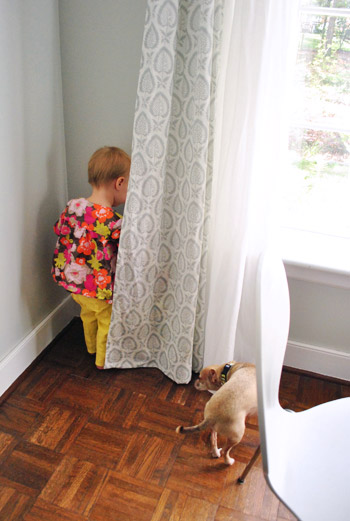 Eureka!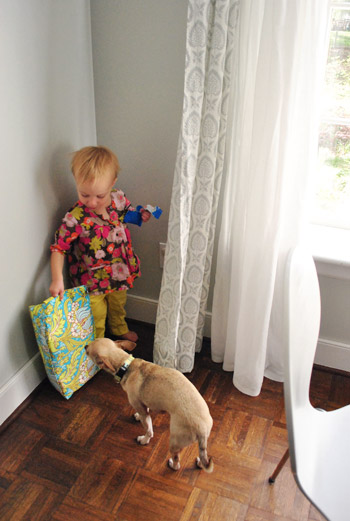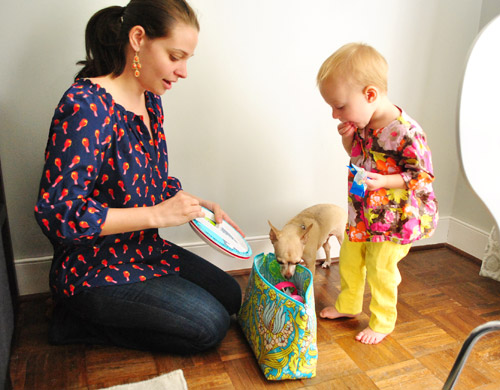 Clara's "basket" from us was actually a zippered bag that we got mainly to help wrangle some of her smaller toys like matchbox cars, small plastic animals, etc. We figured it would be fun to present it to her with a bunch of Easter goodies stuffed inside (to hopefully help her understand that it's meant for her stuff). So far she loves putting things in it and taking them out (and playing with the zipper) so I'd say it was a success.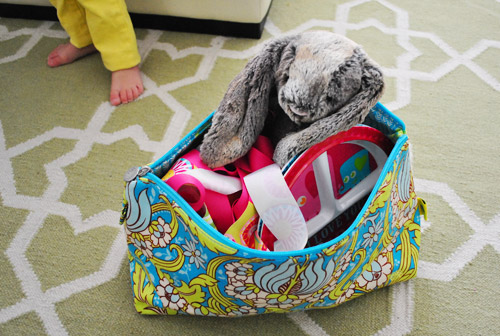 As for what was in her "basket" from us, she got:
Eggs filled with Play-Doh
Lollipops
Ribbons that we've had around for a while (the girl loves playing with ribbons)
Chalk eggs that we picked up at Target
Some cookies we mooched from a larger container that we brought for our Easter guests
Two kids plates from Target
A JellyCat bunny that we got back at Anthropologie on my birthday (we hid it from her until the big Easter reveal)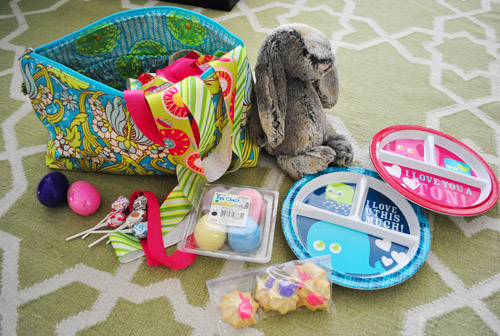 Just as we'd hoped, the bunny was a big hit. It even made its way into this little family portrait that we managed to capture before everyone left. Why do we have so few photos of all of us all together? I swear we only get one or two a year. Oh right, it's because our kids are wiggly little buggers and we usually have various food smears and dog fur on our clothes.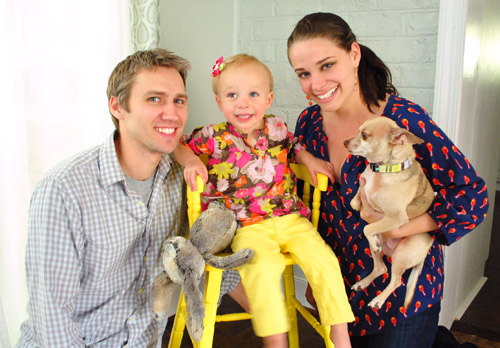 Easter kisses ensued. And yes, Burger was involved. Clara tried to open her mouth for that one. Glad it's not on film…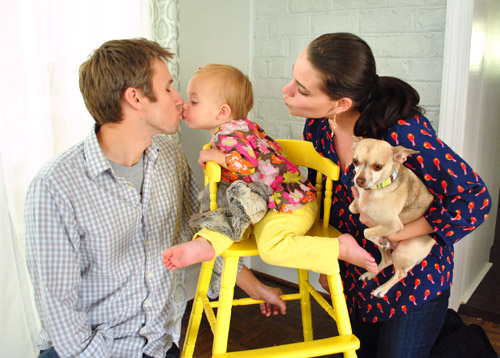 Here's Burger after being scarred by the open-mouth approach that he got seconds before. Notice I'm doing that typical mom thing: smiling like everything is normal. Nope, my kid didn't try to french kiss the dog.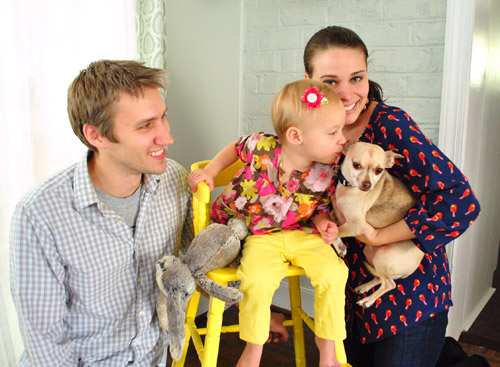 Speaking of The Burgs, John got a special portrait taken with him and the new bunny  – who, in the tradition of Bear-ger, was named Hare-ger. (Clara better watch out. We might just rename her: Clare-ger).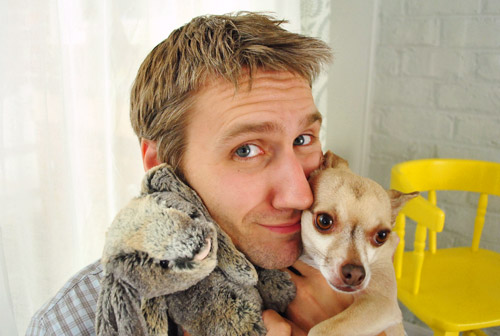 Did I mention Burger and Hare-ger are great buddies already? PS: Check out Burger's weird extended foot. I think he's part dinosaur.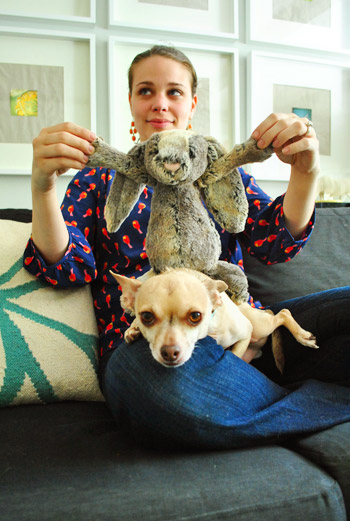 So that was our Easter. A fun, easy, family weekend at its finest. Hope you guys had a good holiday too!