Author Archive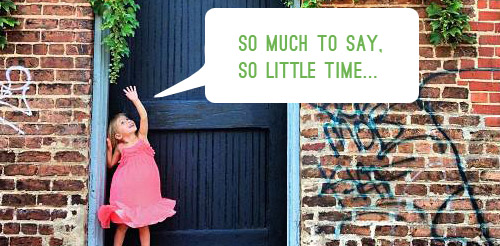 Convo #1
Clara: Mom, octopuses are kinda mean.
Mom: All of them? Or just some of them?
Clara: Just a few of them. The rest are ok.
Convo #2
Mom (pretending to be sick): Doctor Clara, I'm sick. What's my diagnosis?
Clara: You have… (looks around and sees a stuffed reindeer) … Reindeer-itis! It's when you swallow a reindeer and it's stuck in your throat.
Convo #3
(Dad walks into the kitchen and sits down next to Clara)
Clara: Hi-ya toots!

Convo #4
Mom: When you eat food, it goes down your throat and into your tummy.
Clara: And then it goes all the way down into your legs! Isn't that cool?

Convo #5
Mom (during our New Year's Eve dinner, while chatting about "word of the year" resolutions): Clara, what's your word of the year for 2014 going to be?
Clara (thinks a long time): … ketchup!
Psst- Check out dozens of other conversations with Clara here.
A few folks asked what we gave Clara's preschool teachers for the holidays, and although there's a room-mom who's happy to collect $5 from each kid per teacher and grab a gift card, they always encourage anyone who wants to do something else to go for it. We thought giving them something to unwrap would be a nice supplement to the gift card, but had no idea what we were going to do. Then I saw the cutest gold leather journals in the dollar spot at Target, and a "writing theme" idea was born. Here's my haul: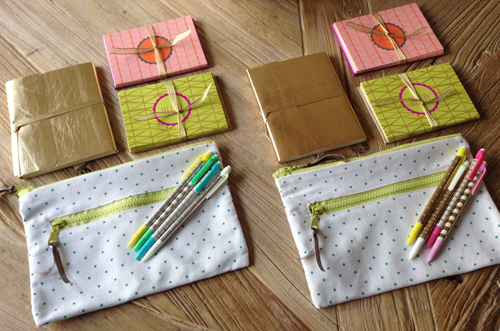 The polka-dotted pouch and the journal were both $3 (dang, dollar spot, why you gotta play me like that?) but the stationery and the patterned set of pencils were $1, so each teacher's gift ended up at $9. Everything except for the pouch came packaged in a clear plastic cover, but unwrapping the cards and re-wrapping them with gold ribbon and freeing the leather journals and pencils from those plastic cases made everything a little cuter.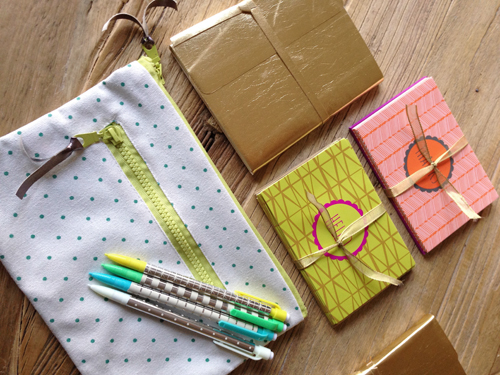 Then I just slipped it all into the pouch, and voila.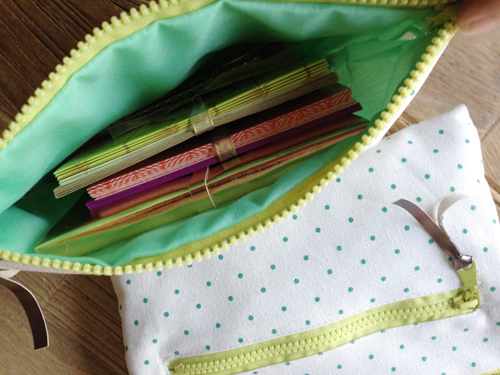 The finishing touch was tossing a little "You've got the WRITE stuff!" card into each one. Thanks for the inspiration, New Kids On The Block. Clara even helped me color them. Don't mind this bad cell phone picture, I was running out the door when I realized I never grabbed a photo of them.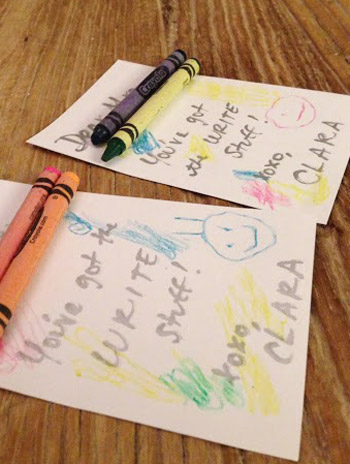 Is anyone else singing "oh oh oh ahhhh ohhhh" now? Don't forget the sweet dance moves that go with it. What last minute gifts did you guys toss together?
Psst- You can check out last year's teacher gifts here and peep some quick Valentine's Day treats that we made for Clara's classmates here.