Author Archive
There were a few people (like Katie) who asked us on our "the bun's a boy!" post if we had any girl names that we cared to share now that the bun is most definitely a he.  I said "We should totally do a Young House Life post on that! We were 100% sold on a girl name and have no clue what boy name we'll end up with! Funny how that works!" So here's that post.
Boy names have always seemed trickier for us. Even with Clara, we had a bunch of girl contenders but hardly any boy options. And we found that was the case again this time. So we're still not settled on a final moniker for the barnacle, but we have a bunch of options (mostly family names) bouncing around in our heads. But even before I was pregnant, we had a girl name picked out: Alice Kay.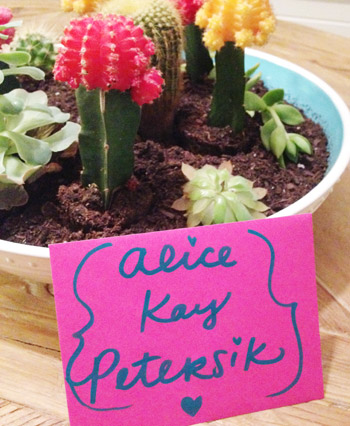 Just like Clara Kenley (whose name actually pays homage to three different relatives – more on that here), we're suckers for names that hold meaning and honor people in our families. So the name Alice would be in memory of John's great aunt, who was his sweet Granny's older sister and who played a big role in her life. The middle would honor my beloved Aunt Kay, who lived with me for my entire childhood and raised my brother and I (along with our two cousins) like a second mother. Our entire family was heartbroken when she lost the battle with a craptastic disease called Multiple Sclerosis last year (more on that here), so getting to honor two strong and amazing women with that name just sounded right.
We also thought it was sweet that the first names of each of our daughters would have been storybook references (Clara from The Nutcracker, and Alice from Alice In Wonderland). Plus Kay and Kenley both begin with a K, so we thought it would be fun (albeit very subtle) for them to each get their own first initial but to share K as a middle one.
We briefly considered converting Alice Kay to a boy name: Alex? Alistair? But it felt like too much of a stretch, so we're just weighing some other family names and reminding ourselves that we still have a few months to decide, so there's no rush yet.
Let's talk names. How did you name your children? Do they honor someone or reference a favorite historical figure or storybook character? Did you have an easier time choosing boy names or girl names? It seems to go either way, from the people we talk to…
It's no secret that I'm "pocket sized" (as a very charming Brit once called me – which beats "short", as many people over the years have called me). I come from a sweet mom who's even more pocket sized than I am (4'11") and a dad of pretty average height (5'10") so it's sort of a wonder that I'm even 5'2″. I still remember the doctor telling me I had stopped growing and being completely incredulous, like "um, there's no way" – he was 100% right by the way.
So 6′ tall John usually feels like the resident giant at family gatherings on my side… but after seeing this old photo of my great aunt and uncle (my paternal grandfather's brother and his wife) it seems like there might still be some "tall genes" lying dormant in me yet (maybe that explains Clara's extra tallness, along with getting that from her daddy).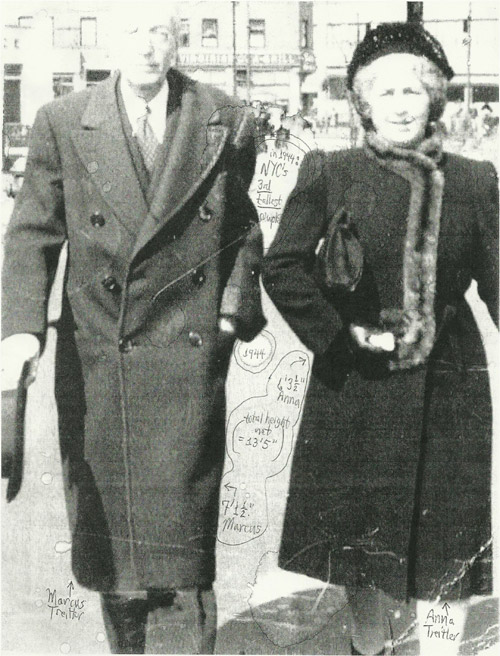 Apparently Marcus and Anna, at over 7'1″ and 6'3″ respectively, were even named New York City's 3rd tallest couple in 1944. Our jaws both dropped when we heard that someone in my known-to-be-short family had earned such a lofty (pun intended) designation. And that such an award even existed.
Plus, we were completely shocked by how much my great uncle looks like John's dad. It's a really old faded picture, but to everyone who knows Tom Tom, the resemblance is uncanny.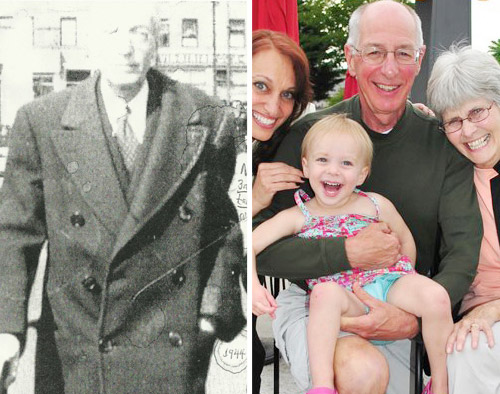 To put that into perspective, here's a little height chart that John had fun making using some clip art silhouettes (I almost killed him for using the "sexy lady" silhouette on me, so just ignore that please).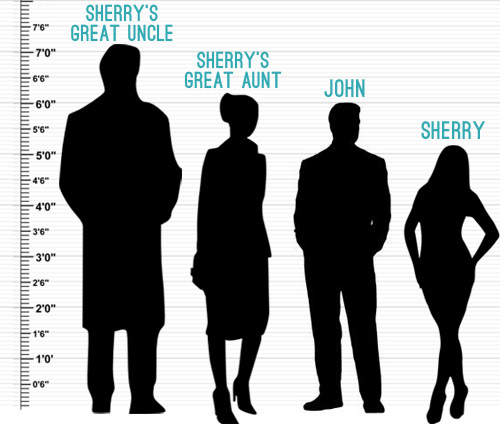 We still can't get over it. It's just so amazing that someone in my lineage made the record books for their height. Have you guys learned anything cool about your relatives that blew your mind lately?