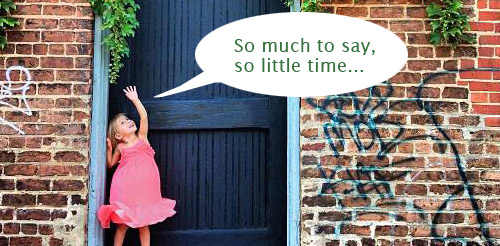 Convo #1
Mommy (in the parking lot looking at an old razor that got run over): Let's not touch that – it's an old razor that got flattened by a car.
Clara: But maybe it's a DRAGON!
Convo #2
Daddy: You went to school two mornings a week when you were two, but now that you're three you get to go three mornings a week!
Clara: Yay! And when I'm four I'll go four mornings, and when I'm five I'll go five mornings, and when I'm all of the letters I'll go all of the time!

Convo #3
Daddy (after seeing a dog stick his head out the driver's side window of a nearby car): Clara look! I think that dog's trying to drive that car!
Clara: I think it is!
Daddy: Do you think Burger could drive a car?
Clara: Um… a little bit.
Daddy: Really? I think he's too small.
Clara: Yeah. We're gonna need a bigger dog.
Convo #4
Clara: Watch this! (jumps into the air and claps her hands). That was a sport. That was a really big sport.

Convo #5
Mommy: Hey, what do you want to be for Halloween this year? 
Clara: I want to be a LAWYER!
Psst- Check out over 95 other conversations with Clara here.

&nbsp Comment

&nbsp&nbsp&nbsp

&nbsp

&nbsp
If you enjoyed this post, please leave a comment or subscribe to the feed and get future articles delivered to your feed reader.
97 Comments