Archive for July, 2012
Yeah, so we're over a week behind on taking Clara's 26 month photo. Funny how vacation (plus coming home to a sudden book deadline) can throw you for a loop. But here's the picture that we literally snapped just two hours ago. Warning: my girl is in full diva mode.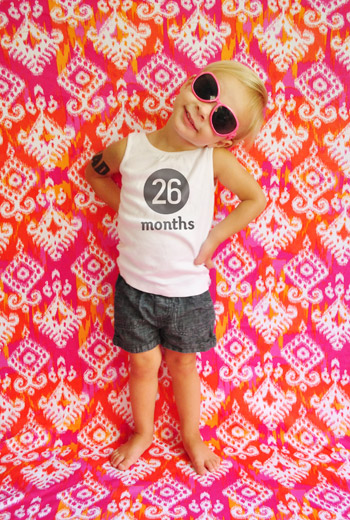 We figured we'd let Clara show off the temporary tattoo she got from the 5K that John did this weekend (more on that later). It says "RAD" and Clara is so obsessed with it that we can't bring ourselves to wash it off quite yet…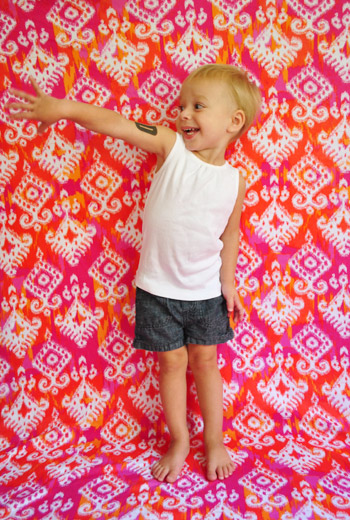 We thought this photo needed some sunglasses to really complete the look-how-cool-I-am vibe the tattoo was giving her.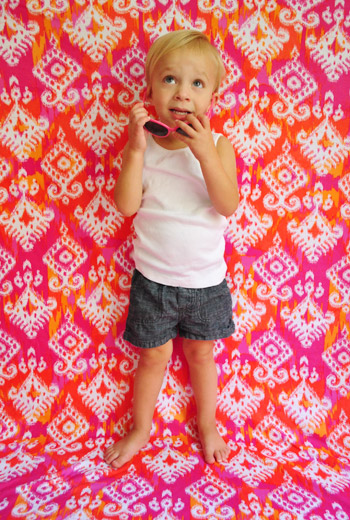 We were this close to picking the picture below as our official 26 months pic, since it almost feels like she's giving us a "You looking at me?" face. Or in the words of $herdog: an "and what?" face. Anyone remember "and what?" or is that just a Jersey thing?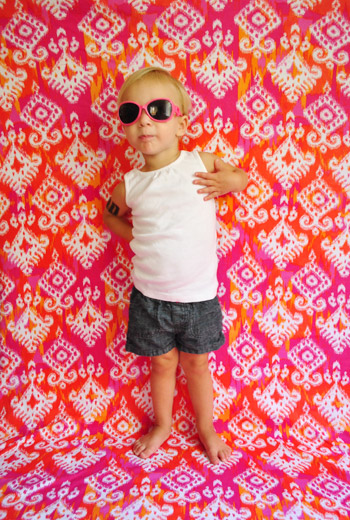 Oh yeah, there's definitely some attitude going on here.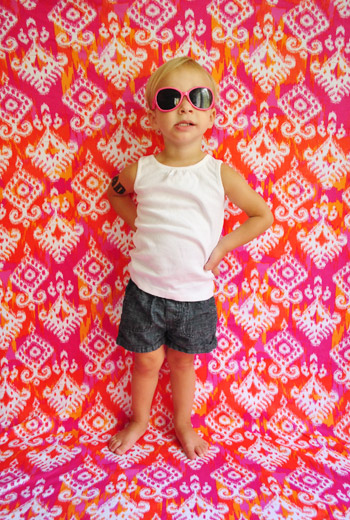 Actually, the fun thing about this particular photo session is that Clara is starting to take direction really well. And by direction I mean that I was playing stage mom behind John as he snapped photos by posing and saying "Can you do this?" and she would try to mimic me. It was adorable and such a different experience from her weekly photos within the first year, where she just flailed and did cute things like yawning and stretching as we snapped away from above.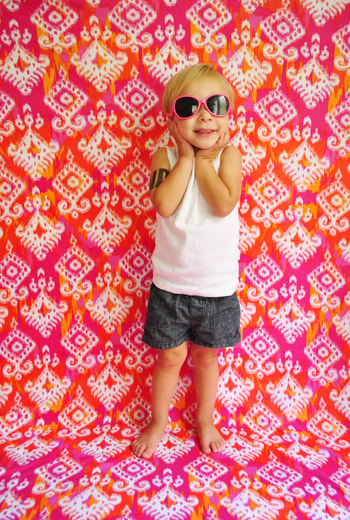 It was seriously like our own little episode of Toddler & Tiaras. And I'll admit it, it scared me a little. Haha.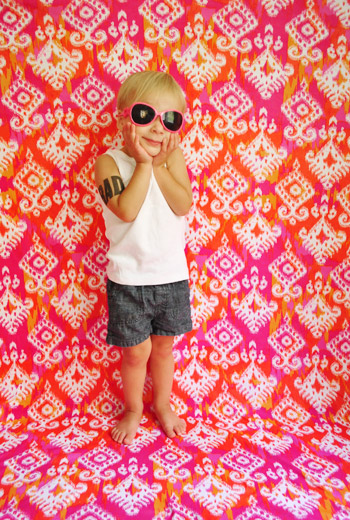 Clara was surprisingly into it. Should we be worried?
If you're looking to see all of Clara's weekly and monthly photos, check out the entire collection here.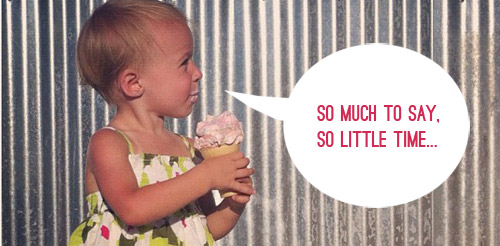 Here are a few of my recent favorite conversations with Clara (check out the first and second post about our chats here and here). Is she not hilarious? I think she gives Jerry Seinfeld a run for his money. Might be biased though…
Convo #1:
Mommy: What shirt should mommy wear?
Clara: This one (points to blanket)
Mommy: That's a blanket. What about this shirt? (picks up Maui shirt with whale on it)
Clara: Ok. And this shirt (points to bra)
Mommy: That's mommy's bra.
Clara: That's Clara's bra!
Convo #2:
Clara (arriving at Grammy and TomTom's house and letting herself in the front door): Hello? Anybody is here? Where is anybody?
Convo #3:
Clara (while watching Alvin And The Chipmunks): Look! I see the munkchips!
Convo #4:
Clara (while playing with fake coins): I have one monies. Ooh I have two monies!
Convo #5:
Clara (singing, while holding an octopus balloon daddy got her from Kroger): Twinkle twinkle little octopus, how I wonder what you are. Up above the world so high, like a octopus in the sky…"