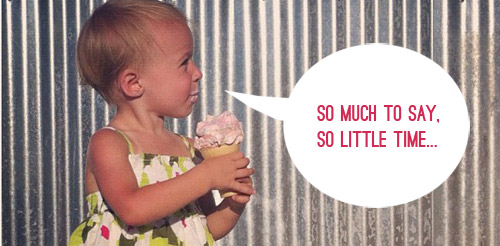 I think the Clara conversation play-by-play will be a reoccurring thing around here because THE GIRL IS HILARIOUS. Here are a few of my recent favorites (I write them down in a journal every night so I don't forget them):
Convo #1:
Mommy: Did you poop? You smell like you did…
Clara: I smell like strawberries!
Convo #2:
Clara (to Burger as he walked into the room): Oh hi Burger, wanna color?
Convo #3:
Clara (while playing with her stuffed giraffe): Thank you so much – you're so helpful!
Convo #4:
Clara (while holding three Barbies at Grammy's house): I love my dollies!
Mommy: What's that doll's name?
Clara: Sherry
Mommy: And what's that one's name?
Clara: Sherry Berry
Mommy: And that one?
Clara: Selly Belly
(*Clara must hear the name Sherry but not know it's me, so it pops up randomly like this. No idea who Selly Belly is though…)
Convo #5:
Mommy (after Clara kept bugging Will by sticking her hands in his car seat): Clara, let's keep our hands to ourselves.
Clara: I keep my hands to will.
&nbsp Comment

&nbsp&nbsp&nbsp

&nbsp

&nbsp
If you enjoyed this post, please leave a comment or subscribe to the feed and get future articles delivered to your feed reader.
99 Comments