So we're a bit behind in actually writing this post, but anyone who follows us on Instagram knows that we took Clara apple picking a couple of weeks ago. It's this awesome spot about an hour from here called Carter Mountain which is on top of (surprise) a mountain and overlooks Charlottesville, VA – home of my alma mater.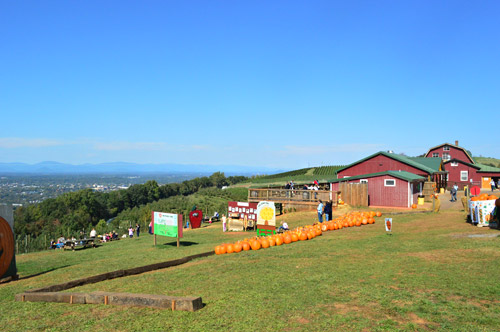 They've got plenty to do. Pumpkins. Hayrides. Even little educational pieces – like this board about bees. Guess we've got a kid after our own hearts, right?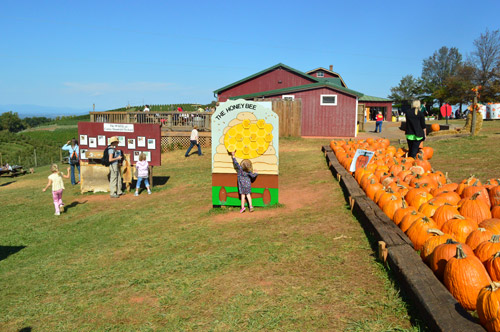 But we were there to pick apples. Plain and simple. As simple as spelling the word "Fuji." Okay, maybe that's not as easy as I thought…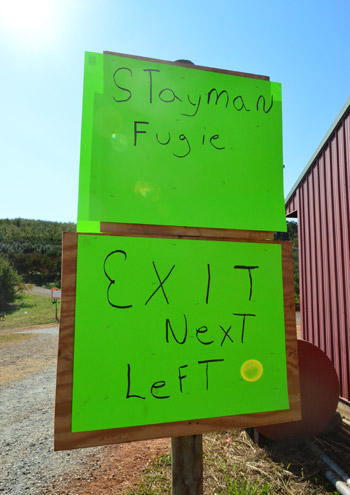 Clara had a blast just running around, which was good because the first section of the orchard we went into was pretty picked over.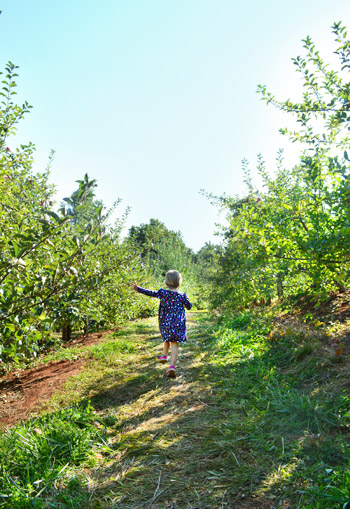 She was pretty proud of herself when she spotted apples on the ground – of which there were plenty – so we had to break it to her that we wanted to take apples from the tree.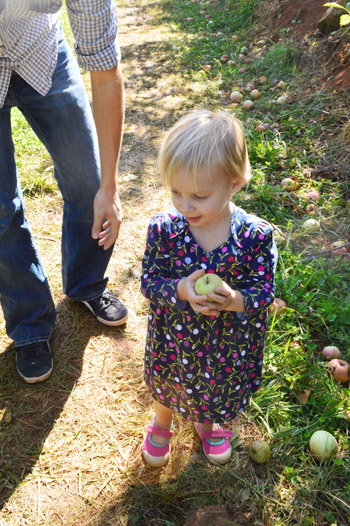 Eventually we spotted some, but they required a little bit of a boost.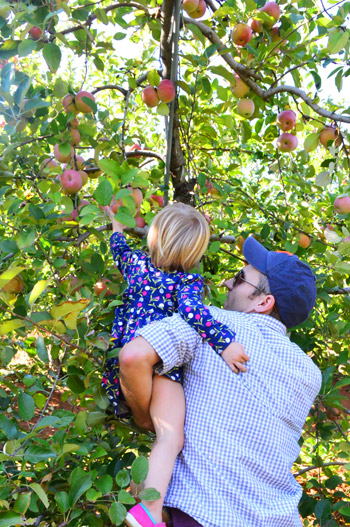 But isn't that what dads are for?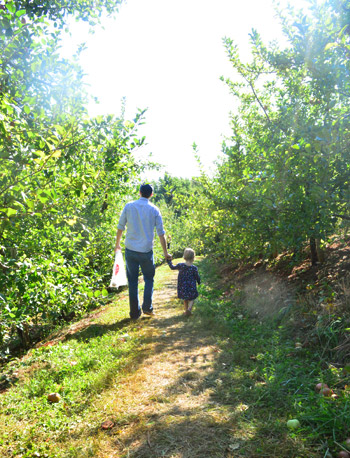 We eventually made our way over to another section of the orchard to hunt for more easily accessible fruit.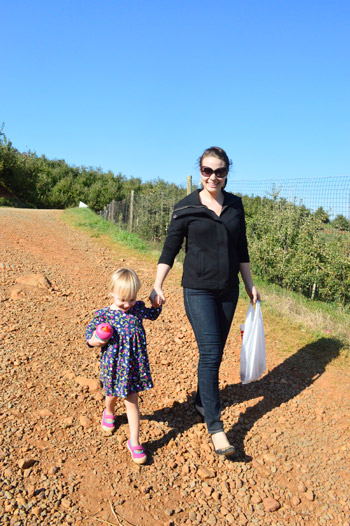 At first, we encountered the same scenario. Lots of apples on the ground. Few on the trees. Boo.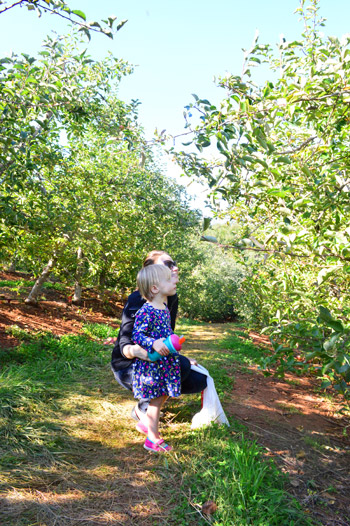 At least that gave Clara an excuse for more running.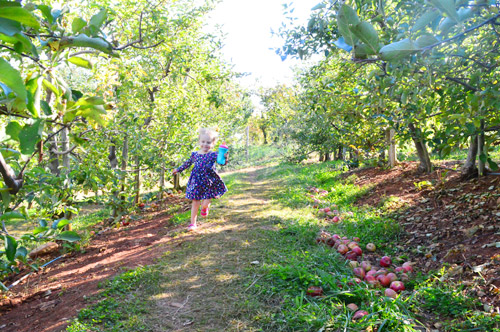 Eventually we made it deep enough in to find a bounty of lower-level apples. Victory!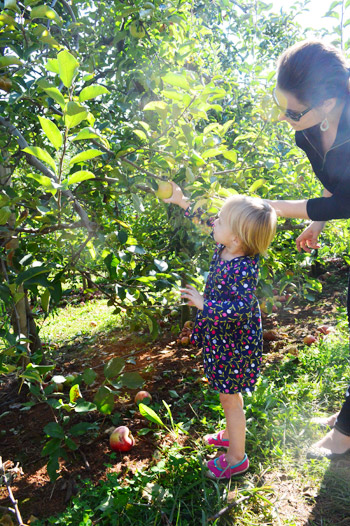 Someone was in love.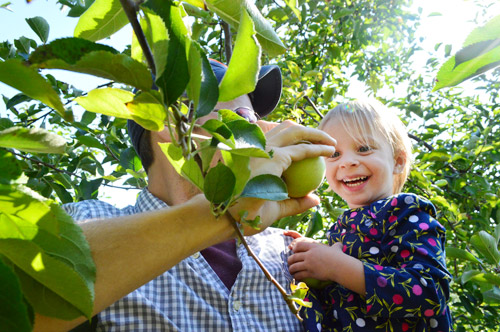 She was so proud of the apples she gathered that she was determined to carry them back to the car all by herself.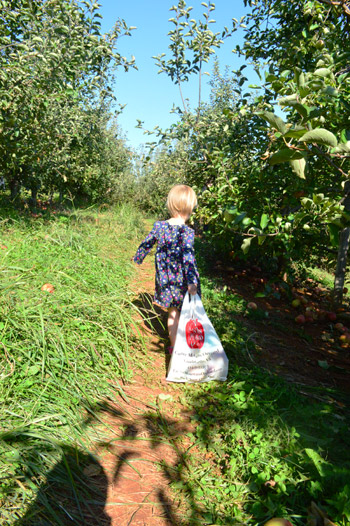 Eventually we sped up the process by giving her a hand. I just love this photo because it looks like a paparazzi photo. You can blame it on the flash going off for some reason. Well, that and Sherry's giant Angelina sunglasses.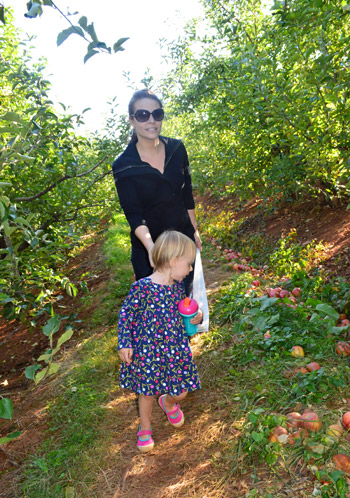 All-in-all, it was a beautiful fall day atop a mountain in the Blue Ridge.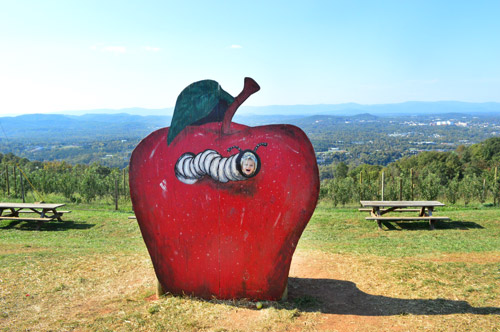 And oh yeah, those apples were eaten by about 5pm the next night. Clara was addicted.
&nbsp
This is a fun monthly letter about my life that I share with my pen pal who is also named Clara and lives all the way in Germany! Each time, my friend Clara also shares a letter with me, so I get to read all about the life of a little girl with the same name in Germany. I think it's really cool – and hope you guys do too!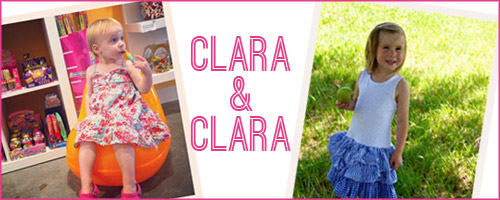 Oh and I get a little help from mommy when it comes to writing my letter (although this time she taped our convo for you guys, so you can see me in action), and my friend Clara's mommy helps to translate my letter at the bottom of this post into German so my friend Clara can read it. And you can drop in on her letter to me right here (which is translated into English at the bottom of her post).
Hi Clara!
I'm excited to write to to you about my favorite foods. For breakfast every morning I eat (and LOVE!) yogurt. I can easily have two cups each morning. Here's my list of what I like to eat the most at lunch and dinner: chicken nuggets, oranges, apples, blueberries, strawberries, hummus and carrots (I like to dip them), peanut butter, and pasta.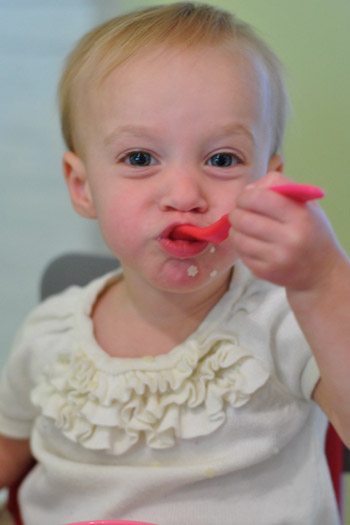 I really like tomatoes a lot and crackers and cheese and sandwiches and… I don't know (I'm forgetting other things like broccoli, peppers, edamame and pickles).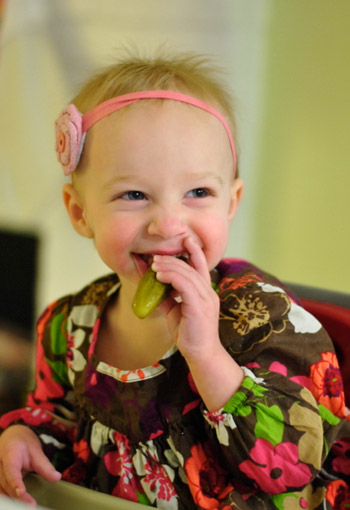 Sometimes I like popcorn (and I give Burger some). I like Goldfish crackers as a snack too. I like cheese and popcicles too. I also like treats like: apple pie, fruit snacks, ice cream, cupcakes, and M & Ms too. Sometimes I get those at birthday parties or we get ice cream after dinner if I'm good.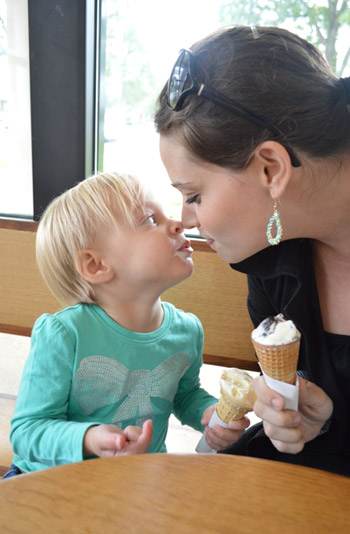 I know that's a long list, so here are my three favorite foods:
Strawberries
Blueberries
Tomatoes
I can't wait to hear what yours are too! My guess is that you like strawberries too!
xoxo,
Clara
____________________________________________________________
Here's our Clara's letter translated in German for her pen pal:
Hi Clara,
ich bin so froh, dir heute wieder zu schreiben. Heute erzähle ich dir von meinem
Lieblingsessen. Zum Frühstück liebe und esse ich am liebsten Joghurt und da schaffe ich
kinderleicht zwei Schälchen. Hier findest du auch meine Liste für meine liebsten Mittag-
und Abendessen: Hähnchen-Nuggets, Orangen, Äpfel, Blaubeeren, Erdbeeren, Humus und
Karotten (ich liebe es mit den Karotten den Humus zu dippen), Erdnussbutter und Nudeln!
Außerdem mag ich wirklich richtig gerne: Tomaten, Cracker, Käse und Sandwiches. Oh, ich
habe Brokkoli, Paprika, Edamer und Gewürzgürkchen ganz vergessen.
Manchmal mag ich auch Popcorn sehr gerne (da gebe ich Burger etwas davon ab). Ich liebe
auch diese Goldfisch-Cracker. Und fast hätte ich es vergessen: Apfelkuchen, Obst-Snacks,
Eiscreme, Cupcakes und M&Ms stehen bei mir auch sehr hoch im Kurs. Die bekomme ich
manchmal bei Geburtstagspartys. Wir essen auch gerne Eis zum Nachtisch, wenn ich brav
gewesen bin.
Das war eine lange Liste. Aber ich muss sagen, mein liebstes Essen sind:
Erdbeeren,
Blaubeeren und
Tomaten
Ich kann es kaum erwarten, zu hören, was du am liebsten isst. Ich denke, es sind bestimmt
auch Erdbeeren.
xoxo,
Clara
&nbsp