Sherry
If you caught this Instagram photo we posted back in July, you could probably tell it wasn't your average trip to the beach.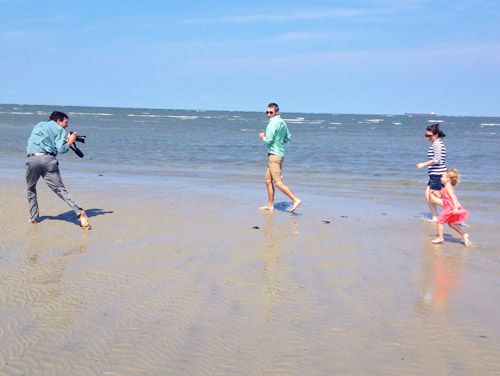 We were actually participating in a photo and video shoot for Virginia is for Lovers, the fine folks who promote tourism in our home state. They were starting a new series featuring real Virginians taking new adventures in the state, and they actually asked to feature us (!!). I know, we couldn't believe it either. It's pretty obvious that we're VA lovers to the max, so we couldn't wait to sing our home state's praises and check out a few places we'd never been.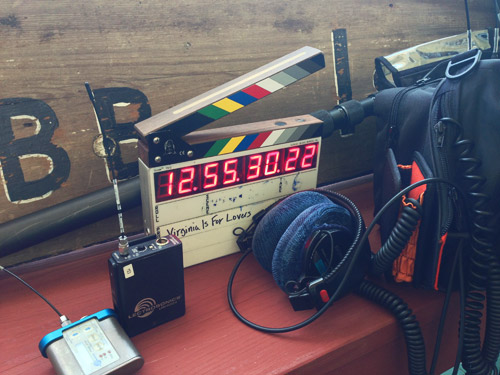 We were invited to explore Virginia's Eastern Shore for the day with them, which, for those unfamiliar with the geography of this region, is a sliver of land that sits on a peninsula on the opposite side of the Chesapeake Bay from the rest of the state (it's only connected to mainland Virginia by the state of Maryland and a 23-mile long bridge). We'd driven through there several times on longer road trips, but admittedly never stopped to take it in.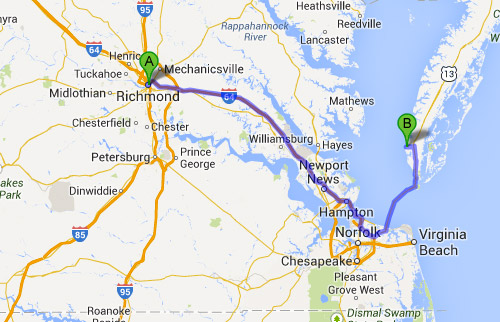 But man did we fall in love with it. We were primarily in a town called Cape Charles, which had the most perfect beach for any Clara-aged kids. It's on the bay, so there were basically no waves and the bean could run and play in tons of shallow water. That Instagram pic was actually taken on a sandbar, hence the shallow water that you can see rippling in the foreground. Sherry couldn't believe that we've previously traveled so far for calm kid-friendly beaches (to places like Hawaii & Florida) when there was one hiding just 2.5 hours away from us. Note: Sherry said I was remiss not to point out her crazy hair in this shot, but I think she looks perfectly windblown.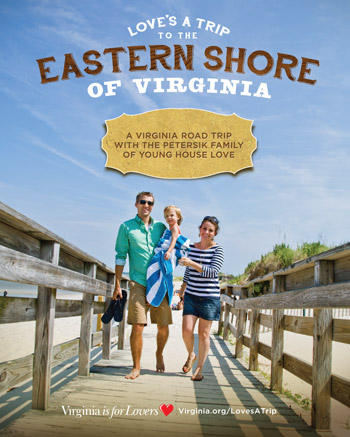 Of course, being a photoshoot and all, we had to apply a bit more than just sunscreen that day. Even me. Don't mind that half-eaten apple of Clara's that I'm clutching.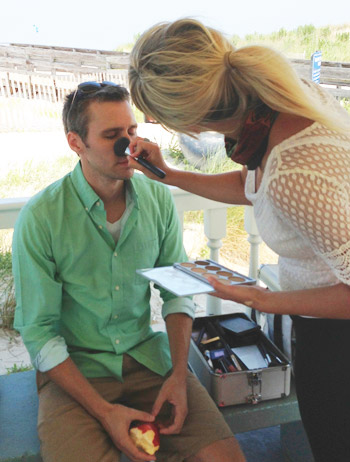 She had a great time raiding the craft services table on her tip toes. #kidtricks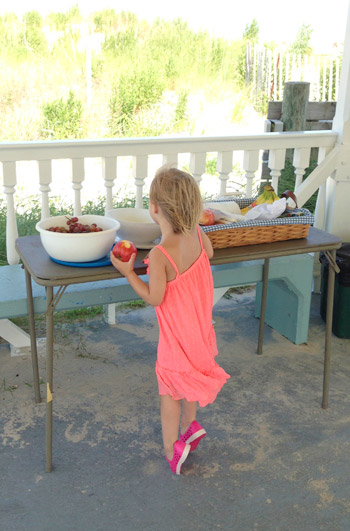 The crew was really fun to work with. The main photographer they hired (coincidentally) was our brother-in-law Todd, so it was nice having a family face behind one of the lenses, which Clara especially appreciated. And Kevin was the videographer who entertained Clara on the drive between the beach and lunch (don't worry, we already told him that he looks like Ed Helms). She was cracking up about two minutes into the ride. After giving him the stink eye that we captured here…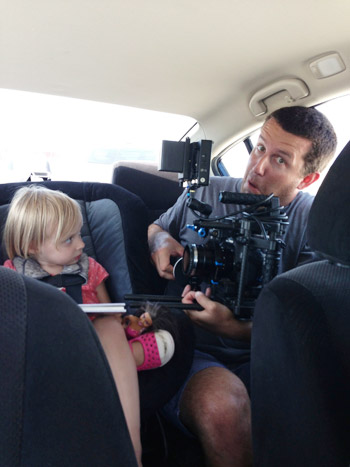 Lunch was at this charming waterside spot called Shanty. We ate seafood and grilled corn. They even photographed me holding a live blue crab here (not sure it got used though). It only tried to claw off my fingers once. Victory!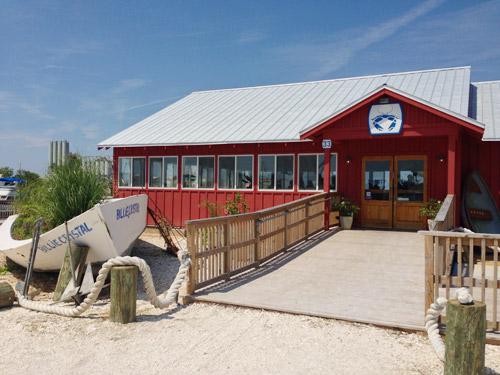 Of course, the biggest hit with us was the ice cream. I believe it was key lime flavored… and it was awesome.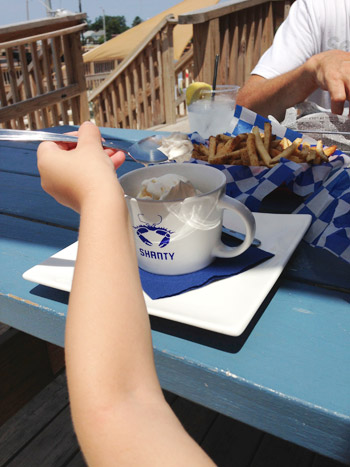 My parents actually joined us on the trip so that they could take Clara home after lunch (so she could rest from an already busy day). Sherry and I continued the tour by checking out some thrift and antique shops in the area, of which there were plenty to choose from. Considering I always love an old wooden box, I wanted these. But we collectively decided that boxes of dynamite and embalming fluid didn't necessarily scream "cozy" – although they would make for some pretty great conversation starters.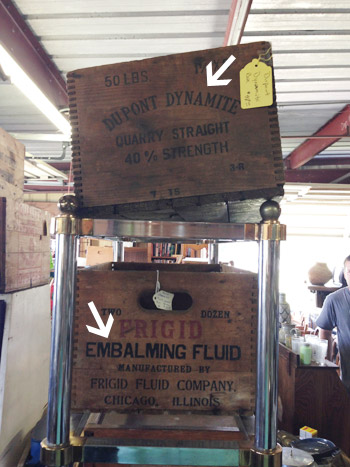 After junk-tiquing, we did an excursion that we'd never heard of before. Basically, a guide takes you in a kayak and you paddle to a winery, have a tasting, and then paddle back. I'm a kayaking fan. Sherry's a wine fan. It was a win-win all around.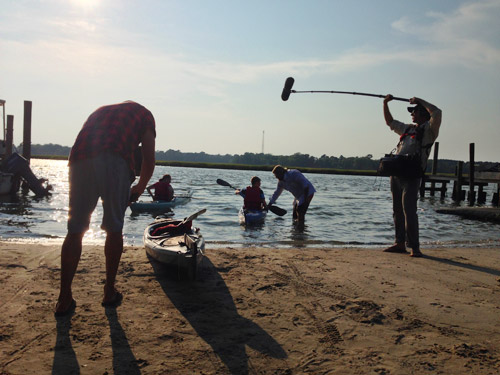 After a long and sweaty day (it was July, after all) we made the drive home to get some rest before Day 2 of the shoot – which took place at our house. Time for more make-up, eh Burger?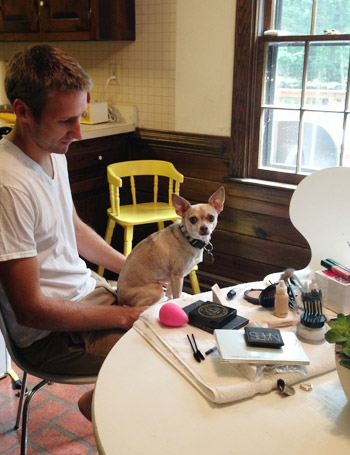 Clara and the make-up artist Logan were besties by this time, so Logan kindly gave Clara a turn in the chair (with some pretend make-up of course).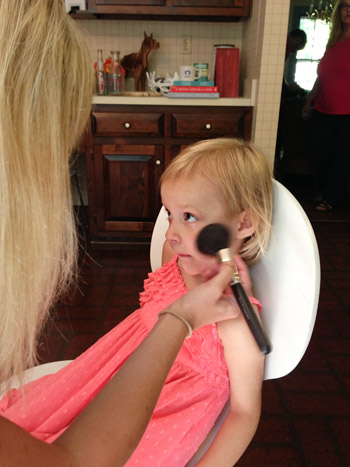 It was kind of funny having a crew over, especially since their intention was to shoot some of the items that we brought back as souvenirs in the supposedly beautiful setting that was our home (we warned them that we had just moved and our house was far from pretty yet). Fortunately we had just finished painting the foyer so it looked relatively presentable… if you didn't swing the camera around to catch the blue stair balusters.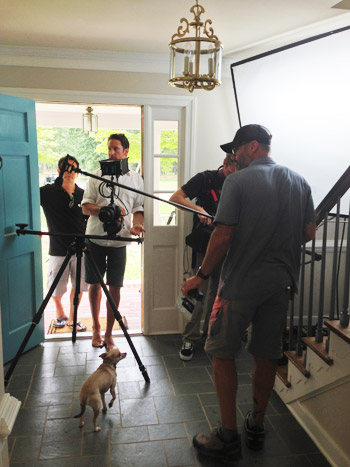 Since the schedule didn't allow any time to really "transform" anything that we found while junk-tuquing with things like paint or upholstery, we ended up just grabbing some pretty items that we thought would look good together on a table or console. Sort of "not-your-average souvenirs of the day" if you will. So instead of shot glasses or key chains, we brought home a couple of cool old glass bottles (the milk bottle is my favorite) plus an old oyster can and even some vintage skeleton keys. We also purchased the mug that our Shanty ice cream came in and kept the corks from our wine tasting to commemorate those experiences.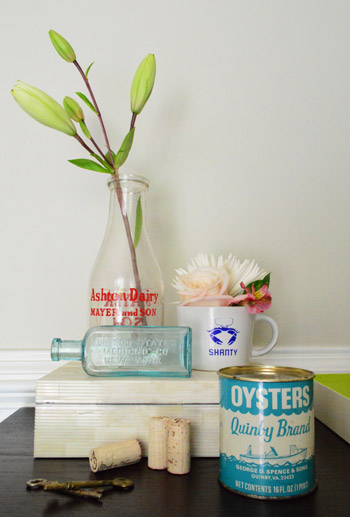 Here's Sherry doing her best oyster spokesperson impression during a break from shooting a little clip about what we brought home.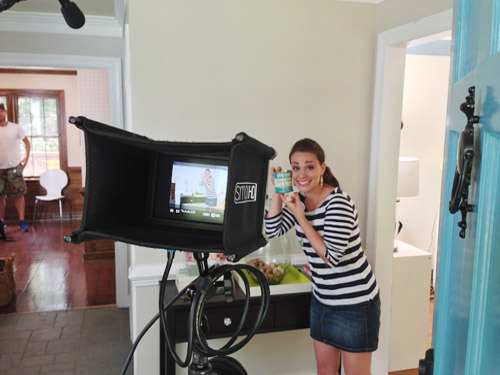 The day wrapped up with a quick interview on the front porch (another area that was thankfully presentable enough at this point to be a backdrop). It was mainly shot for audio purposes, which is why no one minded that Burger slept like a wet noodle in my arms the whole time.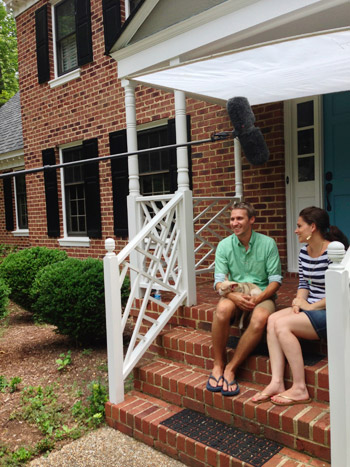 We're excited to go back to some of the spots we discovered on our little whirlwind tour – especially the beach at Cape Charles – just to spend some more time exploring and relaxing. And maybe this time we'll just bring our own camera…
We've had a bunch of beautiful weekends lately so we've been eating up as many summer-ish activities as possible before the weather turns. One such activity was Richmond's 2013 Street Art Festival. We'd been to the inaugural festival last year, but this one certainly took it up a notch.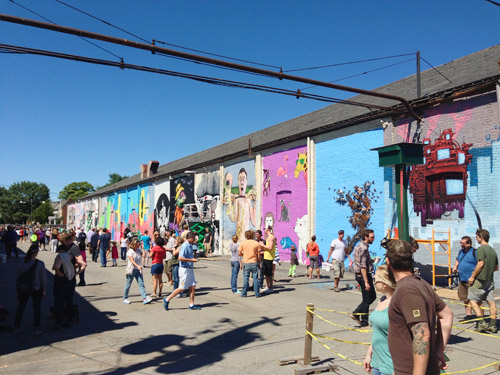 The site was an old bus depot that was once a repair station for Richmond's 19th-century electric street car system (which was the first in the country, preceding the now famous San Francisco system). There were tons of old buildings not being used, so bravo to whomever thought up the idea of allowing local artists to cheer them up with a little paint.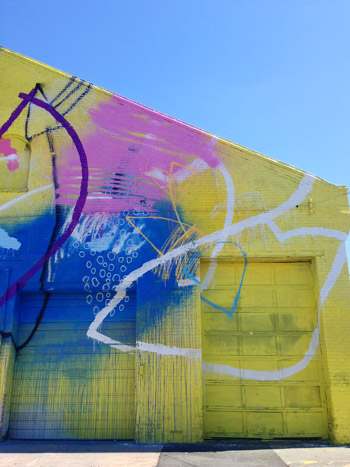 It's just another reason we love this city.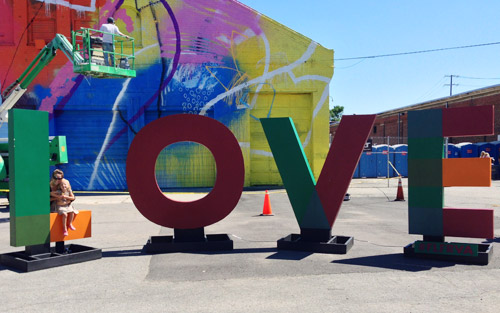 There was plenty of eye candy, like an appearance by our favorite wheeled bees by painter Matt Lively.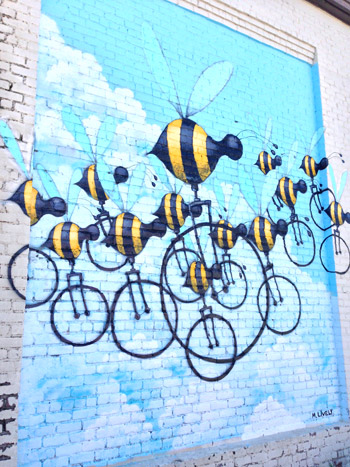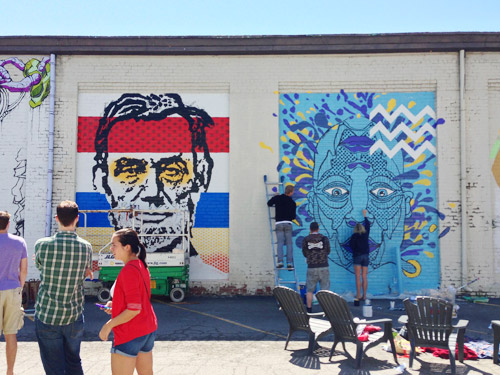 There was lots of interactive stuff that got people involved in the art taking place. This drip art mural invited kids to ride up in the lift to help drip paint down the wall. Had the line been a bit shorter and had Clara been a smidge older, we totally would've been up there.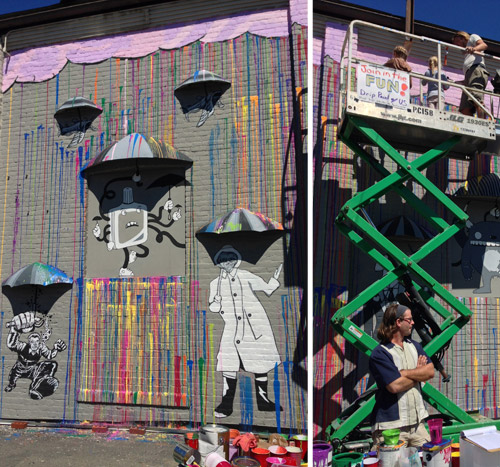 They also debuted a mural called The Light of Human Kindness that was inspired by acts of kindness that people submitted online. It's laced with LED lights that illuminate when people continue to post kind acts online (you can see more of the mural and read or submit stories here).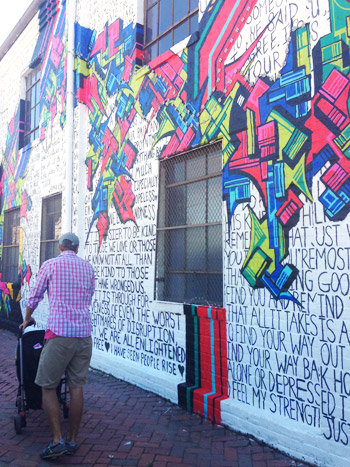 And as if this giant woodcut map wasn't enough to get me excited…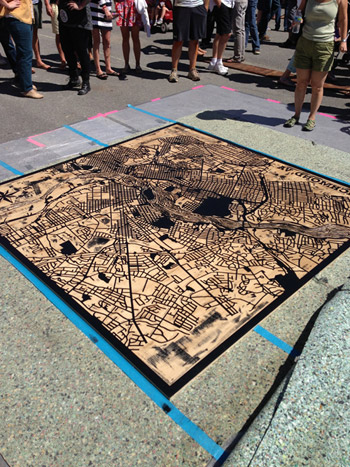 It was actually a giant print that Studio Two Three was using to create a huge piece of art… using a STEAMROLLER. We were all pretty mesmerized by the process. Clara especially liked the "digger" (which is what she tends to call every piece of construction equipment these days).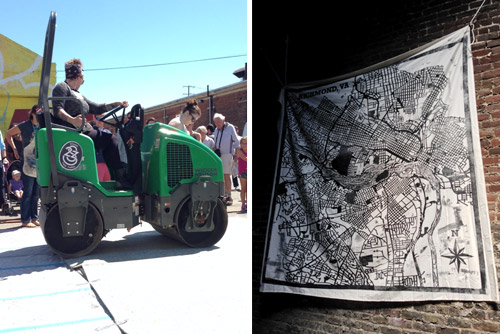 Clara was also very much into any art that featured animals in it. Word.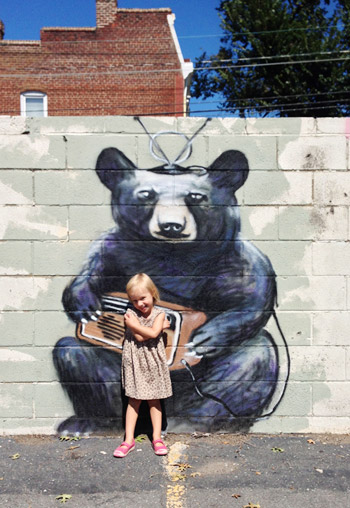 Sherry was particularly fond of this small Escher-ish painting.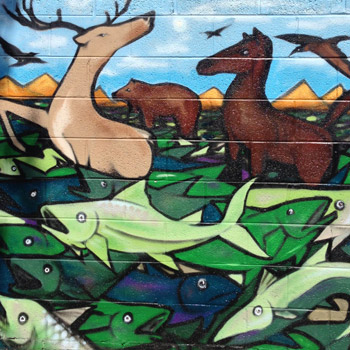 And I like just about anything with a president on it.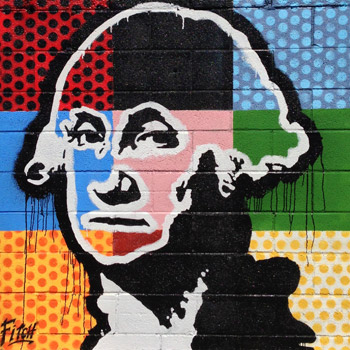 A president or bikes, I guess.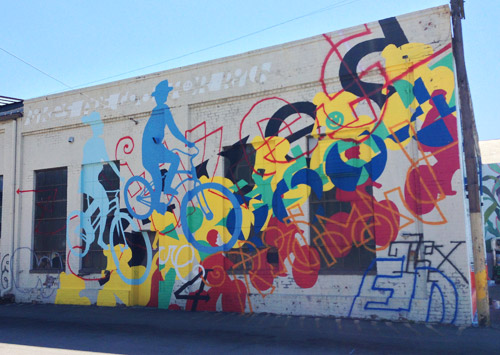 And beyond just being able to watch the artists at work, there was a pretty festive vibe this year. There were TONS of people and everywhere you looked there was something going on – usually with some bright paint involved, like this cheerful half pipe.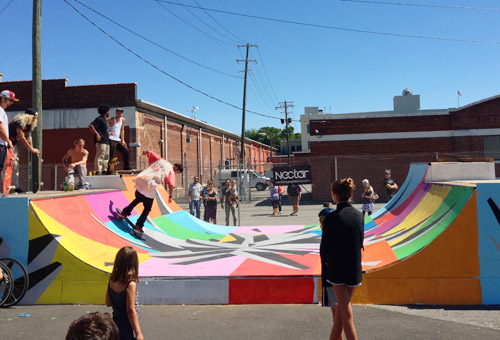 There were also a bunch of food trucks lined up (like most cities these days, food trucks are EVERYWHERE in Richmond). We skipped the traditional lunch and just got donuts instead. We'd heard awesome things about Mrs. Yoder's and they did not disappoint. It's like the biggest meltiest Krispy Kreme you ever did taste.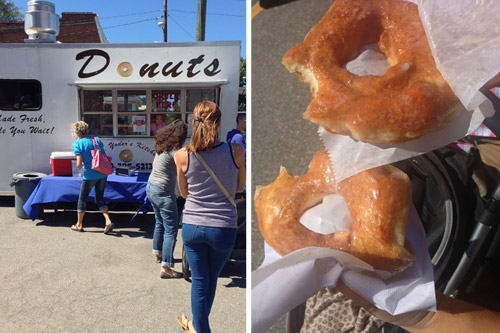 It's events like this that make us feel very lucky to live in a city where there's always something interesting and fun (not to mention 100% free) to help Clara experience the world. So thanks RVA!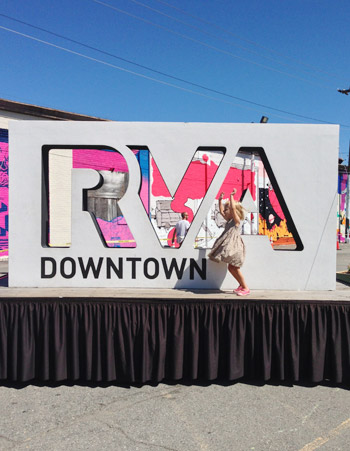 Of course it begs the question. How are they going to top this next year?