Sherry
The pregnant bellies were out in full force in Richmond last weekend. Yep, Katie Bower, her boys, and her bun-in-the-oven came for a whirlwind visit, so of course we had to squeeze in a bump shot while standing in the middle of a giant rock.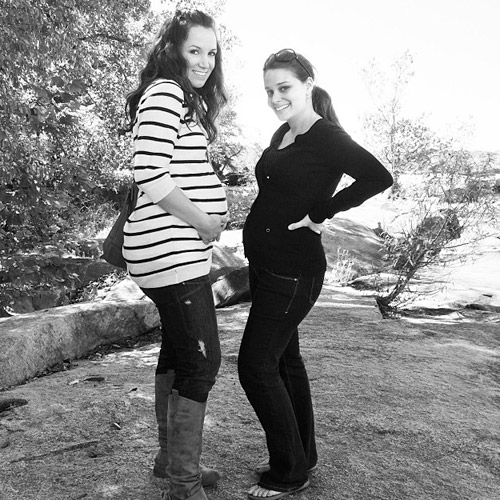 Katie even convinced the guys to get in on the action.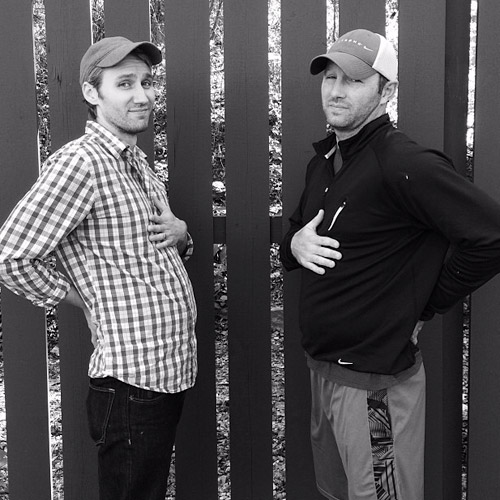 But of course the sweetest duo of the weekend was Clara and Will, who are probably starting to forget that they live eight hours away from each other considering that this is the third time in one calendar year that they've seen each other. #besties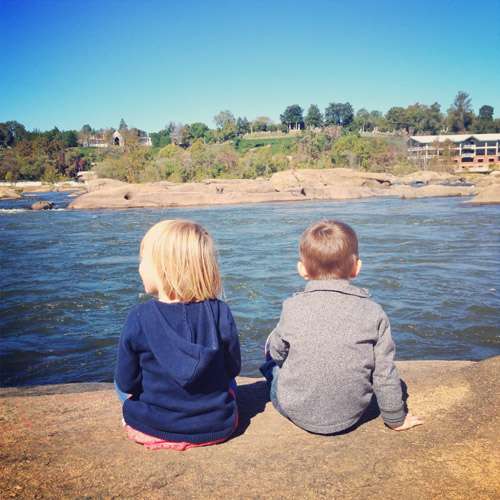 The visit was short, but we told Katie & Jeremy that we'd make the most of whatever days they could spare out of Jeremy's work schedule. So they arrived late Friday night and we got to hang out until early on Monday morning when they hit the road. The sad thing about waking up on Saturday, raring to go, was that it promptly rained all day. But the kids still had fun playing inside, helping to make a delicious pancake breakfast (in the real kitchen – although they logged a lot of quality time with Clara's play kitchen) and we had some good meals at a couple of family-friendly places and checked out a local garden center (where the kids had some moon bounce fun).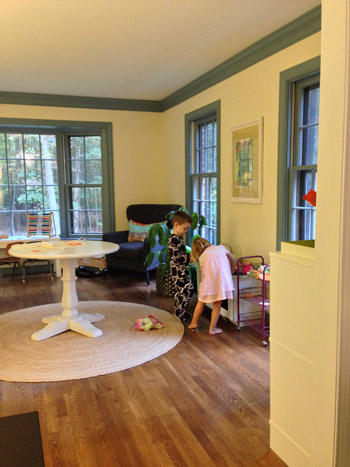 And there might have been some ice cream at one point.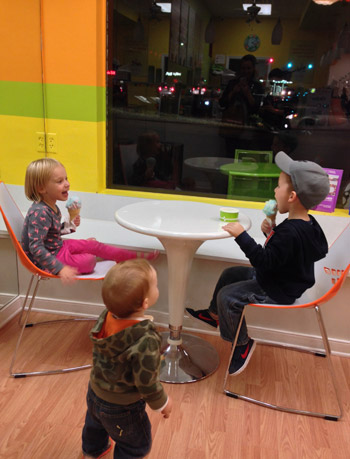 Aaaaand some donuts at another.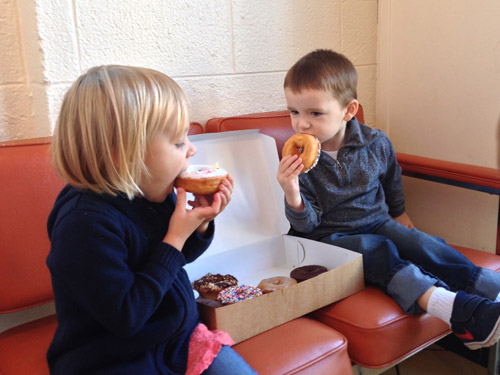 But our visit wasn't all about food. Especially since the clouds cleared on Sunday for a perfect fall day, which meant that we could venture out to one of our favorite spots in Richmond: Belle Isle.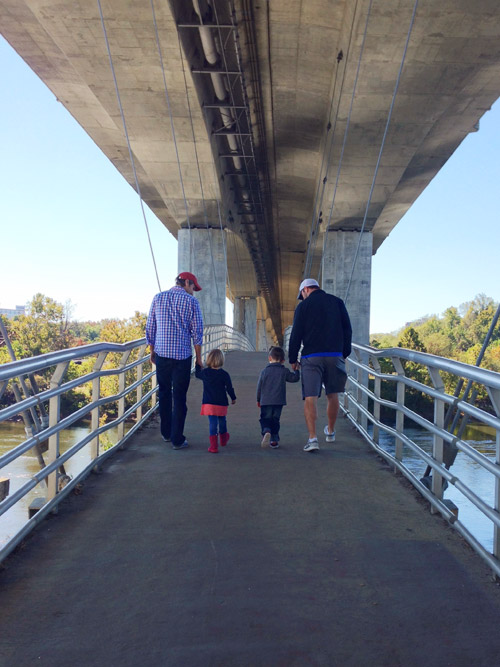 It's a little spot in the middle of the river that's connected by a suspended foot bridge, so it's an awesome spot to catch a view of the city skyline – and do some kayak watching while you're at it.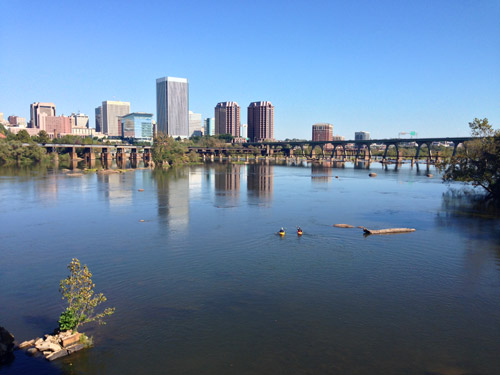 We usually go there for nice long walks, but we decided just to let the kids have fun out on the big exposed rocks that extend into the river. "Have fun" loosely translated into throwing rocks in the water. And man, Will can throw. Future baseball player status going on.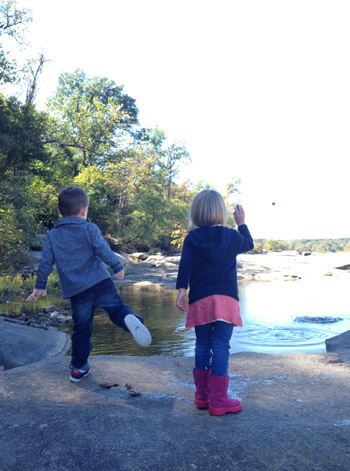 After lunch and getting the kids home for a nap, Katie and I walked to a couple of open houses in our neighborhood just because we're nosy like that. How cute is this little playhouse nook that one of them had in their bonus room? The back wall was chalkboard paint and it was covered with kid doodles. Adorable.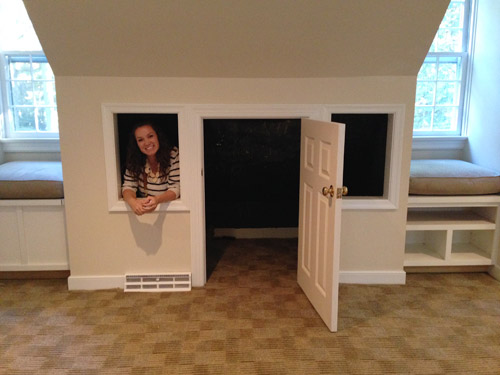 But the visit was over before we knew it and by the crack of dawn on Monday morning the Bower 4 (and a half) were packed up and headed south again. But at least we'll always have Belle Isle…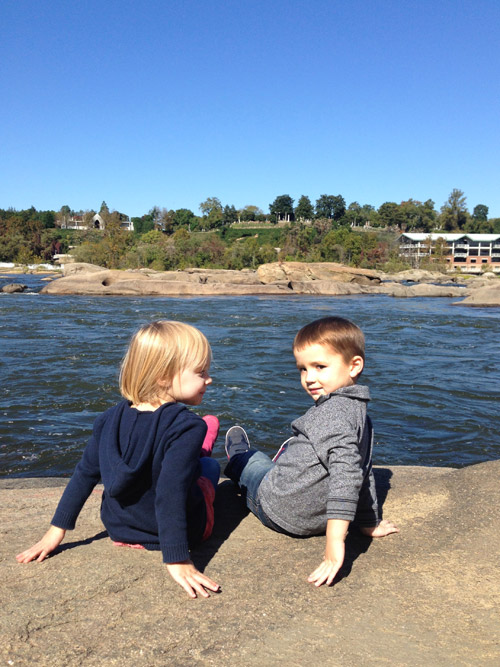 Oh and Katie and I were totally unproductive during this visit and completed neither a craft project nor a Pinterest Challenge announcement photo (or video) as planned. Forty eight hours goes by much faster than you'd think it would, especially with three kids running around and some morning sickness (mine) in the mix. So… next time!
By now you probably know going to the State Fair of Virginia each fall is a family tradition of ours (here are pics from 2012 and 2011, which started off with a very similar picture – although Clara was willing to pose for it that time). This is one of those you-sit-in-a-fake-roller-coaster and take the picture shots – and then you turn it upside down to look like you're really riding. I love that Sherry pulled her ponytail up to add to the illusion.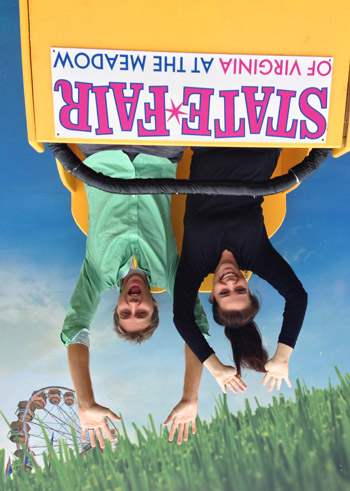 This year we went while Nonna was in town, so we ended up there on a crowded, cloudy Saturday afternoon instead of our usual weekday evening approach. It was a bit tougher to navigate and the sights weren't quite as pretty, but a good time was still had by all.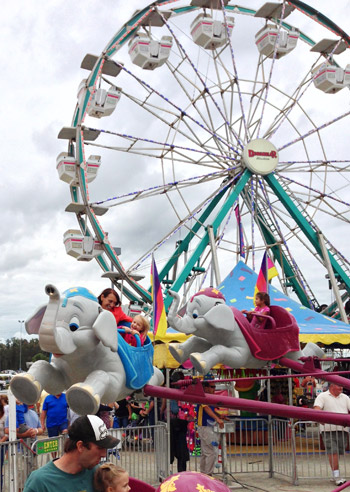 Most of our time was actually spent riding rides this year, marking a slow transition away from the animal- and food-centric trips from before. So there was a spin on the imitation Dumbos and the Nemo-ish fish.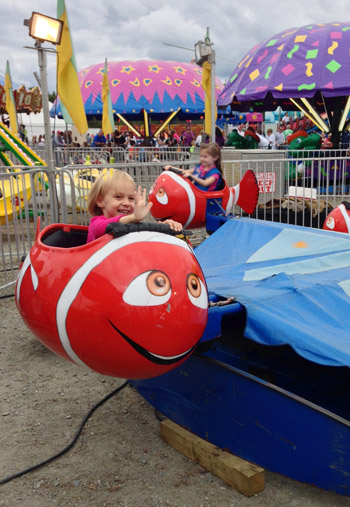 And rounding out our knock-off Disney trip, there was even a stop at the teacups. Which I was convinced Clara was going to hate (and tried to talk her out of, partly for my sake too) but we both ended up having a great, not-too-dizzy time.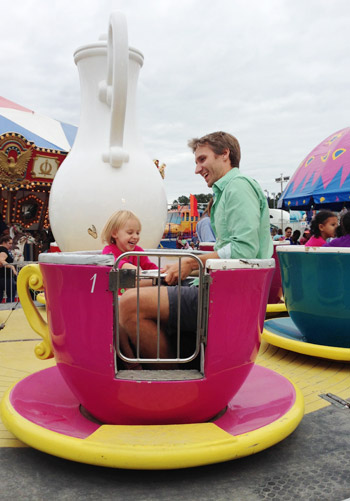 Although my favorite ride moment was on the "Rockin' Tug" which spun you around while it went back and forth. Clara dubbed the scary face behind the ride as a "shark" and everytime we passed it she excitedly screamed "Don't get us shark!" No fear. All fun.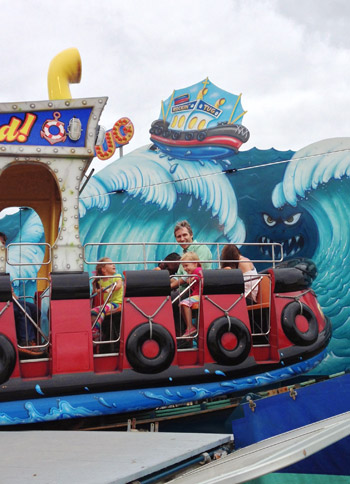 And of course there was another trip down the big slide together.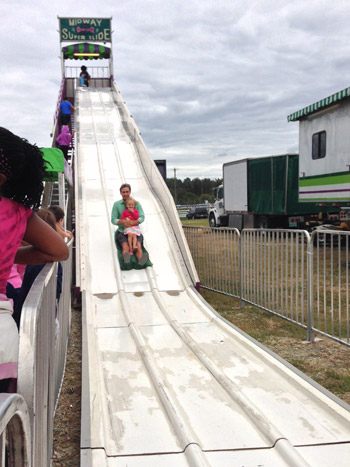 Clara finally got the joke of putting your face in these holes to make it look like that's your body, so we stopped at just about every one we saw. Here she and Nonna are rocking American Gothic.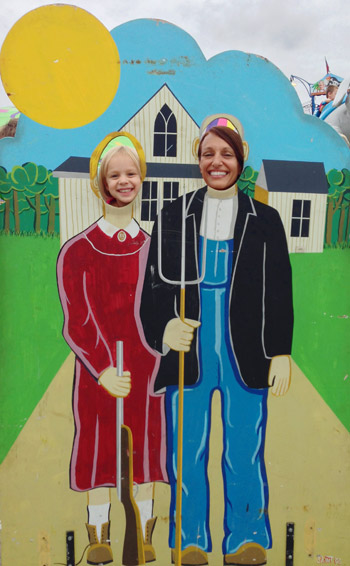 And she even went solo at the Sesame Street one (why an Ernie, but no Bert? Isn't that against the law or something?)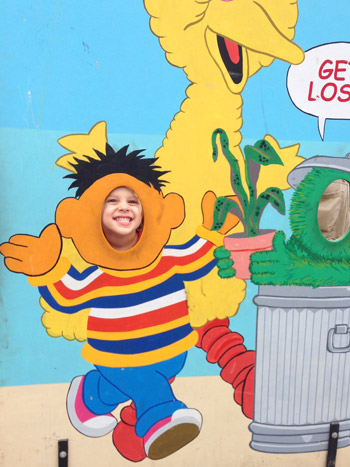 We did take some time out to look at the animals and eat some food, but none of the stereotypical fried-on-a-stick variety. So no good photo ops there. Is anyone else hitting up the state fair these days? Or otherwise enjoying the fall weather?