This is still one of my all time favorite Instagram pictures: Clara being jealous of Burger's bath, which he is definitely not enjoying.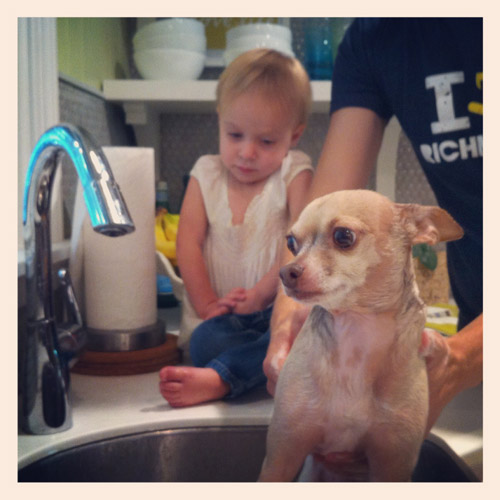 That was way back in May, so we decided to capture this moment on film since Clara's approach to Burger's bathtime has transitioned from silent envy to encouraging camaraderie.  She likes to try to boost his spirits by talking about how much she likes taking a bath (and washing her rear end, apparently). Oh, and forgive the terrible focus – or lack thereof – in this video. I'm still getting the hang of this new camera in video mode.
At the end that's my Fran Drescher impression. "Oh Burgerrrr, you're so grumpyyyy."
&nbsp Comment

&nbsp&nbsp&nbsp

&nbsp

&nbsp
If you enjoyed this post, please leave a comment or subscribe to the feed and get future articles delivered to your feed reader.
46 Comments