Clara Conversations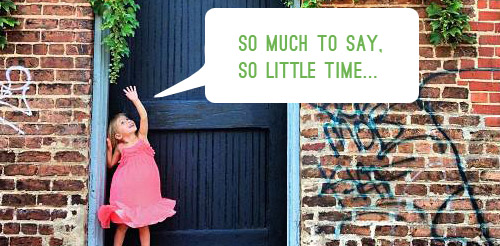 Convo #1
Clara (on Ursula in The Little Mermaid): I sure don't like that purple lady.
Convo #2
Clara: I want a cat because they don't growl. Beavers growl.

Convo #3
New friend: I'm in kindergarten. My name is Cameron.
Clara: Like camera! I like taking my mom and dad's camera.

Convo #4
Clara: Did you hear how funny I am today? Write that down in your book, mom. (she has officially caught on to the fact that I write my favorite Clara quotes in a journal)
Convo #5
Mommy: When you get home from school we get to tell you what the baby is! We'll find out if it's a boy or a girl and can't wait to tell you if you're getting a brother or sister!
Clara: YAY! They're going to take it out really quick and check? Tell them to be gentle and careful.

Psst- Check out dozens of other conversations with Clara here.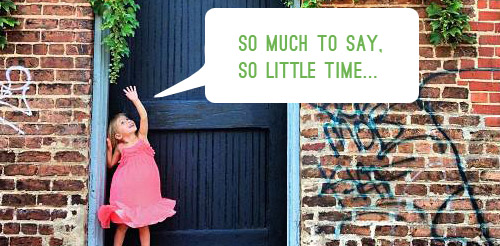 Convo #1
Clara: Dad, are you thinking what I'm thinking? It's that I have to go potty.
Convo #2
Clara (talking about Mike Wazowski from Monsters Inc): You know what's true about Mouse Wazowski? His one eye is so big, he doesn't have room for his other eye.

Convo #3
Clara (to some kids at the library): You can come to my house and play with me!
Kid: But we don't know what neighborhood you live in.
Clara: We live in the house near the witch.*

*When we went trick or treating she couldn't get over the stuffed witch that a neighbor had on her lawn, so clearly that's a good reference point for navigation
Convo #4
Kid: I have a friend named Clara. But she's a different Clara.
Clara: I'm a new special Clara!
Convo #5
Clara: Mom, I like when we saw Ariel and the crab sang that silly song "Under The Seat"
Psst- Check out dozens of other conversations with Clara here.