Clara Conversations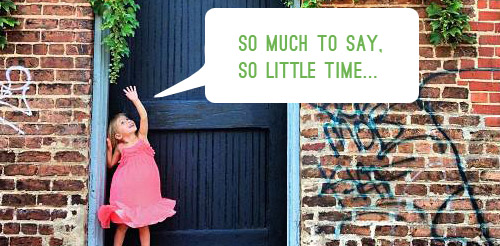 Convo #1
Daddy: Let's play a guessing game. I'm thinking of a letter. What do you think it is?
Clara: Is it one?
Daddy: Nope, that's a number. It's a letter that I'm thinking of…
Clara: I KNOW! IT'S FIVE!!!
Daddy: You're so silly. That's still a number. You know letters are like A, B, C…
Clara: Is it D?
Daddy: Nope… try again!
Clara: A?
Daddy: Nope!
Clara: IT'S FIVE!!!
Convo #2
Mommy (talking to Aunt Carrie, while she holds her cat Duncan): That would probably give you more function.
Clara: FUNCTION?! His name is DUNCAN!
Convo #3
Clara (on a foggy morning): Look Daddy, it's all froggy outside!

Convo #4
Mommy: The bear in that book sleeps in a cozy bed. Do you have a cozy bed?
Clara: Yes! I sleep in a cozy bed too. And mommy and daddy sleep in a…. sweaty bed!*
*(in our defense, our bed is nice and clean, but we both cry-laughed when she said that)

Convo #5
Clara (colors in a dense, dark brown oval with her crayon): Daddy, I drew Elsa! Can you draw eyes on her?
(Daddy attempts to draw eyes, although they're hard to see)
Clara: (long pause) Huh. (another long pause). She looks kind of like a horse.
Psst- Check out dozens of other conversations with Clara here.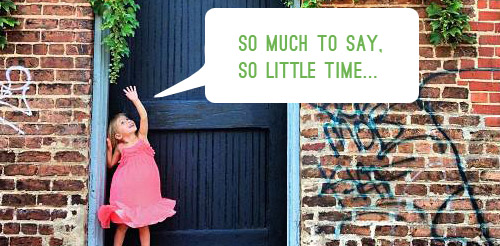 Convo #1
Clara: Mom, octopuses are kinda mean.
Mom: All of them? Or just some of them?
Clara: Just a few of them. The rest are ok.
Convo #2
Mom (pretending to be sick): Doctor Clara, I'm sick. What's my diagnosis?
Clara: You have… (looks around and sees a stuffed reindeer) … Reindeer-itis! It's when you swallow a reindeer and it's stuck in your throat.
Convo #3
(Dad walks into the kitchen and sits down next to Clara)
Clara: Hi-ya toots!

Convo #4
Mom: When you eat food, it goes down your throat and into your tummy.
Clara: And then it goes all the way down into your legs! Isn't that cool?

Convo #5
Mom (during our New Year's Eve dinner, while chatting about "word of the year" resolutions): Clara, what's your word of the year for 2014 going to be?
Clara (thinks a long time): … ketchup!
Psst- Check out dozens of other conversations with Clara here.