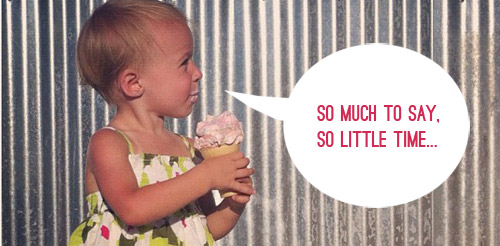 Convo #1
Clara: We're walking so far. I think we're walking to… New Jersey!

Convo #2
Mommy: Are you lucky or what?!
Clara: What!!
Convo #3
Daddy (playing the Broadway version of the song from Newsies instead of the movie version that Clara's used to)
Clara: What is this?!
Daddy: Can you tell the difference?
Clara: Yes! This is terrible.
Convo #4
Clara: Her name is Roo. Like ruined.
Convo #5
Mommy (to daddy, while talking about the showhouse we're working on): They're saying we might need to get a special permit for that window.
Clara: A special KERMIT?!?!?
Psst- Check out other Clara convos here, here, here, here, here, here, here, here, here, here, here, here, here, here, here and here. 
&nbsp Comment

&nbsp&nbsp&nbsp

&nbsp

&nbsp
If you enjoyed this post, please leave a comment or subscribe to the feed and get future articles delivered to your feed reader.
68 Comments