Burger
We're well into potty training with Clara (she sits on the potty regularly and occasionally there's success). So it's safe to say that she's familiar with the concept and comfortable with the idea that the potty is where the poop goes (although she seems to love the novelty of Burger getting to poop outside). So sometimes she brings it up…
And if you couldn't tell, the little ditty Clara sings at the end ("bah-da-duh, bah-da-duh, bah-da-duh, baaah") is the intro to "Thrift Shop" which Clara picked up when I was singing along to it on the radio earlier that day.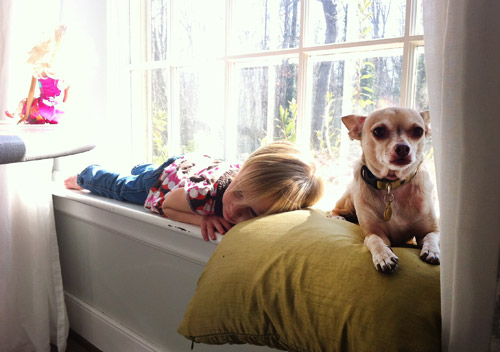 Yesterday afternoon I was working on the couch during Clara's nap and Burger snuggled up next to me. In his sleep, he gradually contorted himself into this weird claw-out position.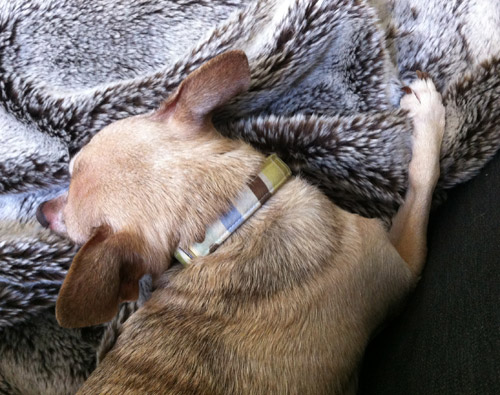 Had Sherry been sitting near me, I would've quietly motioned for her to check out the amusing scene next to me. But she wasn't. She was in the office and I didn't want to yell because I thought Burger might move. So I took the above pic on my phone and texted it to her.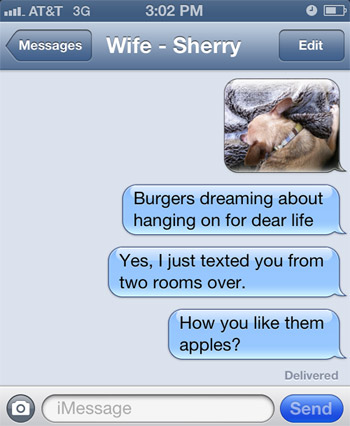 I was very proud of myself for a moment. Then I heard a familiar ding-ding! coming from two cushions over.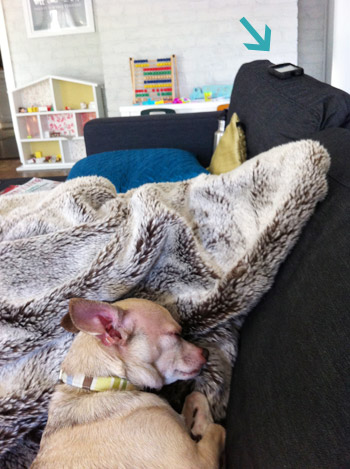 Oops. So I added one more line to the text-fest…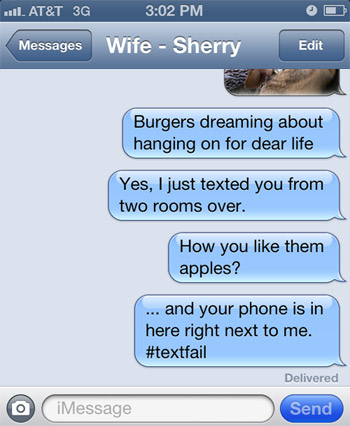 Anyone else out there #textfailing? Feel free to commiserate. Do we need a texting intervention since we text each other from the same house? Could have been worse. It could have been like the time I sent a text to my mom and sister about buying Sherry a thong. Yeah that was a joke meant only for Sherry's eyes. And it was mortifying.