Archive for December, 2012
As we mentioned in today's post on Young House Love, Clara uses her play kitchen just about every single day. Usually it's in the morning after we first get up (and she's at her chattiest). Sometimes we make food. Sometimes her stuffed animals get a bath in the sink. You know, normal stuff.
This is still one of my all time favorite Instagram pictures: Clara being jealous of Burger's bath, which he is definitely not enjoying.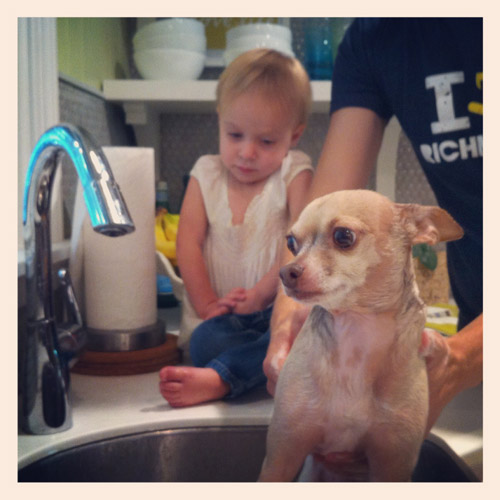 That was way back in May, so we decided to capture this moment on film since Clara's approach to Burger's bathtime has transitioned from silent envy to encouraging camaraderie.  She likes to try to boost his spirits by talking about how much she likes taking a bath (and washing her rear end, apparently). Oh, and forgive the terrible focus – or lack thereof – in this video. I'm still getting the hang of this new camera in video mode.
At the end that's my Fran Drescher impression. "Oh Burgerrrr, you're so grumpyyyy."