Archive for April, 2012
Clara has a new favorite song. Sorry Rihanna. Sorry Adele. But you've both been replaced by Fun. I give you Exhibit A:
And it doesn't just happen when we prompt her. Sherry was able to sneak up on her singing it to herself the other day (whilst taking all of the clothes out of her laundry basket, mind you).
And here's another short clip of Clara jamming out to another favorite song of hers. See if you can catch the word "yogurt" in the lyrics.
We love Richmond. Have we said that lately? We could give you lots of reasons why, but for now we'll focus on the love-able things we enjoyed a couple of weekends ago (the same weekend we hit up the Spring Bada-Bing craft show). It all started when we heard Richmond was having its first ever RVA Street Art Festival.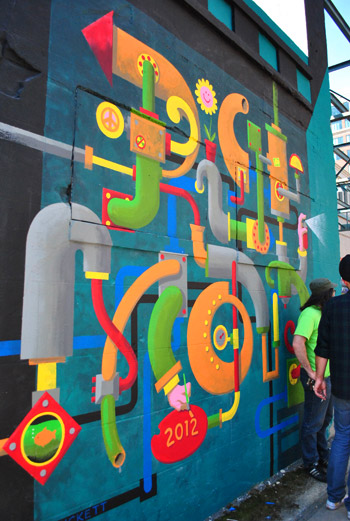 We've got an area downtown called the Canal Walk that follows the historic canals beside the James River. There's a small section with an old powerplant that's basically just a bunch of empty brick walls. At least it was empty. A bunch of Richmond artists got together to throw a festival where they painted huge murals on the walls while the public watched.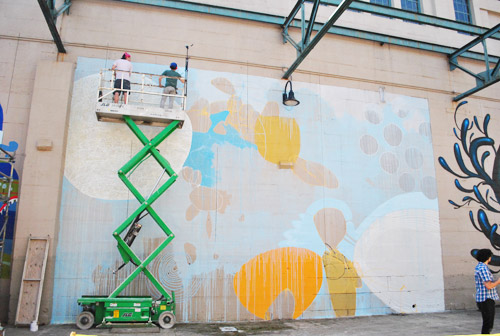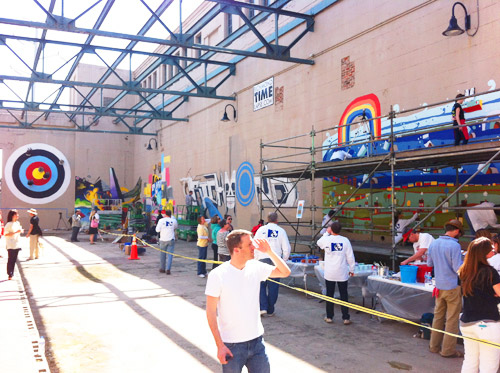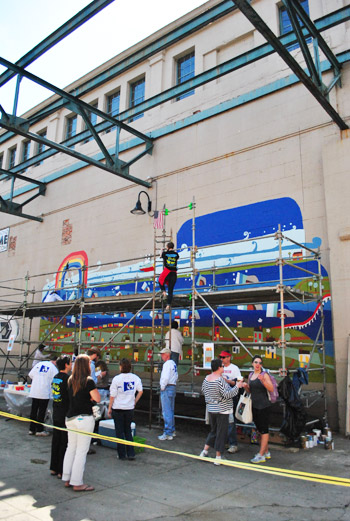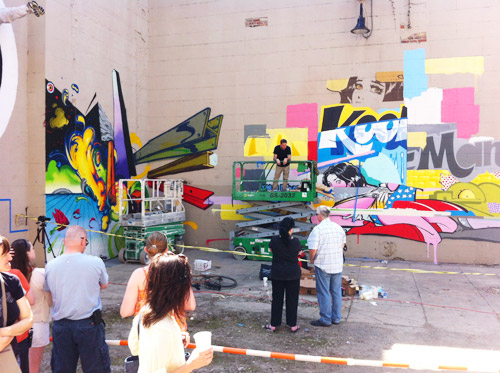 It was really awesome – in the truest sense of the word – to watch. Though with the somewhat narrow pathway and a big jogging stroller at odds, we didn't get to linger too long in any one spot, but there were some craft vendors on the opposite site in case you wanted to bring some art home with you. You may remember this first vendor from the Handmade Holiday craft show we shared in December. Love those resin antlers he makes.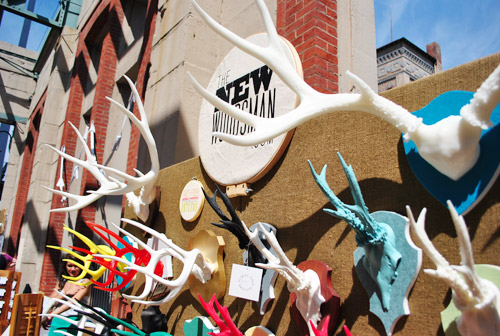 We also thought this spin on the usual "please do not touch" sign was pretty cute on this table full of knitted creations.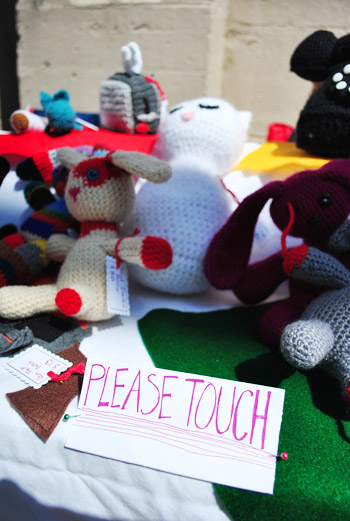 The festival didn't take up a lot of space, so we decided to turn our visit into a longer walk along the Canal Walk. It was a gorgeous day and Clara's stroller was already well stocked with distractions, so why not.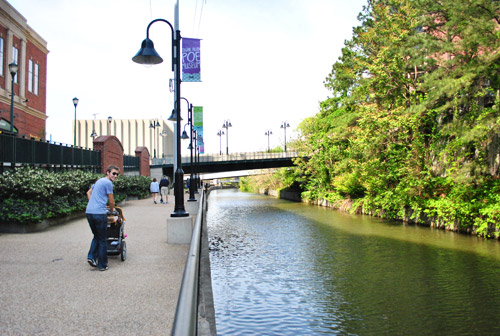 The walk goes right alongside some of the prettiest, urban parts of the river. Did you know we've got class IV rapids that people raft and kayak through right within the city limits? Well now you do. There are also lots of calmer parts of the river for swimming and tubing. We always say that instead of a beach town, Richmond is a river town, since everyone gravitates to the river from spring through fall.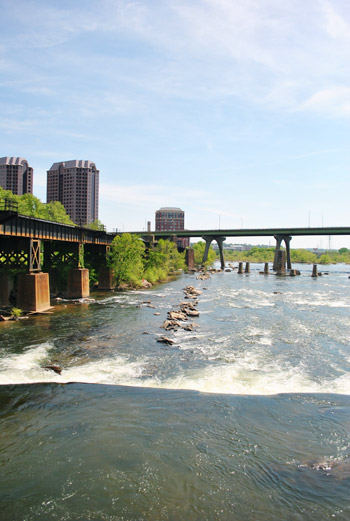 Once the walk leaves the canal's side, you follow an elevated train trestle for a bit – which we noticed is now sporting it's own little piece of street art. Is it weird that we actually kinda love that little neon fish? The uneven wood. The green splatters. The fact that it's just plastered up on the side of a concrete footing by some thoughtful artist for everyone to enjoy.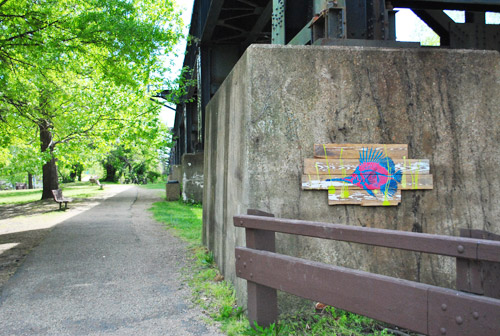 Then you can cross over the river to an island called Belle Isle that's only open to foot (and bicycle) traffic. It's got this cool walking bridge that's suspended from a highway above it.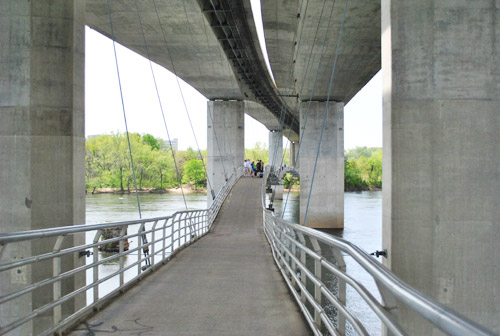 Belle Isle is one of our favorite places in Richmond. It was close enough to my former workplace that I could go on lunchtime runs here. It's got an awesome gravel path looping the island with views of rocks, rapids, and the city. Some of the rocks are big enough that people even go out on them to picnic or sunbathe (and then take a dip in the river if they get hot).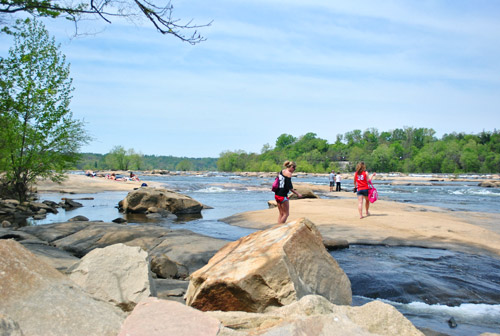 They also work for a quick family photo session.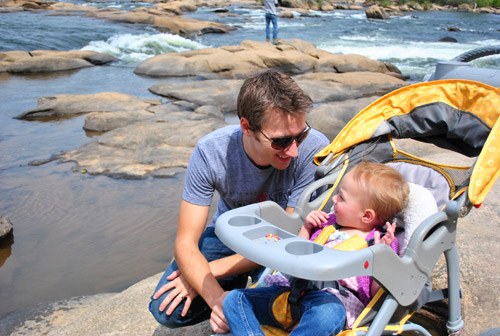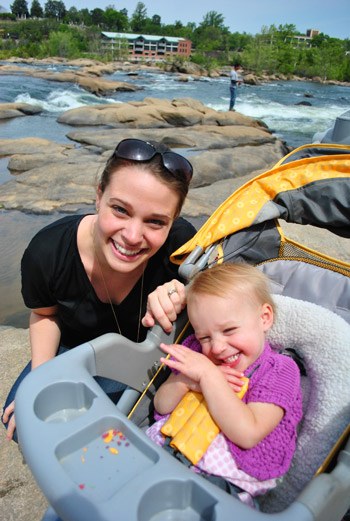 So yeah, in summary – we're pretty happy to call this place home.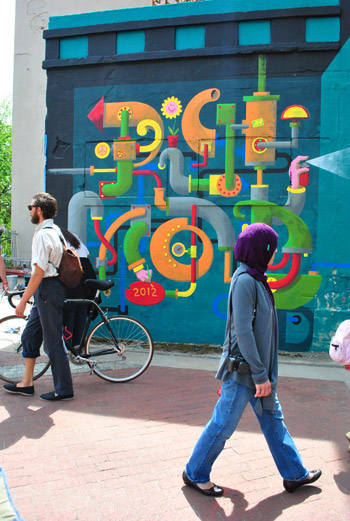 You might have to stare at that for a while, but it actually says Richmond. Cool, huh?