Archive for January, 2012
Remember this Santa balloon that surprised Clara on Christmas morning?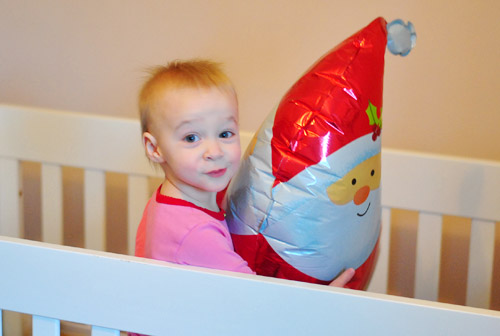 Well, it has hung around long after Christmas and Clara's love of it has only deepened. Well, that and gotten kind of aggressive too. Thanks goodness he's a durable little balloon!
Only at our house can you watch toddler vs. Santa wrestling matches. Maybe we should stat selling tickets…
By now you know Clara does lots of singing around these parts (and she has a penchant for Top 40 hits by the likes of Rihanna and Adele). But we do sing normal kid songs too. And we finally have proof. Four and half glorious minutes of proof. Although a more obscure kid's song ("The Bouncing Song") sneaks in there at the beginning.
Not only are we in disbelief that she entertained us for so long, but it's a flat out miracle that at no point did she try to grab the camera and request to "watch baby" (i.e. herself). A miracle I tell you.