You know we're suckers for an online quiz, and if you've been on Facebook at all lately, you've probably seen your newsfeed peppered with ones like "What City Should You Actually Live In?" and "Which [insert movie or TV show] Character Are You?" Most of them thanks to BuzzFeed, home to groundbreaking analyses like "Which Sandwich Are You?" (I'm a hamburger with lettuce instead of a bun, in case you were wondering).
Anyways, Sherry and I got sucked into taking a bunch of them one night when neither of us could fall asleep. Each takes like 30 seconds to complete, so it was just fun to laugh at the completely random and usually baseless results (for the record, I'm the last person to do a lettuce bun on my hamburger). One that gave us a particular chuckle was "What Career Should You Actually Have?"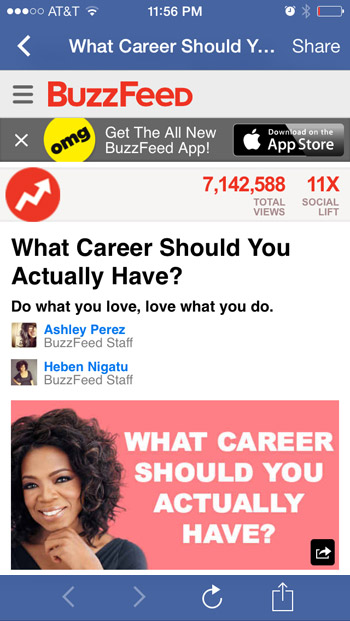 We had seen some of our other home blogger friends posting their results to Facebook, many of them achieving "Designer" as their determined career. Sherry and I were curious whether it would turn back the same designation for us.
This is what I got: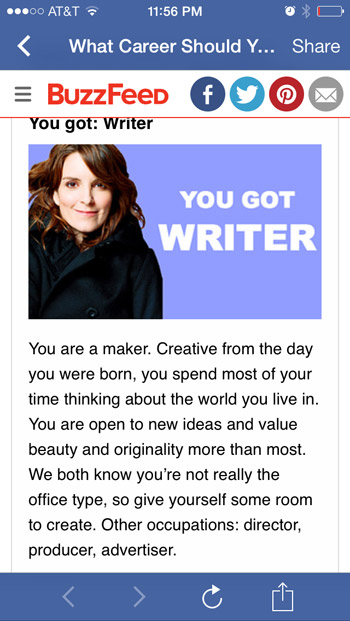 Not too bad, considering I do write everyday (I'm writing right now!) and I make things… plus, I originally went to college to become a director but ended up as an advertiser. Tina Fey and I even have the same alma mater. Maybe this quiz was on to something…
But Sherry got this: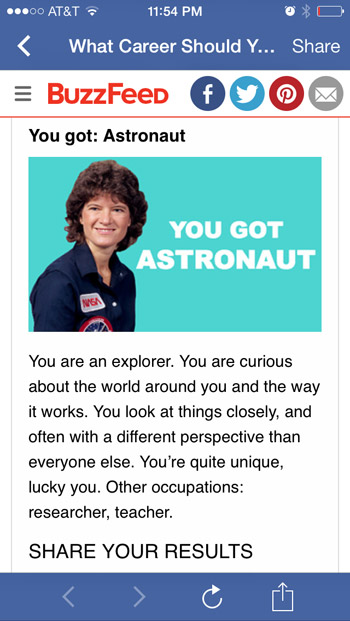 We're pretty sure there's no overlap between home blogger and astronaut – and after seeing Gravity, I don't think Sherry will be switching career paths anytime soon. But she did grow up wanting to be an art teacher and loved labs/research in school, so the "other occupations" category isn't off the mark.
Here's where you can take the quiz yourself in case you're so inclined. What did you get? Any other fellow writers or astronauts? Maybe you and Sherry can go into orbit together someday…
&nbsp
On Saturday I took Clara to one of the Richmond Symphony's special performances geared just for kids (they call it their "Lollipops" series). Sherry had planned to come but it was in the morning and her morning sickness did not agree. So I took lots of pictures for her (Clara even demanded that we make her some videos to send her throughout the event). As much as I thought Clara would enjoy the concert part of it, the real reason I wanted to take her was the "instrument petting zoo" that they hold an hour before the show. Kids can actually try out different instruments with the help of members of the youth orchestra.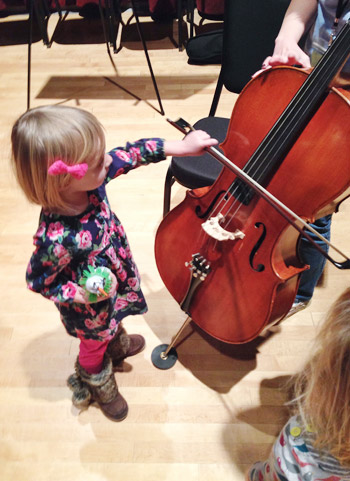 She was most interested in the percussion instruments, mainly because there wasn't a line (it was much busier than we expected!) and, well, hitting stuff is fun when you're three.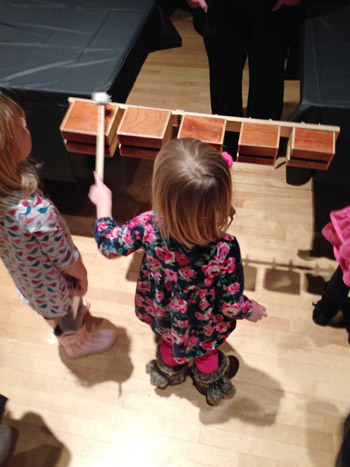 I was really hoping they'd have a French Horn for her to see in person, since it's what I played in high school. They only had a trumpet and a trombone, but I still got a kick out of watching her taking a brass instrument for a momentary spin.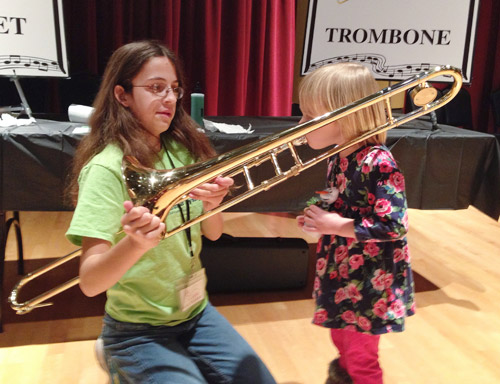 It was held at Richmond's Carpenter Theater, which we'd never been to before. It was very pretty outside – Clara exclaimed "ooooh, a CASTLE!" – but it was too cold to stop and get a picture (you can see it here, if you'd like). Fortunately the inside was equally beautiful.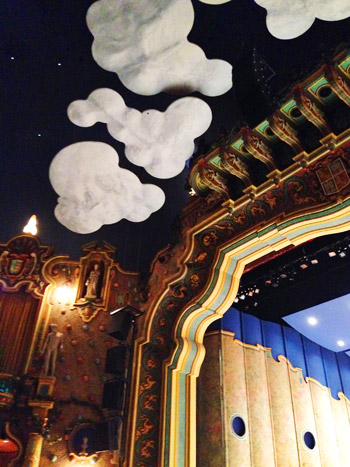 The concert itself was only an hour long. The first half was just the symphony performing – which also included the conductor telling a story that wove the songs together and helped the kids appreciate why the songs were happy at some points or scary at others. Clara recognized a couple of the songs from Little Einsteins and sang along (since that show puts lyrics to classical music), which was cute but also a little loud. Fortunately since the entire theater was filled with kids, her chatter just blended with all of the other taking/singing/crying that was going on.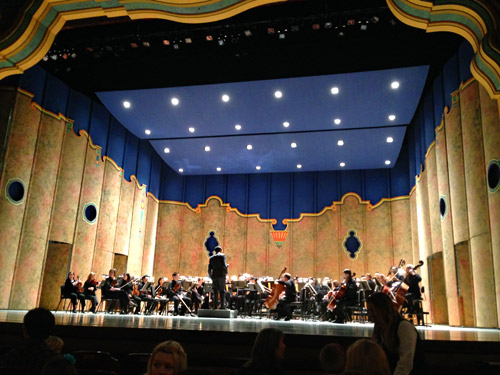 Halfway through they switched gears and students of the school at The Richmond Ballet came out to accompany the symphony. This was Clara's favorite part, which confirms my instinct that she'd like going to see The Nutcracker next holiday season. It was general admission, so we were lucky to find empty seats in the 2nd row (next to one of her preschool friends, whom we just happened to bump into there) so we had a great view of the action. Although next time I might sit further back if it's just the symphony because it was hard to see the instruments.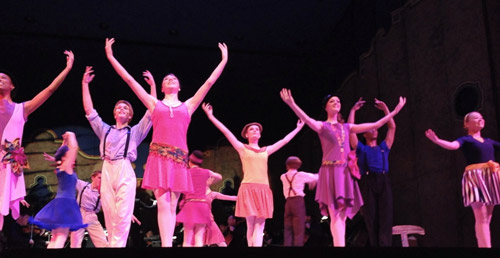 The Richmond Symphony only does these every other month or so, and I definitely think we'll try going again – hopefully with mommy in tow. Clara ate it all up and was pretty well behaved through it all (minus some wild seat bouncing at one point). Plus, the band geek in me appreciated the excuse to go see some talented musicians perform.
&nbsp