John
I've already admitted to committing the occasional text message faux pax. But sometimes even my Instagram hashtags don't go as planned. Take this shot from last month.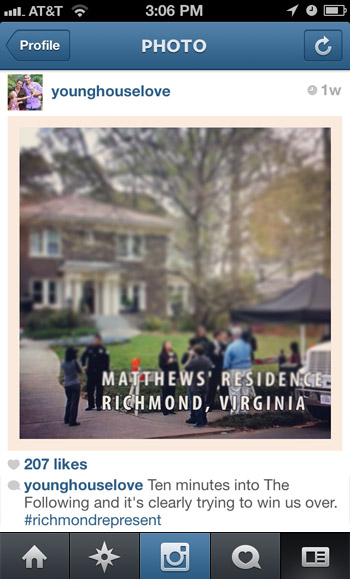 Sherry and I were watching the premiere of the new Fox show "The Following" and, like many shows involving the FBI, it supposedly takes places in Virginia (the FBI Academy is located about an hour north of us in Quantico, VA). And since the plot centers around Edgar Allen Poe's work, I assume the show chose the Virginia setting because Poe grew up in Richmond and went to my alma mater, UVA. Despite the show's grim storylines and gruesome scenes, Sherry and I were psyched to see our area getting some airtime. So excited that this was my original attempt at a hashtag: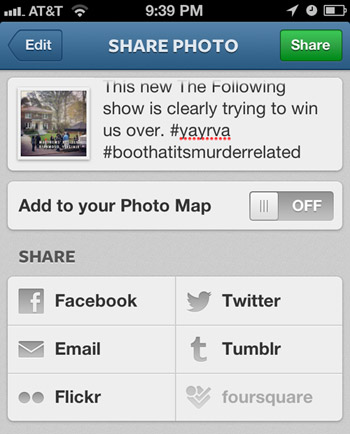 Since hashtags don't allow for spaces, my attempt to write "Boo that it's murder related" suddenly became a string of random nouns – boot, hat, and – uh – a certain slang for the female chest area. Oops. #hashfail
So Sherry quickly nixed my hashtag attempt and we settled on the simpler (and less spacing dependent) #richmondrepresent.
Have you guys had any hashtag fails or text oops moments lately?
You may have heard us talk about the Virginia Museum of Fine Arts (VMFA) here in Richmond before it. We love it. The building and the grounds are just plain awesome, not to mention most of it is free – meaning there's just about zero excuse not to take in some art every now and again.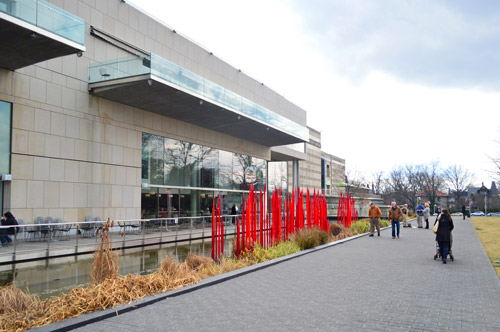 The VMFA has been home to a big Dale Chihuly exhibit since October. It's a paid exhibit so we've been putting off actually checking it out, but at the last minute (it's final day is February 10th) we decided we'd kick ourselves if we didn't check out what all of Richmond has been talking about for months.
I'll admit I don't know a lot about Chihuly besides he's a much-buzzed about glass sculptor. Nor did I have much time to read about the exhibit while we were there. It was a crowded day, so I was more focused on keeping the stroller off of other people's toes than reading plaques. But what I do know is that we had a great time and even Clara enjoyed all of the colorful eye candy.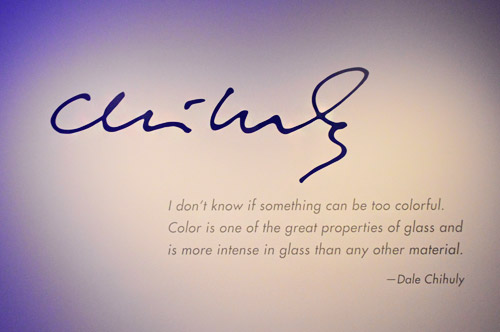 I think everyone's favorite part was the corridor with the illuminated glass ceiling (which is apparently reminiscent of  a spot at Bellagio in Las Vegas).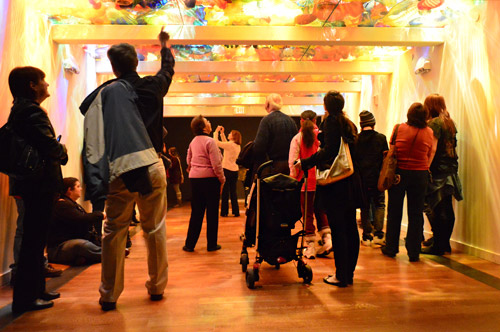 Sherry was quick to get Instagram ready.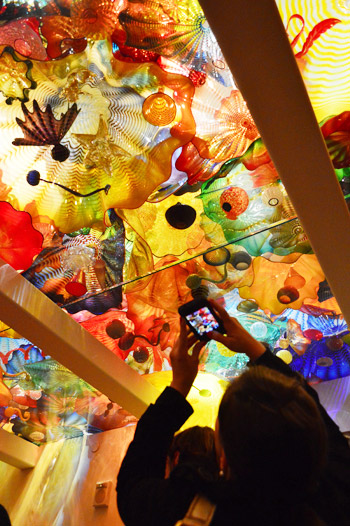 I mean, how could you not want to take a bazillion pictures?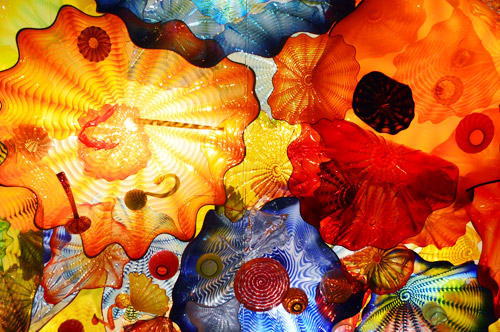 Well, we actually didn't take a bazillion because the crowd eventually made us migrate out of there. I could've lingered in there for hours.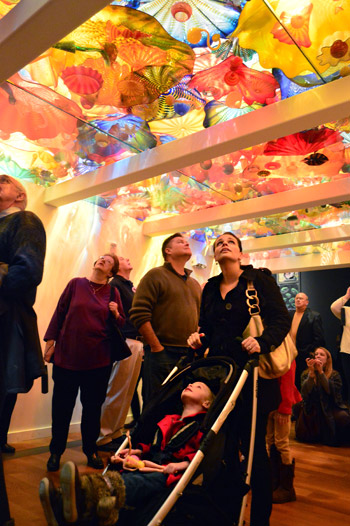 Again, my inability to pause to read any description of the pieces means I don't have much more to say about these pictures than "oooh, pretty. So here goes nothing…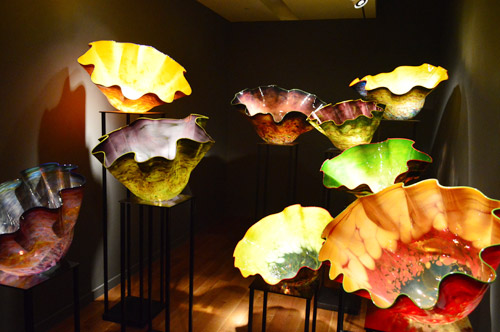 Anytime we paused to think about how much time it took to blow all of this glass – and how much care it took to not destroy it – it was almost too much for our brains to handle.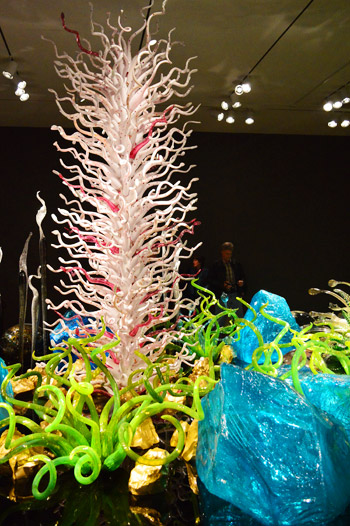 Clara thought these were snakes.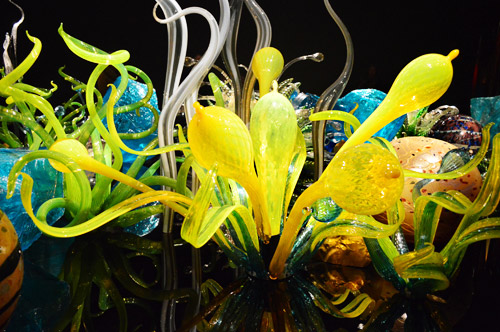 Sherry and I both actually really liked the "ice blocks." Maybe it was because so much of the exhibit was twisty and curved that the hard edges of these glass chunks stood out to us.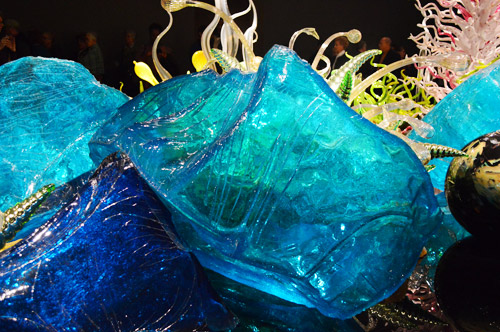 This was Clara's favorite, surprisingly. She kept begging to go to "the purple room" where this piece – Neon Tumbleweed, I believe – was housed.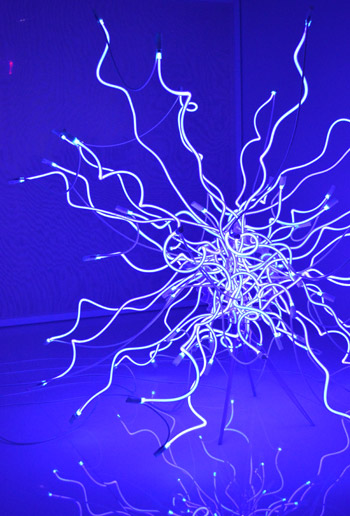 And this was Sherry's favorite. They're Chihuly's glass "reeds" atop fallen wood. It, like the rest of the exhibit, was much cooler in person than I was able to capture on camera. The lighting design throughout the exhibit also blew my mind.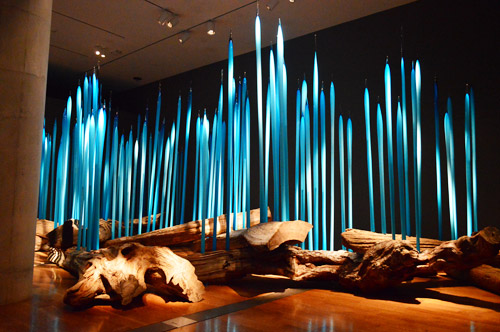 If you're in Richmond and have time this week to go, we highly recommend it. If you've got other Chihuly work around you, then I guess you've saved yourself a trip to Virginia.
I leave you with this: we saw this big glass boat. It looks incredible.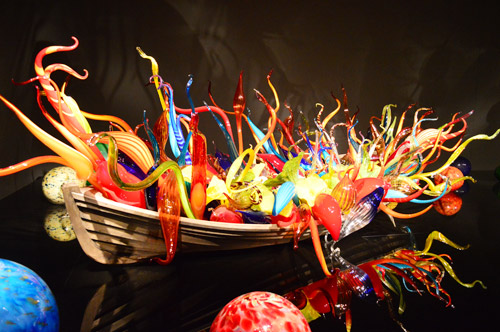 Macklemore reference anyone?