We rang in the summer season (i.e. Memorial Day weekend) in true stereotypical fashion – at the beach!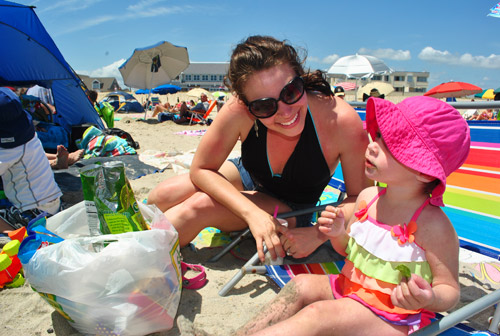 We dashed up to my parents' beach house near Bethany Beach, Delaware for the long weekend (along with the rest of my family) and it was a wonderfully warm hot welcome to the summer. And although we spent a good chunk of time seaside, we managed to get all of two good pictures of our time there. But this pic pretty much sums it up. It was sandy. It was sunny. It was great.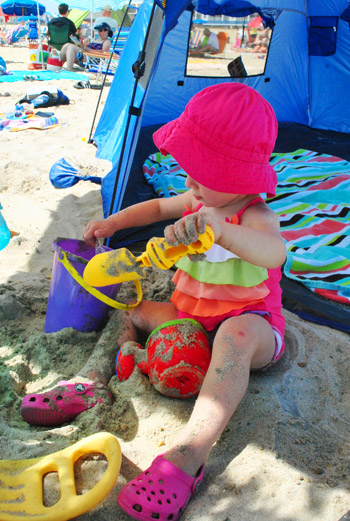 Although Sherry's favorite picture is  this one of Clara showing off her frilly hand-me-down bathing suit.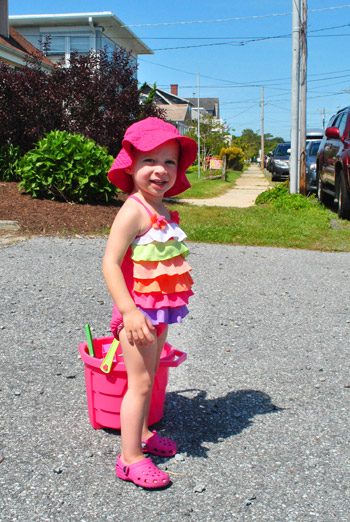 But more than sand and sea, the weekend was about quality time with family. There were 16 of us (four under the age of three) which meant there were lots of moments of catching up, eating, laughing and what not.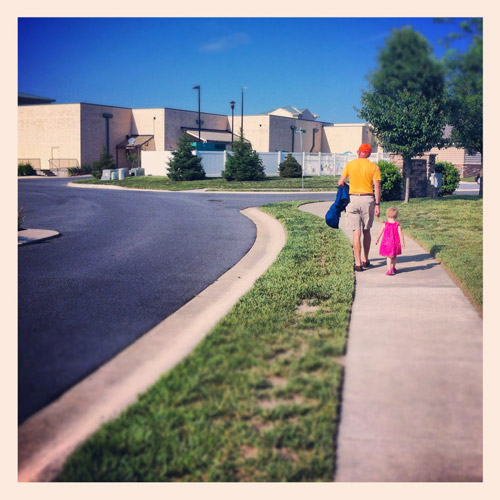 One evening we headed a couple of towns north to Rehoboth Beach for dinner and fun on the boardwalk. Here's Sherry and Clara with our niece Olivia (far right) and her best friend Sydney who tagged along for the trip (this was shortly after learning all of the new hip teenage phrases that we referenced in yesterday's rug post).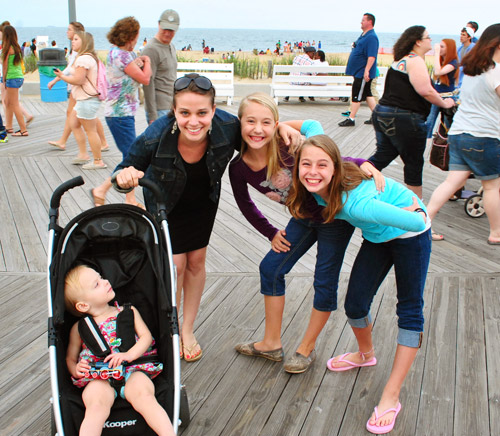 And here I am trying to convince her brother Jake that I've got enough so-called "swagg" to hang. Not sure I'm pulling it off.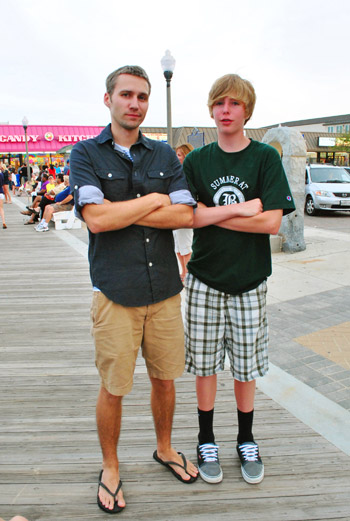 Definitely rocking the swagg are Clara and her cousin Emanuel, who are sporting matching toy trains. They went crazy for them.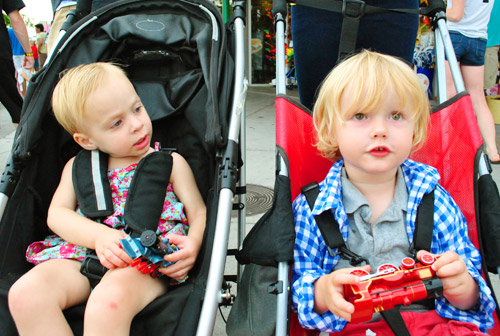 The night on the boardwalk concluded by wandering down to Funland (Rehoboth's little beachfront amusement park). Clara, who currently requests that the calliope track on her music class CD be played on repeat, beelined for the carousel. It gave us flashbacks to the hour or two in the car spent listening to music like this.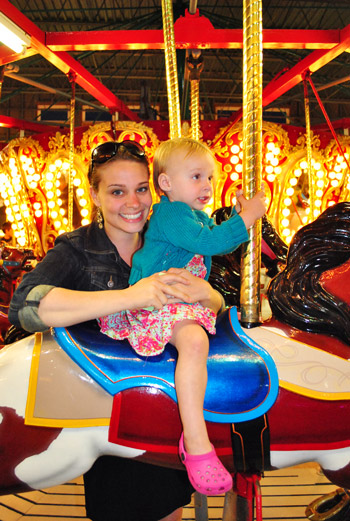 Clara loved it (obviously) but I had trouble capturing the joy on film. Fortunately Sherry more than made up for it with her expression.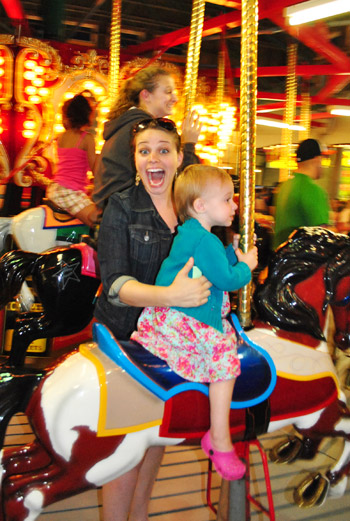 The merry-go-round was just the beginning of several go-rounds of that night. We were a bit nervous about putting Clara on some of the other kiddie rides, but we gave it a shot and (luckily) she LOVED them. So there were boats (with her cousin John as first mate)…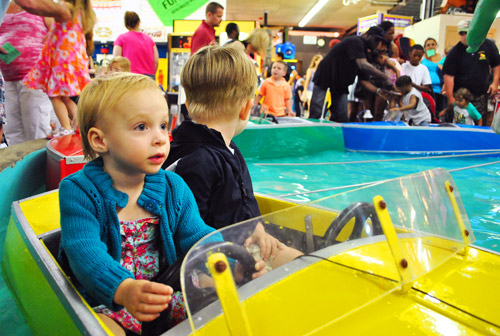 …fire trucks…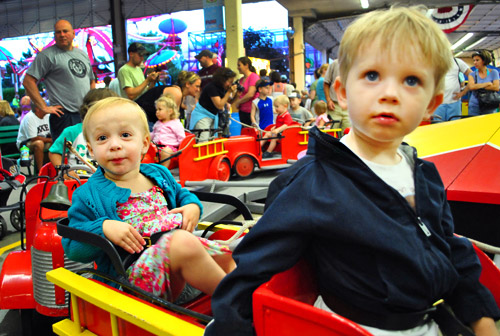 …cars…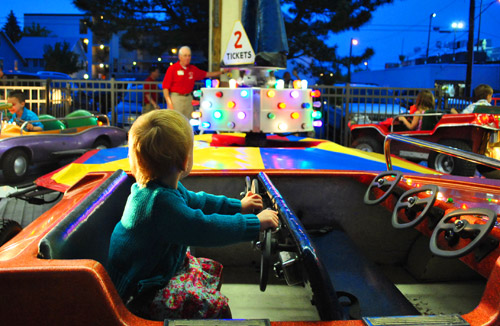 …airplanes…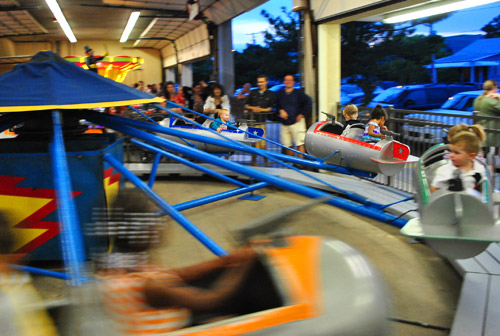 …complete with guns (should we call her Clara The Tail Gunner?).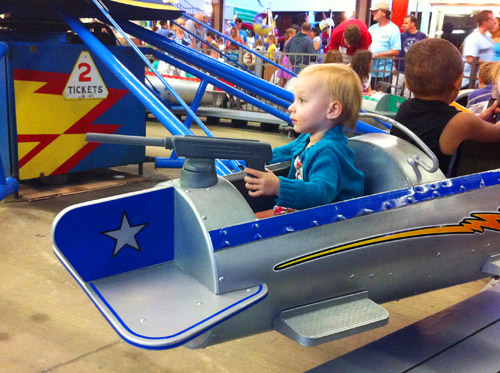 And in case the sheer thrill of all of this loopdie-looping is lost in photos, here's a quick video to really bring the excitement to life.
We even dared the swings. The kid behind Clara wasn't feeling it. And she didn't totally love that one either ("Too fast. It's scary" she admitted afterwards). But she didn't cry.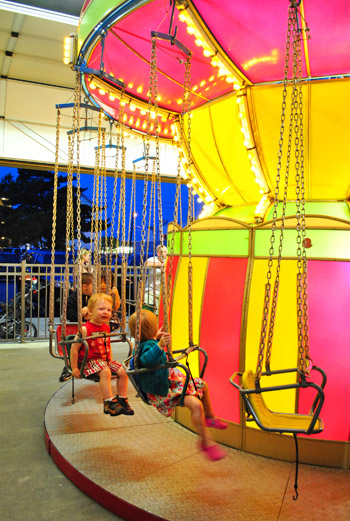 We were so glad the night didn't end in tears. And Clara still talks about riding the boat and the firetruck and the airplane and the car fondly.
Funland didn't hold a candle to my parents new patio though, which hosted lots of toddler (and grown-up) fun over the weekend. Perhaps you saw this Instagram pic of the impromptu ice cream social that we posted?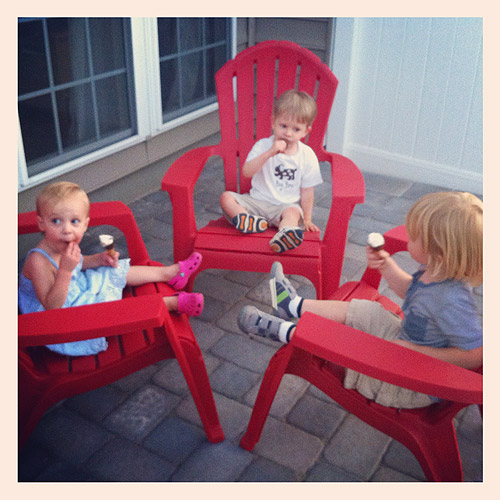 My parents had a large patio added to the back of their house over the winter, so this was our first time seeing it. It was AWESOME.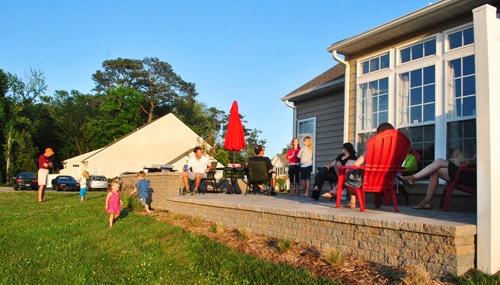 The toddlers enjoyed doing laps together around the whole thing. And the parents enjoyed watching them exhaust themselves.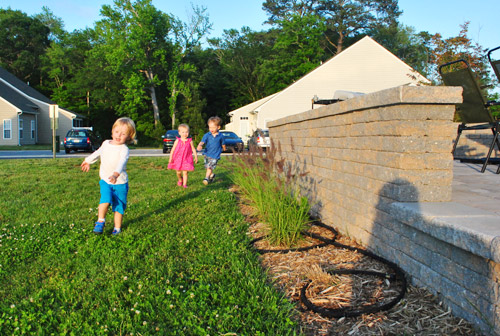 The small wall on one side was like their own personal obstacle course.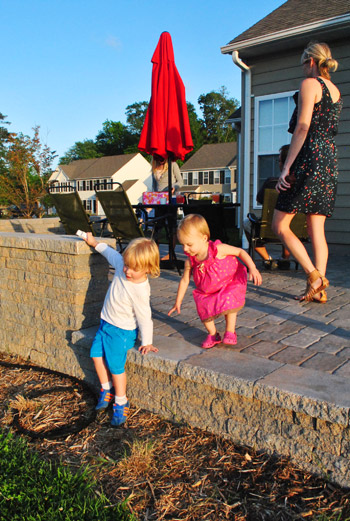 And since we were also there to celebrate my parents' 40th wedding anniversary (!!!) we tried to get some family portraits – like my parents with their six grandkids. This is the closest we got to a decent shot. From left to right that's Ben (7 months), Olivia (11), John (almost 3 – he's Ben's older brother), Emanuel (2.5 – Olivia's half brother), Clara (2) and Jake (14 – Olivia's brother).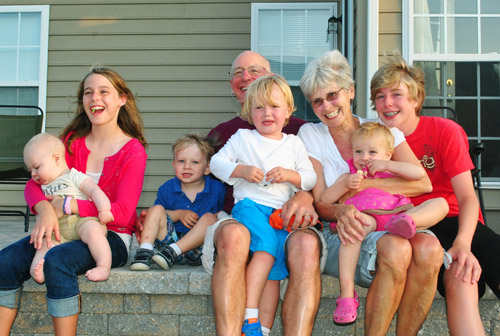 When we finally gave up on getting a good grandkids shot, a better behaved crew took their places. The kids (aka, me and my sisters) thankfully didn't wiggle as much. That's my youngest sister, my dad, my oldest sister Katie, my mom, me and my older sister Emily.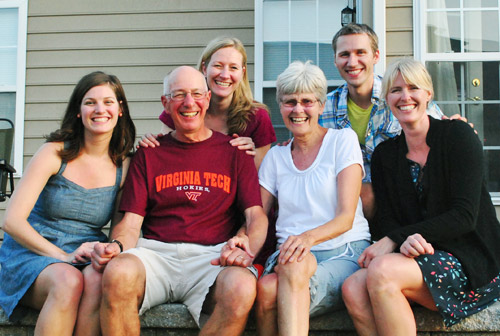 And those are genuine smiles on our faces because we're all giggling about the unseen photobomber. Clara kind of wandered into frame without anyone but Sherry (the photographer) noticing. But before I could shuffle her out of the way she decided she wanted to squat like daddy – and just like that she disappeared from the picture. She's hiding right below this arrow, out of view.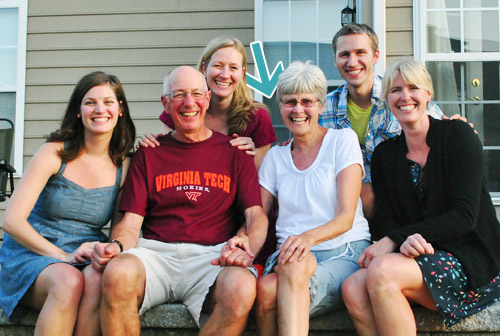 So that was our fun little weekend away. What about you guys? Anyone else have a family, sun or toddler filled Memorial Day?
&nbsp Comment

&nbsp&nbsp&nbsp

&nbsp

&nbsp
If you enjoyed this post, please leave a comment or subscribe to the feed and get future articles delivered to your feed reader.
129 Comments