A: It doesn't matter, but Clara's gonna want to pose with it.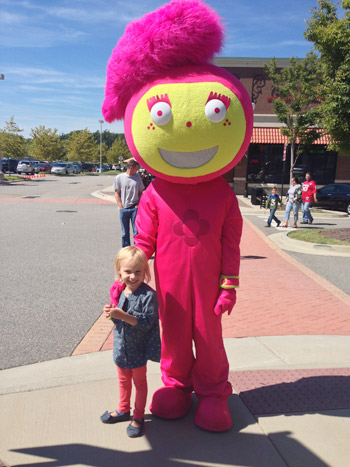 Generally I would describe Clara as "kinda shy" when it comes to interacting with new people. She's pretty quick to warm up and become her normal talkative self, but if you're a new-to-her person, expect to get iced out for a few minutes while she gives you "the look."
But apparently if you want to skip all of that, you just need to don a big furry costume. Doesn't seem to matter what you are (can you name either of the characters pictured here? I couldn't!) but for some reason it gets Clara all sorts of excited.
"Look, Daddy – a big funny green guy!!!"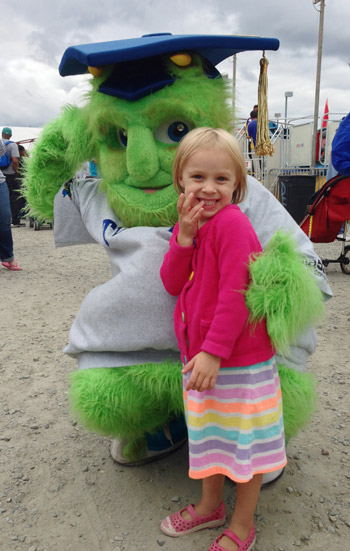 I would expect this level of excitement if she were meeting characters she knows – Mickey, Snoopy, Elmo – but nope, she's not discriminating when it comes to costumed characters. And yes, this is just about the only time we can get her to stand still and smile for a photo too.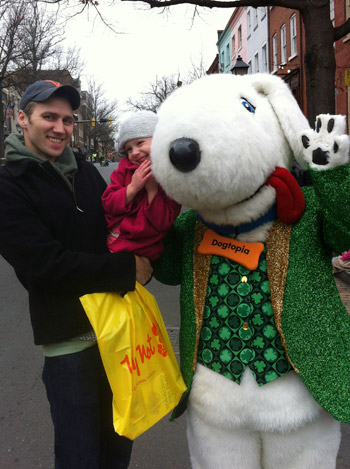 Is Clara the only child who does this? I remember being somewhat nervous around these looming, stone faced characters as a kid (all the more reason I'm surprised by her all-in reaction). The girl does like giant bugs, so maybe she's just fearless when it comes to large creatures – real or not.
Oh, and for the record, we learned the first character is Vie from a local healthy/active kids' initiative. The second represents Virginia's 529 college savings plan, and the third is from Dogtopia, as his tag suggests.
&nbsp Comment

&nbsp&nbsp&nbsp

&nbsp

&nbsp
If you enjoyed this post, please leave a comment or subscribe to the feed and get future articles delivered to your feed reader.
68 Comments