Archive for February, 2014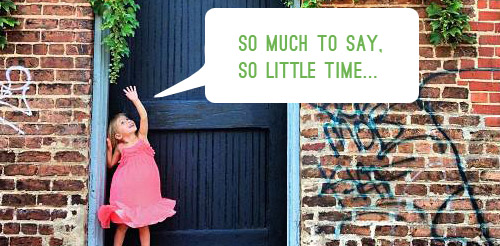 Convo #1
Mommy: This milk expires on my birthday.
Clara: You should have a party!
Mommy: What kind of party should I have?
Clara: (looks around and sees that I'm holding a mug of hot chai) A COFFEE PARTY!!

Convo #2
Clara: You know what, dad?
Daddy: What?
Clara: I think if you put earwax in your smoothie it would taste yucky.
Convo #3
Clara: Mommy, let's play hide and seek! I can hide under my bed! You'll never find me under my bed!

Convo #4
Daddy: You know what happens next month? Mommy's birthday.
Clara: Yay! I can get her something special. Like Olaf! I think she would like an Olaf!
Daddy: And then in April your little brother comes.
Clara: Yay! I'm so happy! This day is so special!
Daddy: And the next month after that is Clara's birthday!
Clara: Yay! And do you think I'll get something special? But I already have so many special things. I have Melinda and Baby Barnacle and my legos. What am I going to do with so many special things?
General Clara-isms:
M&Ms = Em Em Ems
wolves = woofs
squirt = squit (rhymes with quit)
guacamole = brocamole
Psst- Check out dozens of other conversations with Clara here.
Clara's quite the storyteller these days, and she loves when I record her tales so she can watch them back. Here are a few that I captured a few weeks ago for her.
I love:
how they always start in a kingdom with a princess name (like "there once was a Kingdom named Jasmine")
how they frequently include skeletons
how she thumbs through one of my books (as opposed to hers) while telling the story
how she rests her face on her hand in the middle of that second video
Oh man, she cracks me up.