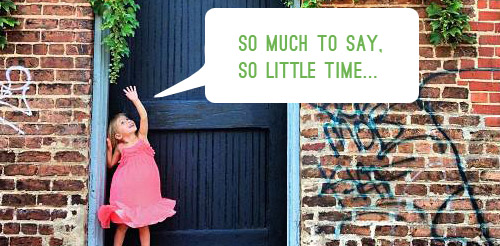 Convo #1
Mommy: This milk expires on my birthday.
Clara: You should have a party!
Mommy: What kind of party should I have?
Clara: (looks around and sees that I'm holding a mug of hot chai) A COFFEE PARTY!!

Convo #2
Clara: You know what, dad?
Daddy: What?
Clara: I think if you put earwax in your smoothie it would taste yucky.
Convo #3
Clara: Mommy, let's play hide and seek! I can hide under my bed! You'll never find me under my bed!

Convo #4
Daddy: You know what happens next month? Mommy's birthday.
Clara: Yay! I can get her something special. Like Olaf! I think she would like an Olaf!
Daddy: And then in April your little brother comes.
Clara: Yay! I'm so happy! This day is so special!
Daddy: And the next month after that is Clara's birthday!
Clara: Yay! And do you think I'll get something special? But I already have so many special things. I have Melinda and Baby Barnacle and my legos. What am I going to do with so many special things?
General Clara-isms:
M&Ms = Em Em Ems
wolves = woofs
squirt = squit (rhymes with quit)
guacamole = brocamole
Psst- Check out dozens of other conversations with Clara here.
&nbsp Comment

&nbsp&nbsp&nbsp

&nbsp

&nbsp
If you enjoyed this post, please leave a comment or subscribe to the feed and get future articles delivered to your feed reader.
66 Comments