Archive for October, 2012
This is a fun monthly letter about my life that I share with my pen pal who is also named Clara and lives all the way in Germany! Each time, my friend Clara also shares a letter with me, so I get to read all about the life of a little girl with the same name in Germany. I think it's really cool – and hope you guys do too!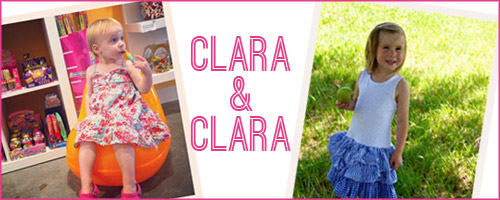 Oh and I get a little help from mommy when it comes to writing my letter (although this time she taped our convo for you guys, so you can see me in action), and my friend Clara's mommy helps to translate my letter at the bottom of this post into German so my friend Clara can read it. And you can drop in on her letter to me right here (which is translated into English at the bottom of her post).
Hi Clara!
I'm excited to write to to you about my favorite foods. For breakfast every morning I eat (and LOVE!) yogurt. I can easily have two cups each morning. Here's my list of what I like to eat the most at lunch and dinner: chicken nuggets, oranges, apples, blueberries, strawberries, hummus and carrots (I like to dip them), peanut butter, and pasta.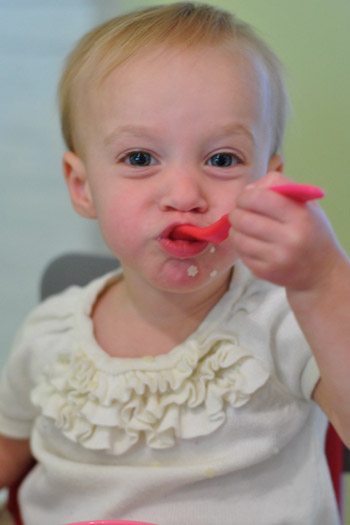 I really like tomatoes a lot and crackers and cheese and sandwiches and… I don't know (I'm forgetting other things like broccoli, peppers, edamame and pickles).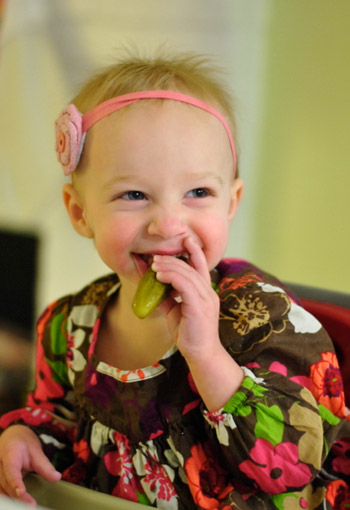 Sometimes I like popcorn (and I give Burger some). I like Goldfish crackers as a snack too. I like cheese and popcicles too. I also like treats like: apple pie, fruit snacks, ice cream, cupcakes, and M & Ms too. Sometimes I get those at birthday parties or we get ice cream after dinner if I'm good.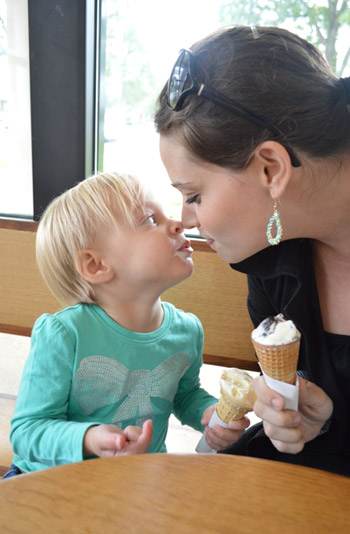 I know that's a long list, so here are my three favorite foods:
Strawberries
Blueberries
Tomatoes
I can't wait to hear what yours are too! My guess is that you like strawberries too!
xoxo,
Clara
____________________________________________________________
Here's our Clara's letter translated in German for her pen pal:
Hi Clara,
ich bin so froh, dir heute wieder zu schreiben. Heute erzähle ich dir von meinem
Lieblingsessen. Zum Frühstück liebe und esse ich am liebsten Joghurt und da schaffe ich
kinderleicht zwei Schälchen. Hier findest du auch meine Liste für meine liebsten Mittag-
und Abendessen: Hähnchen-Nuggets, Orangen, Äpfel, Blaubeeren, Erdbeeren, Humus und
Karotten (ich liebe es mit den Karotten den Humus zu dippen), Erdnussbutter und Nudeln!
Außerdem mag ich wirklich richtig gerne: Tomaten, Cracker, Käse und Sandwiches. Oh, ich
habe Brokkoli, Paprika, Edamer und Gewürzgürkchen ganz vergessen.
Manchmal mag ich auch Popcorn sehr gerne (da gebe ich Burger etwas davon ab). Ich liebe
auch diese Goldfisch-Cracker. Und fast hätte ich es vergessen: Apfelkuchen, Obst-Snacks,
Eiscreme, Cupcakes und M&Ms stehen bei mir auch sehr hoch im Kurs. Die bekomme ich
manchmal bei Geburtstagspartys. Wir essen auch gerne Eis zum Nachtisch, wenn ich brav
gewesen bin.
Das war eine lange Liste. Aber ich muss sagen, mein liebstes Essen sind:
Erdbeeren,
Blaubeeren und
Tomaten
Ich kann es kaum erwarten, zu hören, was du am liebsten isst. Ich denke, es sind bestimmt
auch Erdbeeren.
xoxo,
Clara
Clara turned 29 months old on October 14th. Meaning she's a month away from the two-and-a-half mark… and it was high time for an autumn / pumpkin themed picture. Ta-dah!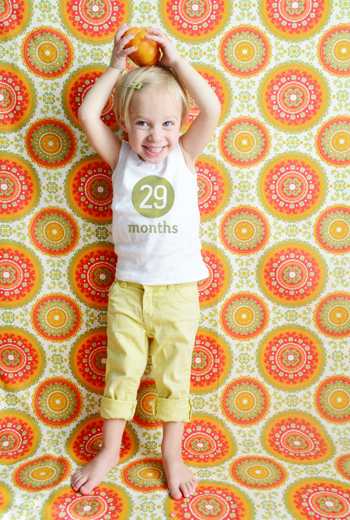 Before we even got a chance to start snapping pics of Clara, Burger was checking out the scene. Ensuring it was clear of danger (and crumbs).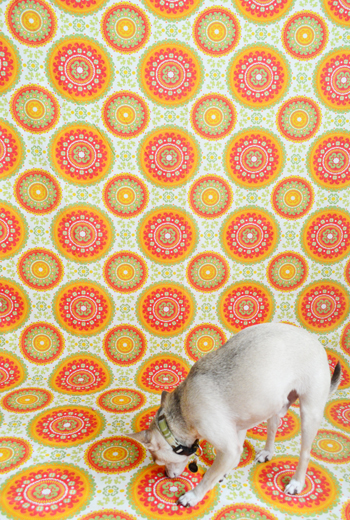 Then Clara took her place and totally got her model on.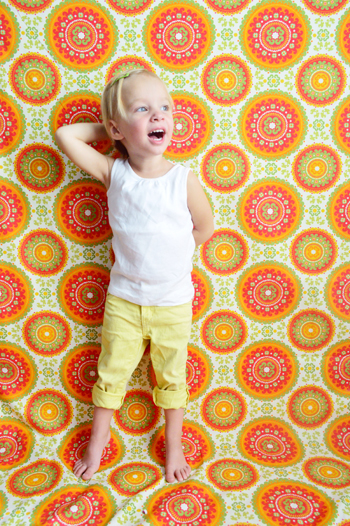 Followed by getting her scream on.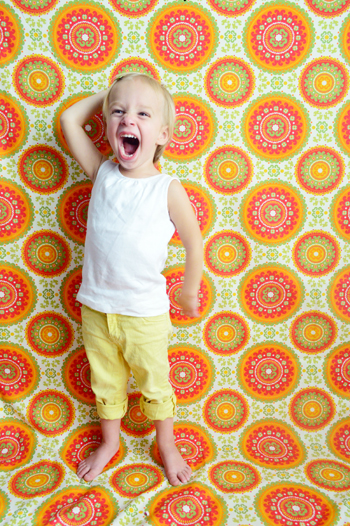 You can't tell in the photos above, but she's actually already holding a pumpkin in her right hand – it was just hidden behind her head. As you can see below, we had a little trouble keeping it balanced on our noggin.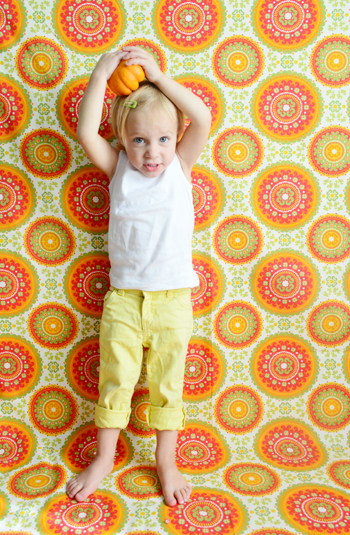 But she eventually got the hang of it.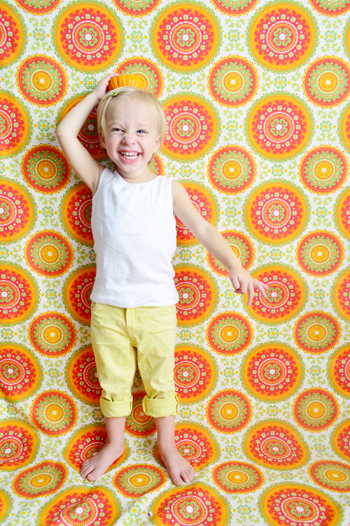 This one cracks me up because it looks like she's shooting a video… but her camera is a pumpkin.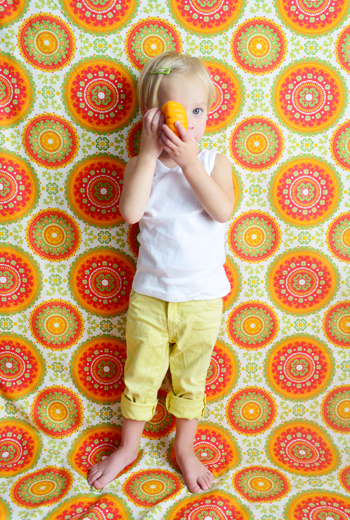 Oh yeah, and if you ask Clara to show you her "scary face" this is what you get. Frightening, no?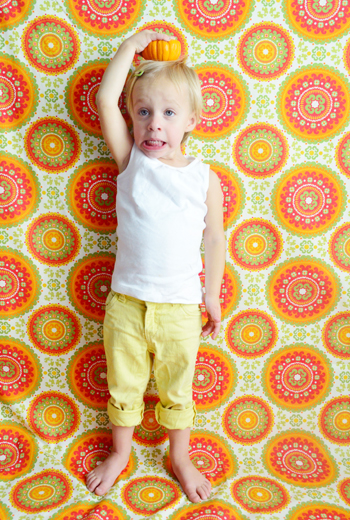 Love this girl! All twenty nine months of her.