Archive for October, 2012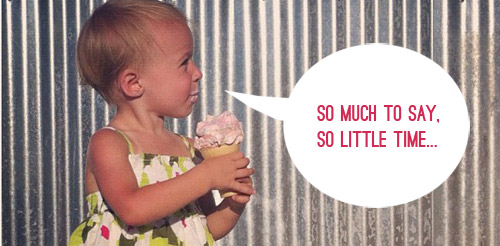 Convo #1:
Clara (as Burger came trotting into the room): Oh hi Burger-cita! (she must have heard us call him that)
Convo #2:
Clara: Where's Daddy?
Mommy: Daddy's out. Because Daddy's car is broken. He's driving Grammy & Tom Tom's car.
Clara: Clara's car!
Mommy: Clara can't drive, silly goose.
Clara: I can drive! In the back seat!
Convo #3:
Clara (staring at a big truck): What's what? It's scaring at me?
Mommy: You mean it's staring at you? Or it's scaring you?
Clara: It's scaring at me.
Convo #4:
Clara (giving herself a pep talk before seeing my brother Dan and his wife Ali): Go see Dan and Ali. You're being shy, Clara. Don't be shy. Be friendly!
Convo #5:
Clara (while carrying her doll and her sheep into the room): Ok everybody, we're going to Home Depot to change your diaper. (walks out of room)
So we're a bit behind in actually writing this post, but anyone who follows us on Instagram knows that we took Clara apple picking a couple of weeks ago. It's this awesome spot about an hour from here called Carter Mountain which is on top of (surprise) a mountain and overlooks Charlottesville, VA – home of my alma mater.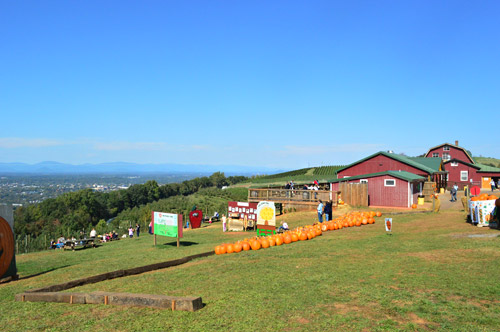 They've got plenty to do. Pumpkins. Hayrides. Even little educational pieces – like this board about bees. Guess we've got a kid after our own hearts, right?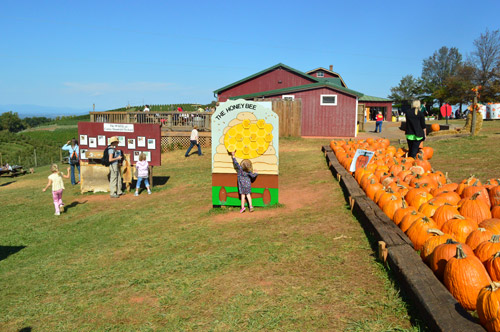 But we were there to pick apples. Plain and simple. As simple as spelling the word "Fuji." Okay, maybe that's not as easy as I thought…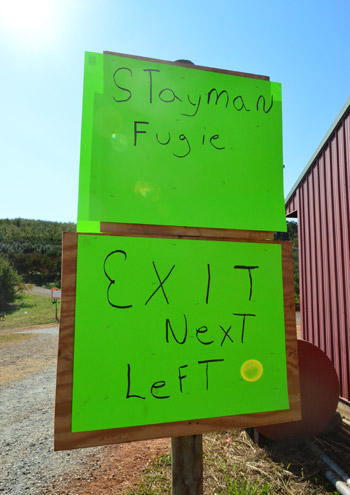 Clara had a blast just running around, which was good because the first section of the orchard we went into was pretty picked over.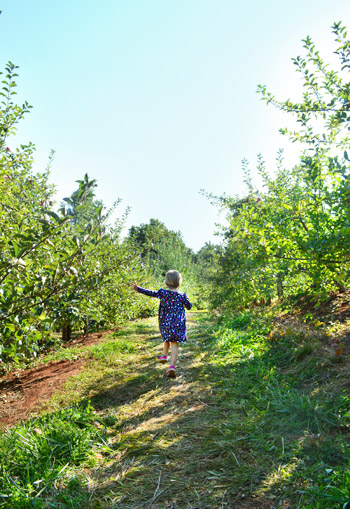 She was pretty proud of herself when she spotted apples on the ground – of which there were plenty – so we had to break it to her that we wanted to take apples from the tree.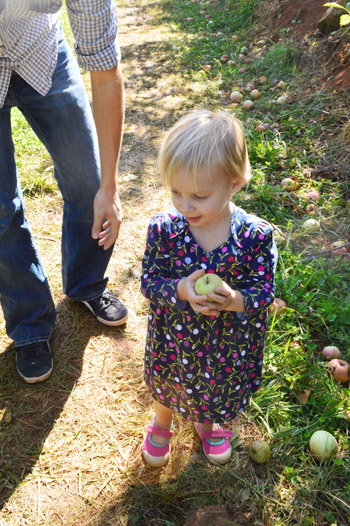 Eventually we spotted some, but they required a little bit of a boost.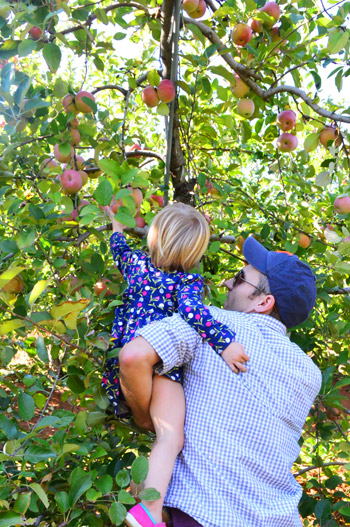 But isn't that what dads are for?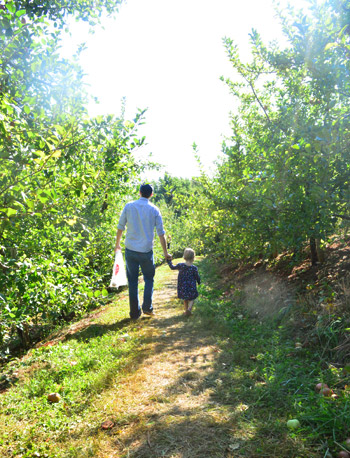 We eventually made our way over to another section of the orchard to hunt for more easily accessible fruit.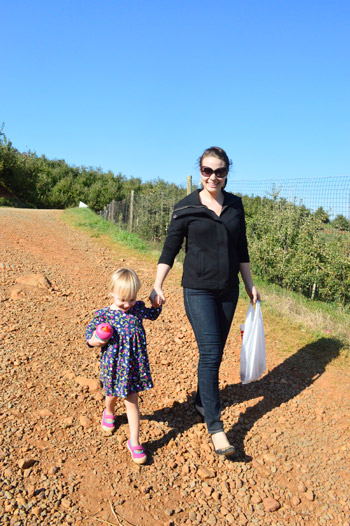 At first, we encountered the same scenario. Lots of apples on the ground. Few on the trees. Boo.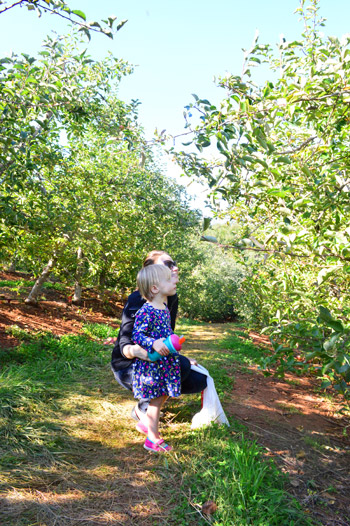 At least that gave Clara an excuse for more running.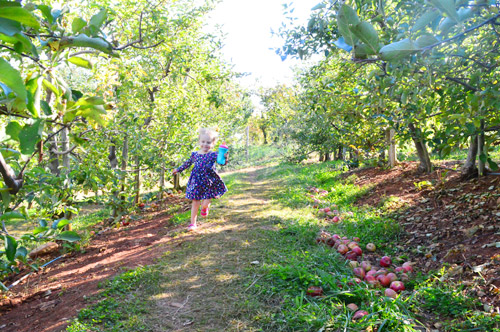 Eventually we made it deep enough in to find a bounty of lower-level apples. Victory!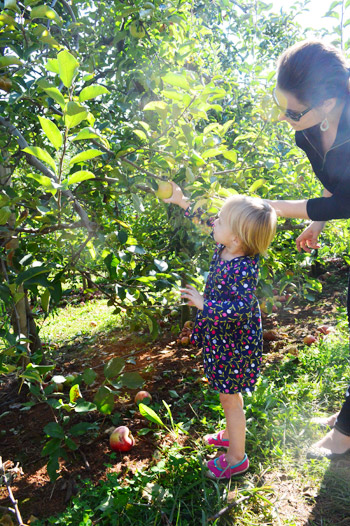 Someone was in love.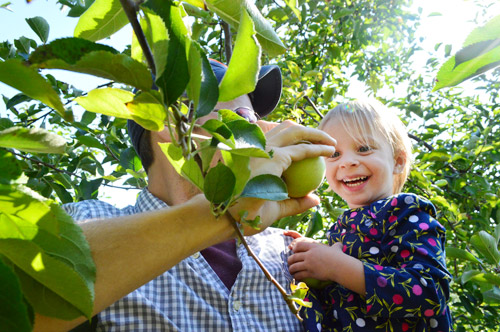 She was so proud of the apples she gathered that she was determined to carry them back to the car all by herself.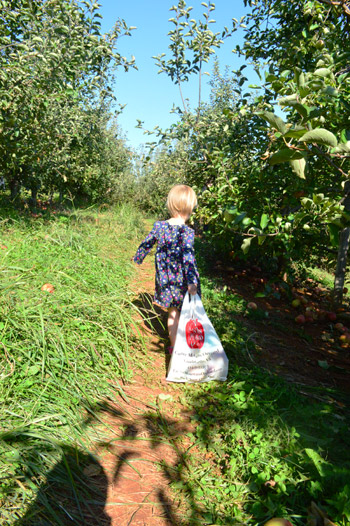 Eventually we sped up the process by giving her a hand. I just love this photo because it looks like a paparazzi photo. You can blame it on the flash going off for some reason. Well, that and Sherry's giant Angelina sunglasses.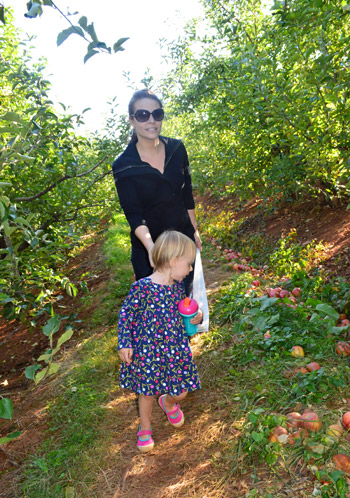 All-in-all, it was a beautiful fall day atop a mountain in the Blue Ridge.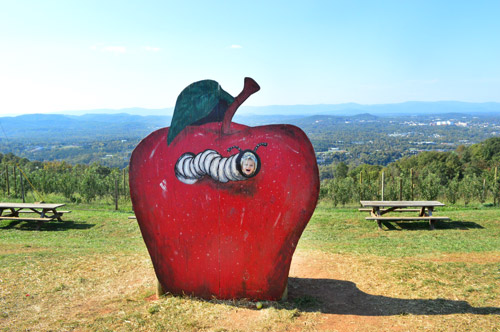 And oh yeah, those apples were eaten by about 5pm the next night. Clara was addicted.