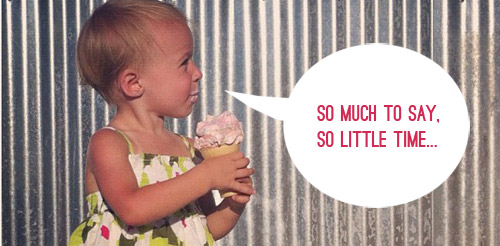 Convo #1:
Clara (as Burger came trotting into the room): Oh hi Burger-cita! (she must have heard us call him that)
Convo #2:
Clara: Where's Daddy?
Mommy: Daddy's out. Because Daddy's car is broken. He's driving Grammy & Tom Tom's car.
Clara: Clara's car!
Mommy: Clara can't drive, silly goose.
Clara: I can drive! In the back seat!
Convo #3:
Clara (staring at a big truck): What's what? It's scaring at me?
Mommy: You mean it's staring at you? Or it's scaring you?
Clara: It's scaring at me.
Convo #4:
Clara (giving herself a pep talk before seeing my brother Dan and his wife Ali): Go see Dan and Ali. You're being shy, Clara. Don't be shy. Be friendly!
Convo #5:
Clara (while carrying her doll and her sheep into the room): Ok everybody, we're going to Home Depot to change your diaper. (walks out of room)
&nbsp Comment

&nbsp&nbsp&nbsp

&nbsp

&nbsp
If you enjoyed this post, please leave a comment or subscribe to the feed and get future articles delivered to your feed reader.
115 Comments