Archive for May, 2012
For those of you who follow us on Instagram, Facebook or Twitter – you probably already know that we spent some time at Richmond's Riverrock festival this weekend. It's a three-day outdoor sports celebration that our city started up a few years ago after the X-TERRA games left us. It's the first time we've been since Clara was born (since the last two years it overlapped her birth / birthday). And boy did we have a blast.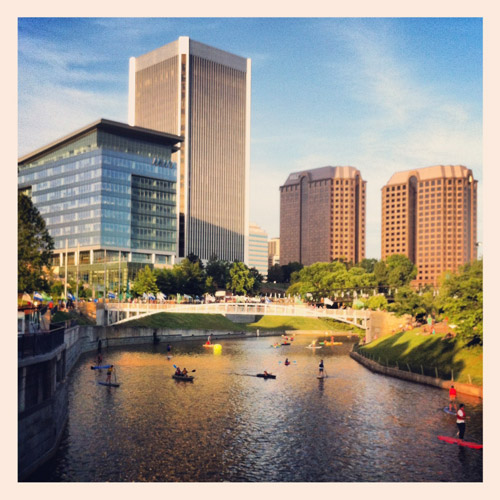 The event is held on Brown's Island, which is a modest piece of land that separates Richmond's downtown from the James River (the old canal system – seen above filled with kayakers and stand-up paddleboarders – is what makes it an island). There was the usual festival fare like live bands, food, and random vendors – but it was the extreme athletes that made for such a fun weekend. We got to watch freestyle bikers do jumps and flips right in front of us.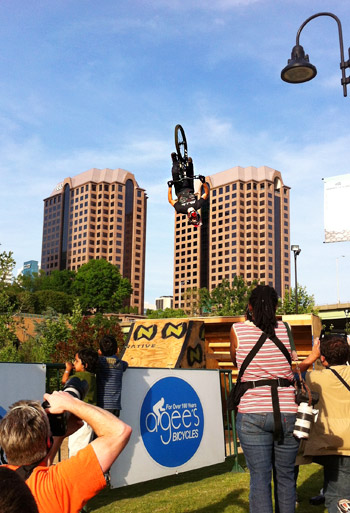 We arrived Friday night just in time to watch two skydivers begin their smoke-trailed free fall towards us.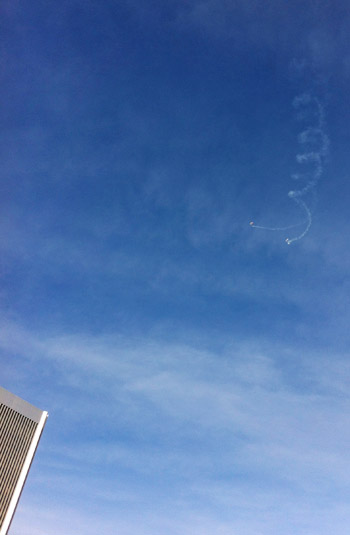 And we joined the audible gasp on the island as it looked like they were gonna hit the ground too fast. But it was all good.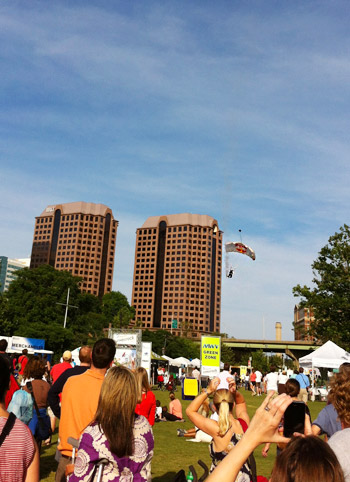 Clara's favorite part of the festival was the Ultimate Air Dog jumps (aka, dogs excitedly jumping into a pool of water to see who could jump the furthest).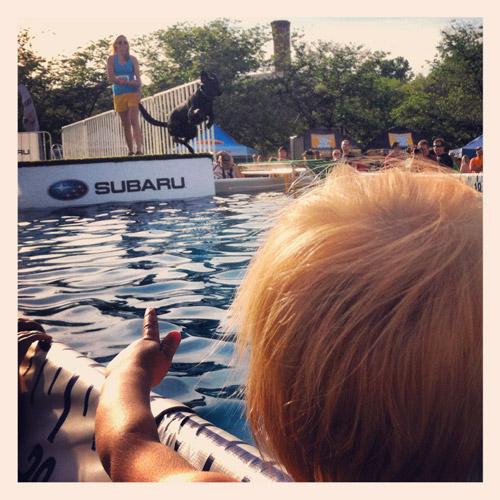 We managed to get Clara right up to the edge of the pool so that she could get an unobstructed view.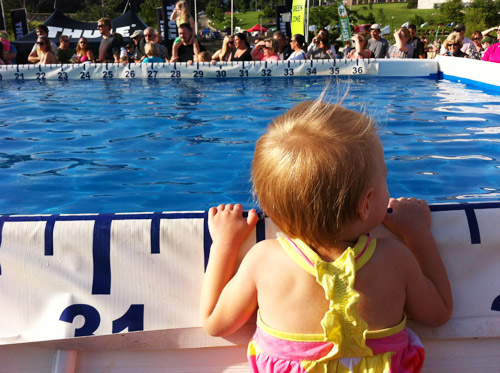 As you might expect, she had a blast.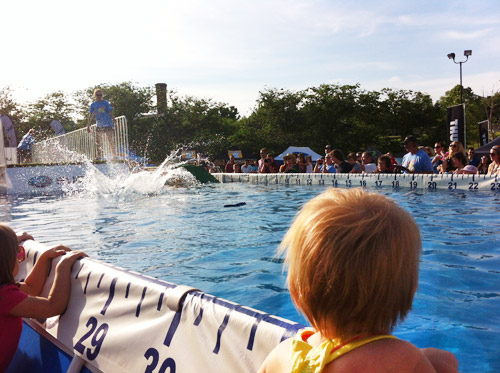 She loved clapping with the crowd.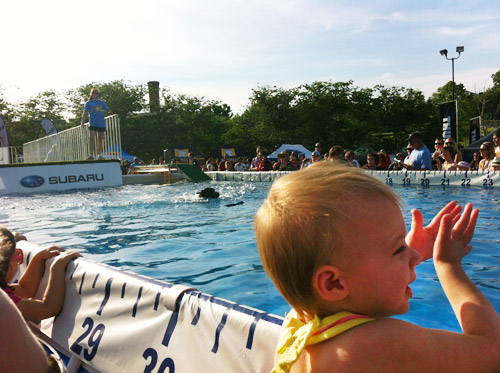 Of course we did pay the consequence of being so close when a particularly energetic dog did what we can only describe as a cannonball.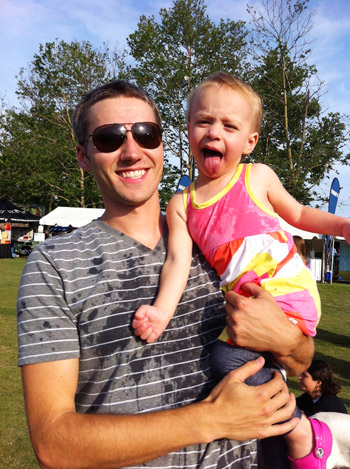 At least it was a hot evening, so the water actually felt pretty good.
Admidst the bikers, kayakers, rockclimbers, etc, etc – perhaps the most extreme (and least expected) athletes that we encountered were these "slackliners." The best way we can describe it was that they balanced, bounced, and flipped around on a tightrope (well, a slightly slack rope) that was about the width of a seatbelt. It really was incredible to watch.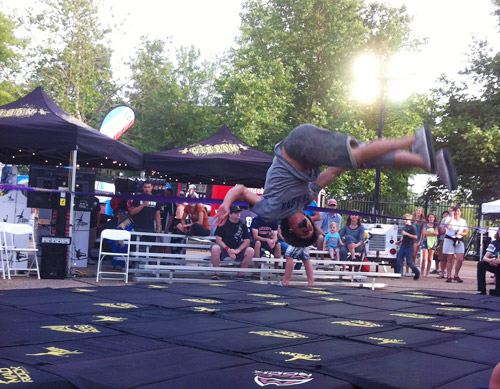 I managed to take a video of one of the slackliners (a 14-year-old, no less!) so you could get a better sense of how crazy it was to watch.
And not that I consider myself an "extreme athlete" by any means, but I did participate in one event on Saturday night. It's a 10k called the James River Scramble, and it's actually the 4th or 5th time that I've done it (again, missing the last two years due to someone being born and then hosting a one-year birthday party).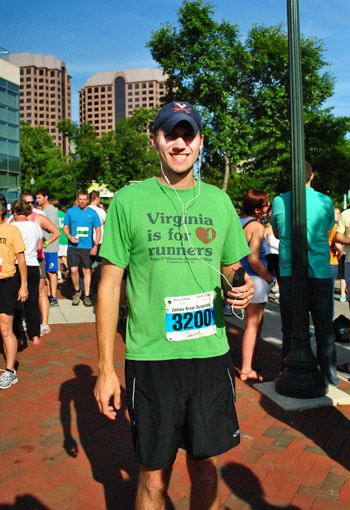 It's different than your average 10k because it's largely a trail run. But when you're not on trails, you're on crossing bridges, climbing up floodwalls and even hopping across the river on giant rocks (though the river was too high this year to do that last part).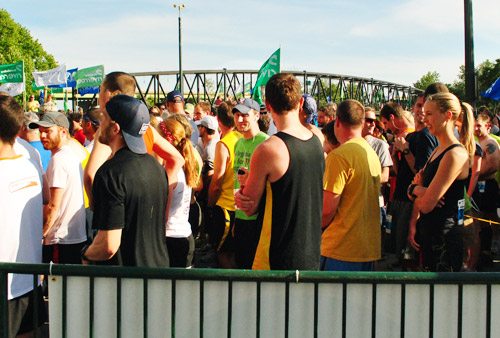 Since I had my phone with me to track my run and listen to music, I managed to snap a few pics along the way. Here we are running along Richmond's floodwall.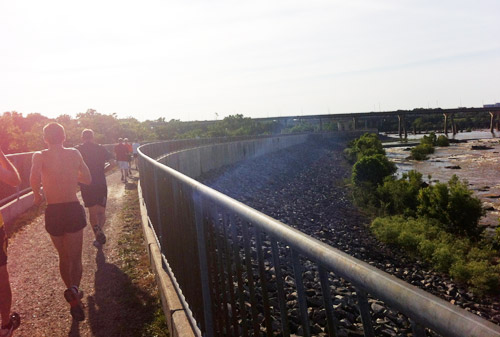 And this is right before scaling a steep staircase affectionately called "The Mayan Ruins" – although I believe it's just part of a now-missing train bridge.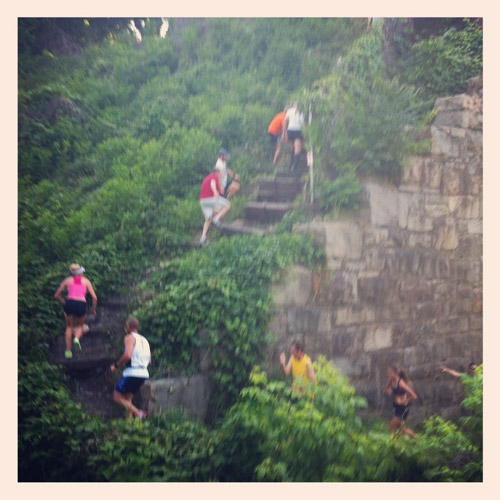 I won't lie. It was a hard run. I hadn't really trained, and I'm used to running in the morning before it gets too hot and humid. But since I knew Sherry, Clara, and my parents were waiting at the end, cheering me on – I suffered pushed through it.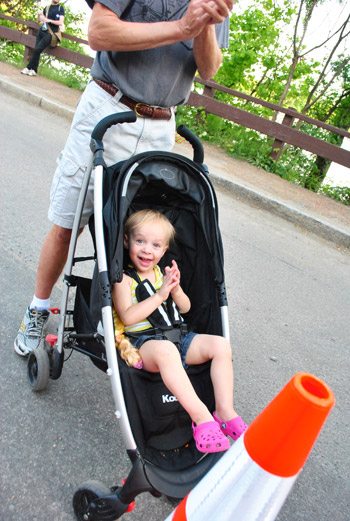 So despite a few walking breaks, I managed to finish out with a smidge of spring left in my step and a smile on my face. My final time being 54:23, once you subtract out my mid-race bathroom stop (apparently I over-hydrated!)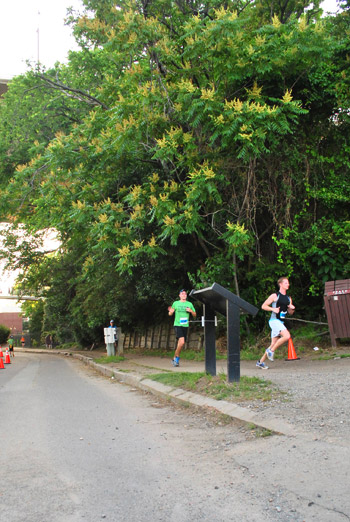 Once I cooled down and stretched a bit, the five of us headed back to the main part of the festival to watch more dogs, bikes, slackliners, paddleboarders, kayakers and musicians until the sun started to set. Oh yeah, and we had the most awesome tacos for dinner. Thanks you Boka truck!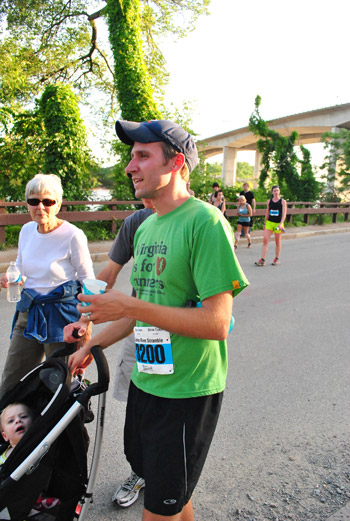 In short, we love Richmond. Especially this time of year when there are festivals and events every weekend. Anyone else run anything this past weekend?
After getting as much work done as possible on Monday morning and early afternoon, we took the evening off to show Clara some birthday fun – as some of you who follow us on Instagram / Facebook / Twitter probably already gathered.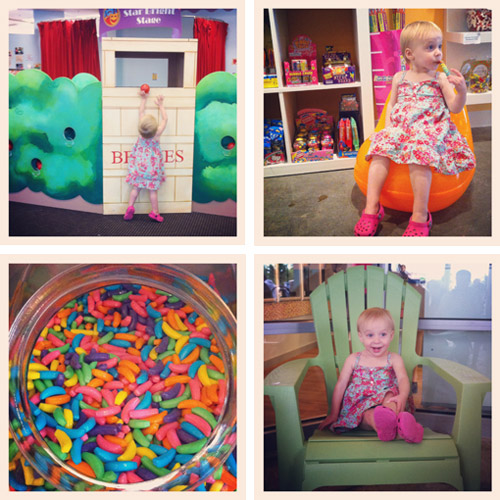 There was a trip to the Children's Museum followed by a visit to Sweet Spot, a nearby candy store where she got a complimentary birthday lollipop (and I ogled the jar of all-banana Runts). Sherry's mom was still in town, so she joined us for the fun-ventures.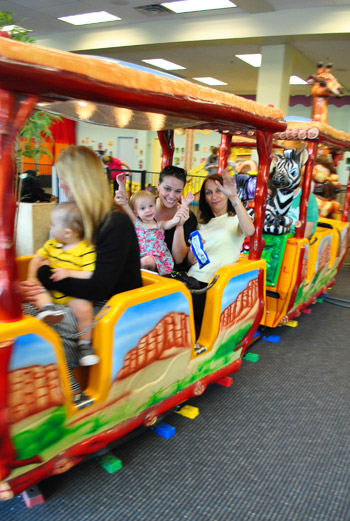 Let's just say it was a whale of a time.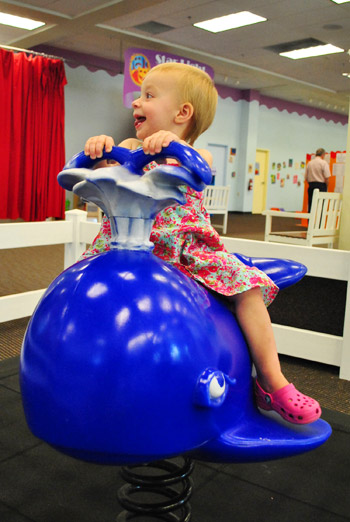 My parents joined us all for dinner and dessert, which meant we were able to snap this picture of Clara surrounded by three of her favorite people in the world.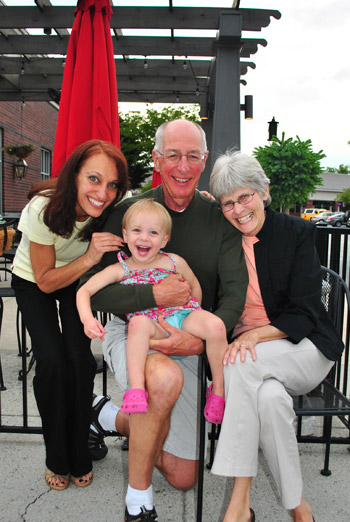 It's actually a very special picture to us, because it's the third consecutive year that we've captured this happy group on Clara's birthday (the first being on Clara birth day).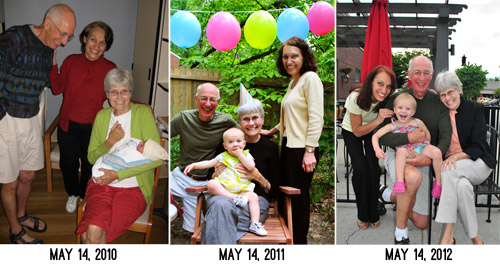 Let's just say we feel very blessed to have such loving grandparents for our favorite little girl.