Work
As if life couldn't get any more glamorous around here… this was the scene the other night: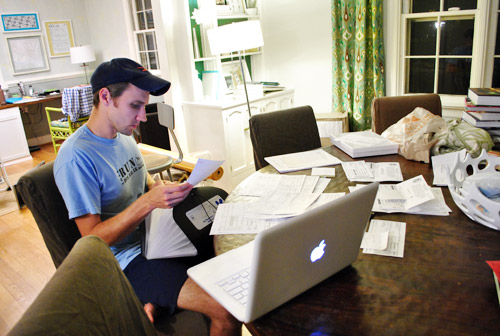 Since tax day is less than a month away, we met with our accountant this week so that he could begin prepping our taxes. With all of the intricacies of running a small business (income from different sources, tracking quarterly tax payments, business license expenses, health insurance payments, charitable donations, retirement and college fund deposits, etc) this is one project we wouldn't dare DIY. I'm a pretty organized guy when it comes to numbers, but keeping a spreadsheet of all of our incoming and outgoing money is about as far as it goes for me. We figure it's better to spend some time and money with a CPA than with the IRS! Haha. We actually file quarterly taxes, but this time of year is when we have to double check and recalculate lots of things throughout the year, so it's always a bit more heavy duty.
Oh and since we get the question all the time, we don't write off home improvement projects as business expenses because our house is our primary residence (and we wouldn't want to bill it as our business since it would mean we owe major taxes on it when/if we ever sell). But more on all the behind the scenes small business stuff here. Anyone else enjoying tax season so far?
Who knew photographing a kitchen could be so death defying?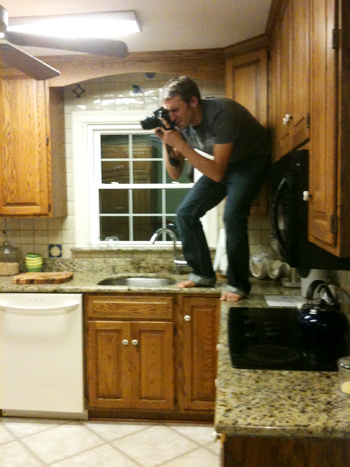 Forgive the poor picture quality. Obviously the good camera was in use. And of course this was taken before we did this (part of the counter and cooktop are no longer there). Ah, the joys of tearing the kitchen apart.
If only picking a countertop was as easy as demoing the old one…