Holiday Fun
Remember this Santa balloon that surprised Clara on Christmas morning?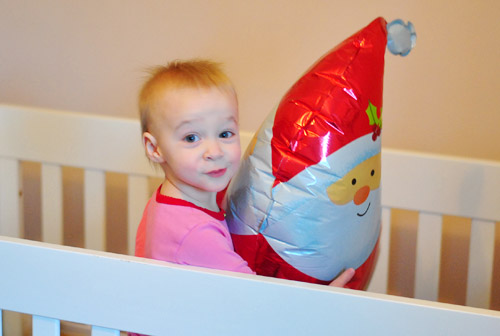 Well, it has hung around long after Christmas and Clara's love of it has only deepened. Well, that and gotten kind of aggressive too. Thanks goodness he's a durable little balloon!
Only at our house can you watch toddler vs. Santa wrestling matches. Maybe we should stat selling tickets…
You've probably already seen some pics of what we got each other for Christmas over on Young House Love (as well as the play kitchen that we made Clara). But here are all of the photos that sum up our Christmas this year. It started off with Christmas Eve dinner at my parents' house, where all the out of town guests had arrived (i.e. my sisters & their husbands/kids, plus my uncle and aunt from Seattle – some of these pics are my shutterbug uncle's actually).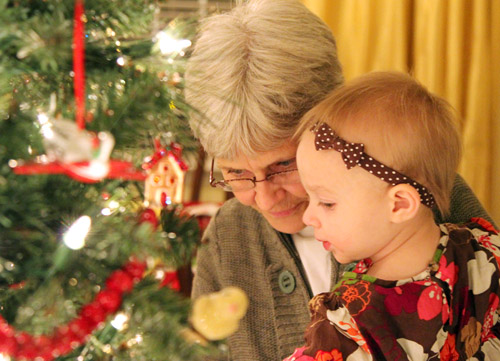 Here are Clara and her cousins John and Emanuel playing banging on the piano.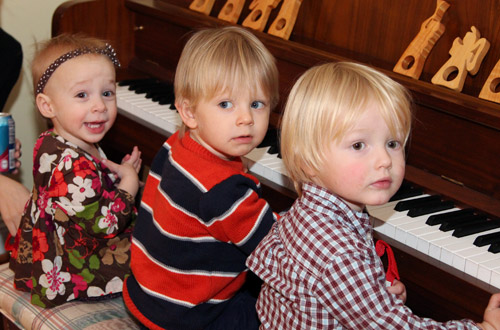 Have you ever seen three kids look so simultaneously caught in the act? We gave them these ice cream cones… so why the guilty looks? Oh, and the boys aren't doing Clara any favors by sitting on the taller stool (they're both around 8-12 months older, which also might account for the size difference).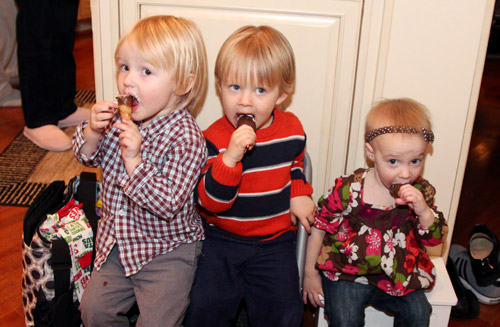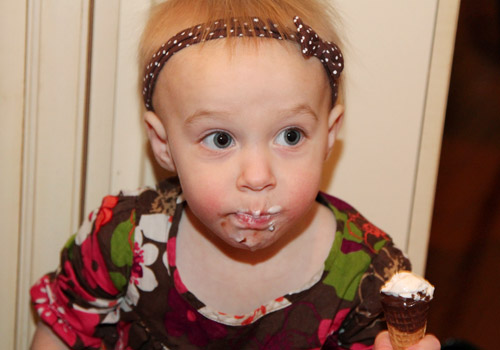 Then there was Christmas morning that we kicked off at our house.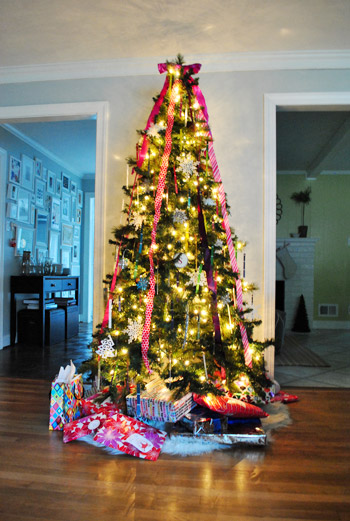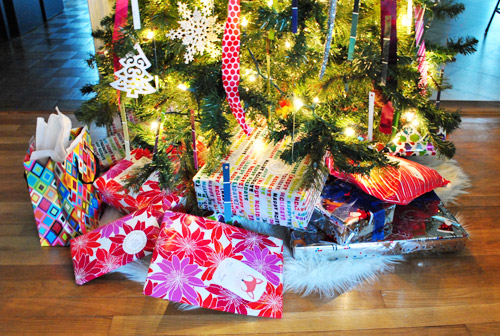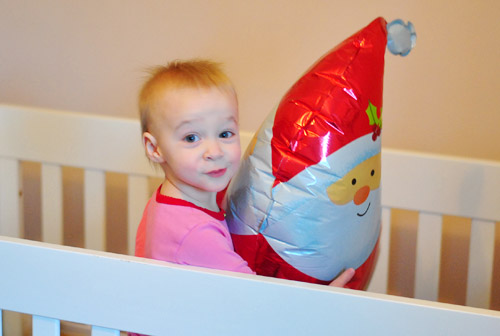 You've already seen some of this stuff (and even a video).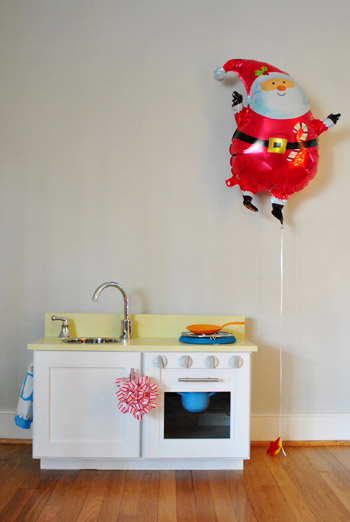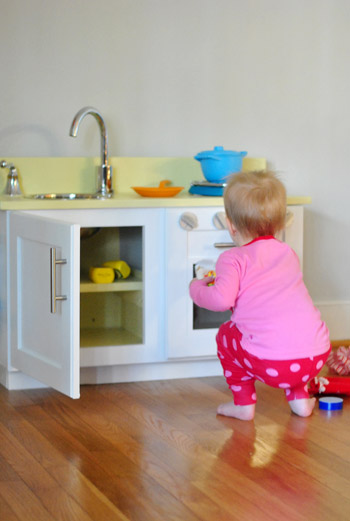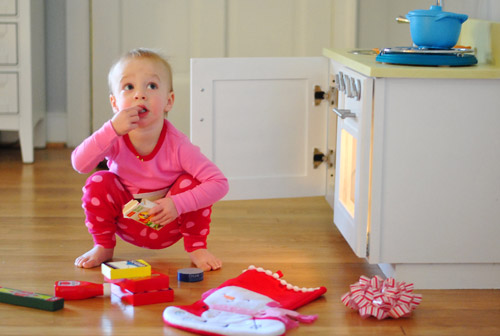 Look! White ceramic cheese cheese markers from my godmother (they came with a cool cutting board/cheeseboard)!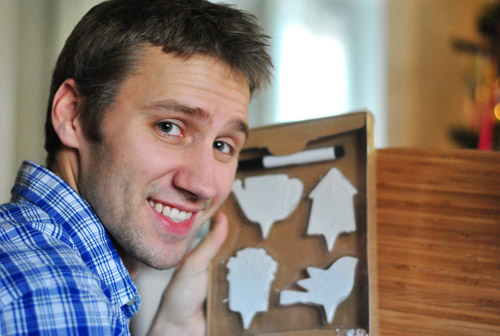 Burger may look less than happy to be woken up in this pic…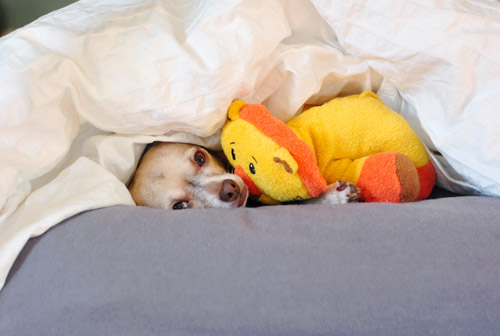 … but I detect a bit of a smile during his out of bed stretch: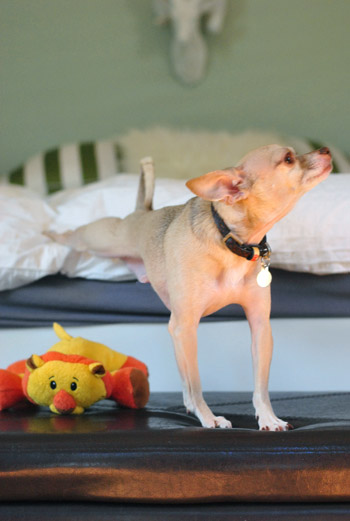 Here's a big smile from Clara for a new vest from her aunt in NJ!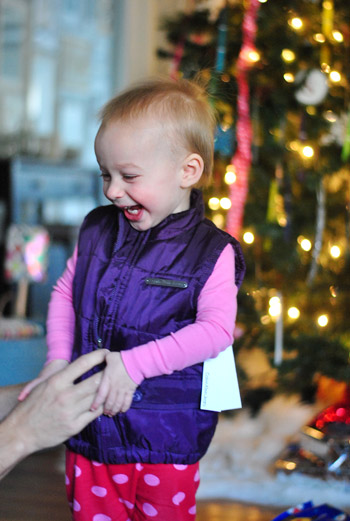 Here's Clara and her beloved leopard hat that she refuses to take off.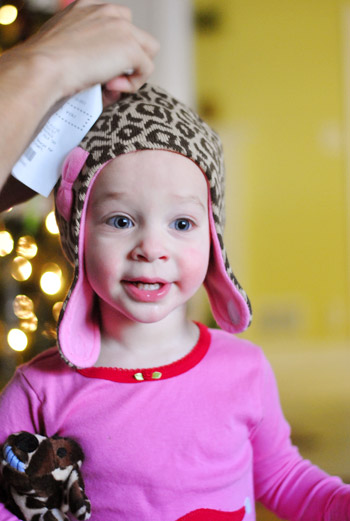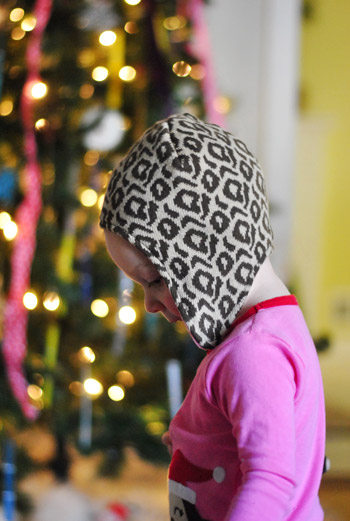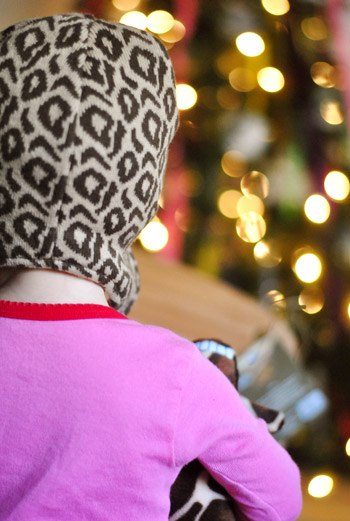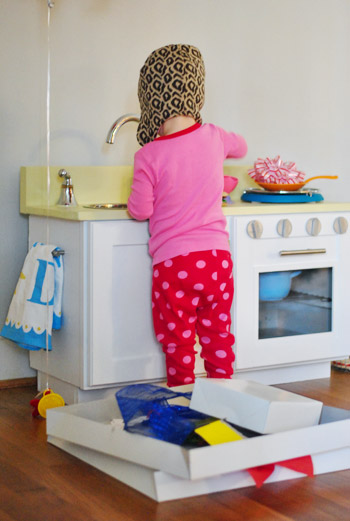 Then Christmas moved to my sister's house for breakfast and more present opening.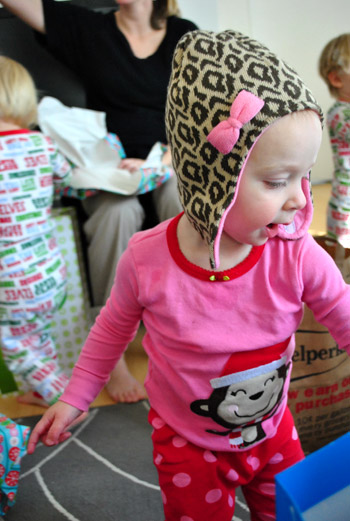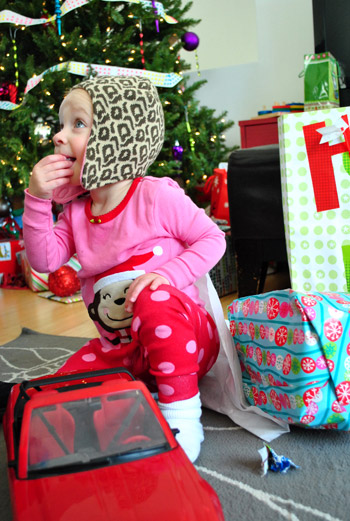 Here are our nephews John and baby Ben posing in the blue woven basket that Sherry and I bought for my grandma. All of the kids had a blast once they discovered they could climb in and sit together.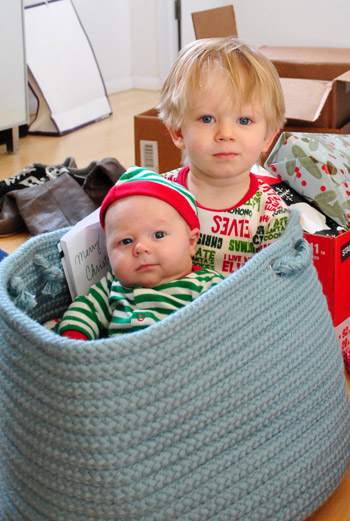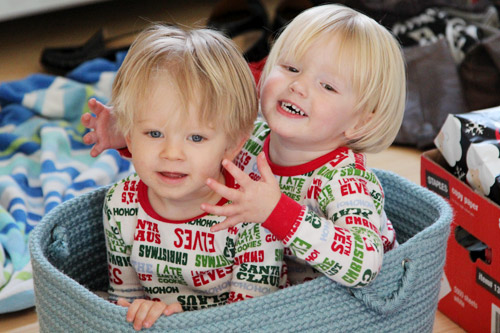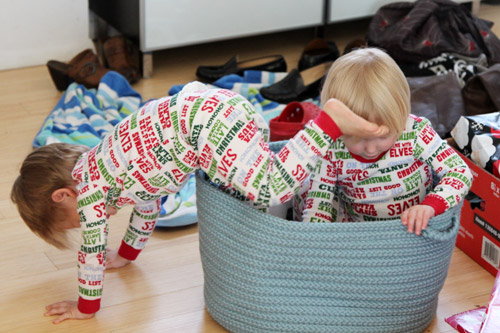 And now more family stuff: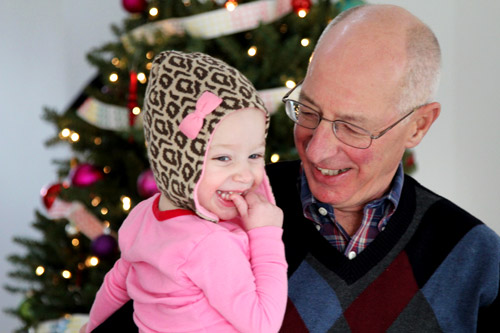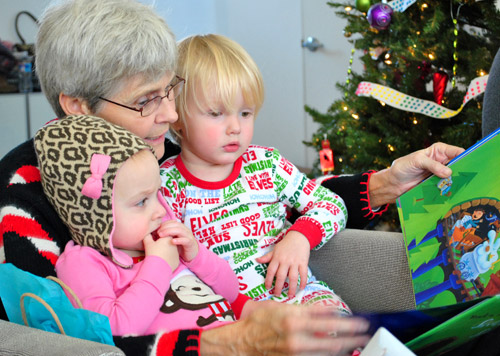 My dad and I like bikes…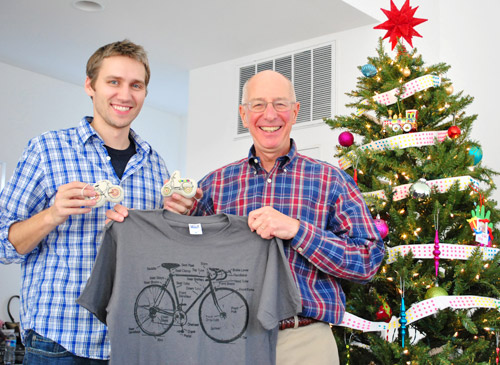 Sherry loves jewels…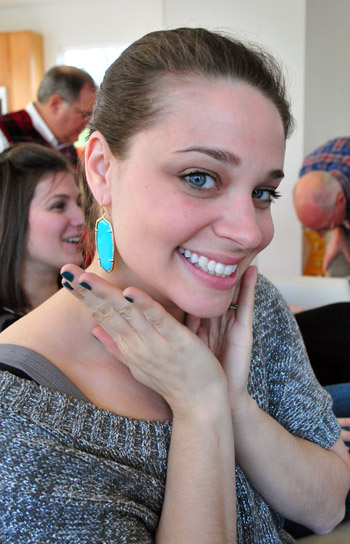 And Clara usually loves crazy things like giant red beaded pears… so this was our cue that it was time to go home and take a nap…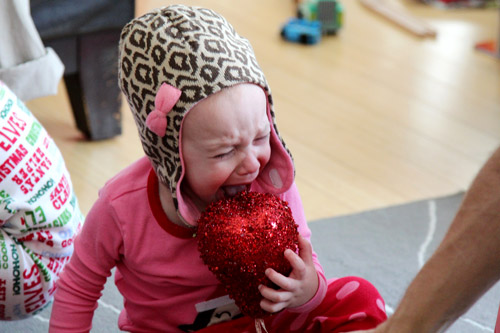 Later we headed back over to my mom's house for Christmas dinner (and opened a few more gifts with my cousins and aunt & uncle who popped down from Northern Virginia). We didn't arrive empty handed. Sherry bottled some cider in this $3 glass that we picked up at Ikea a couple of months ago.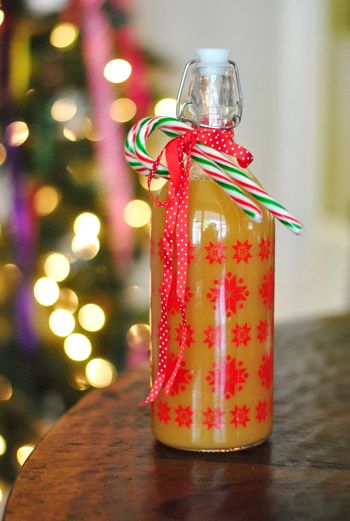 And I tried my hand at more stuffed cookies. This time they were Double Chocolate Cookies with a Peppermint Patty Surprise. They rocked.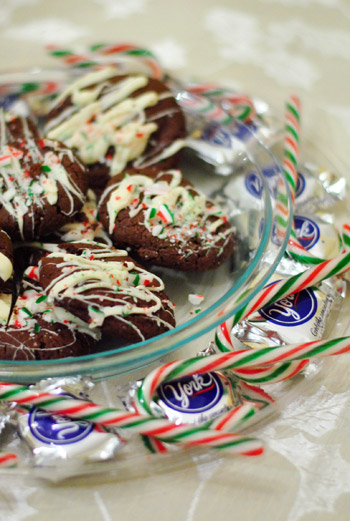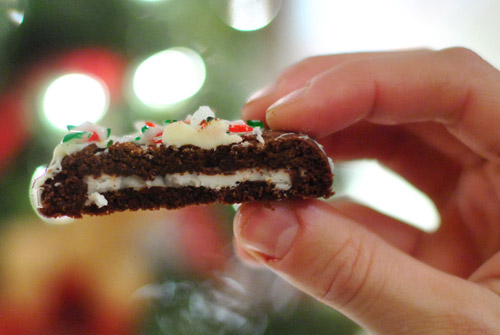 Clara got lots of quality time with my aunt Debbie (the one visiting from Seattle). It was their first time meeting and I think both of them had a blast. Clara even learned to say "Debbie."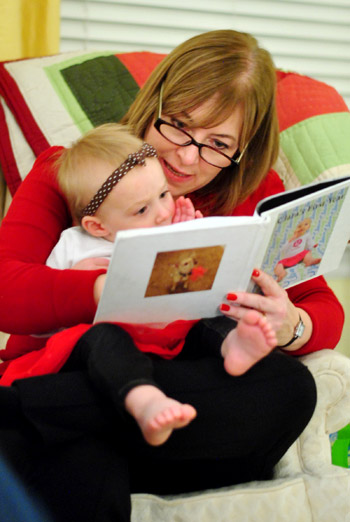 Here's Clara with my sister Carrie. Not sure what they're doing, but it looks fun.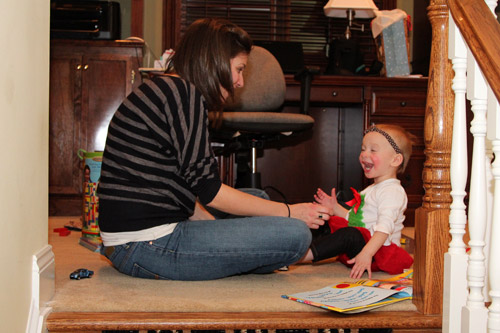 And of course there was the moment that ended the fun-filled day: Clara dancing with her cousin John (you can watch the video here if you missed it last week).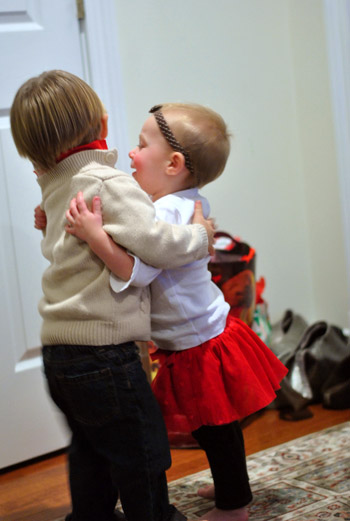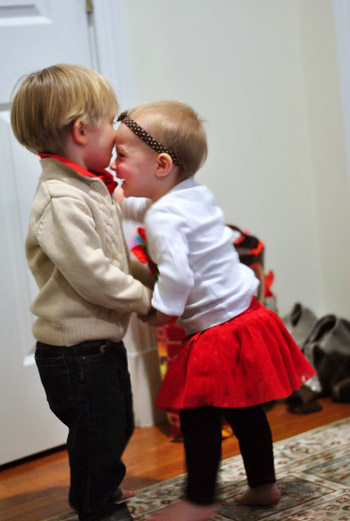 The day actually didn't stop there. A bunch of us returned to our house to watch a movie (the classic Christmas film (?), Our Idiot Brother) but we didn't bother snapping pics of that. It was basically a bunch of us fighting to keep our eyes open after a fun, but tiring, Christmas Day. Then it was off to bed for all of us (our cousins and their kiddos stayed with us for some more holiday hijinx and a great time was had by all).