Holiday Fun
Well, we had all sorts of elaborate Halloween things planned with our next door neighbor (and their 2.5 year old daughter – er, bumblebee)… only to have it start drizzling before our trick or treating could even get underway. But we still got Clara decked out in her costume (including a pink bow to girlify her monkey outfit) and broke out the umbrella and bravely headed out to ring a few doorbells. Three to be exact. Note: I love how the button on my coat looks like I'm wearing a big dangle earring in just one ear.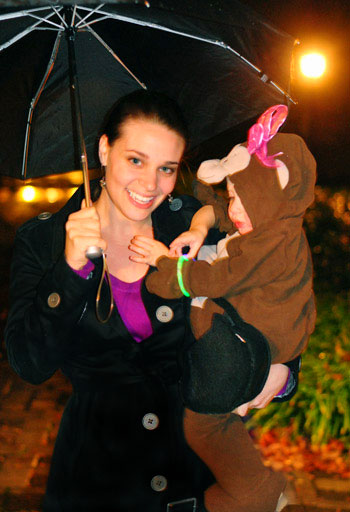 Basically our big plans with the neighbor turned into you-come-to-our-house, we'll-go-to-yours (along with a few others while we were out there). But it was totally worth the trip, because Clara was IN LOVE with her smidge of Halloween loot. And how cute is her kitty candy bag from Grammy?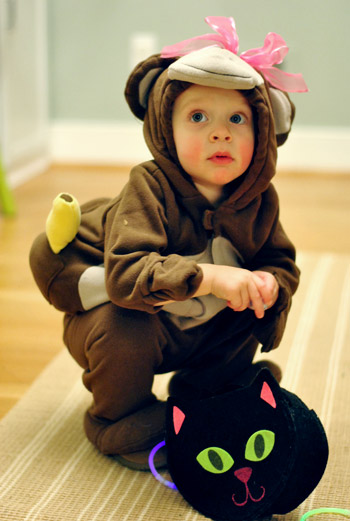 Her spoils consisted of a few plastic bracelets and a few lollipops. But for Clara, it was the best Halloween ever.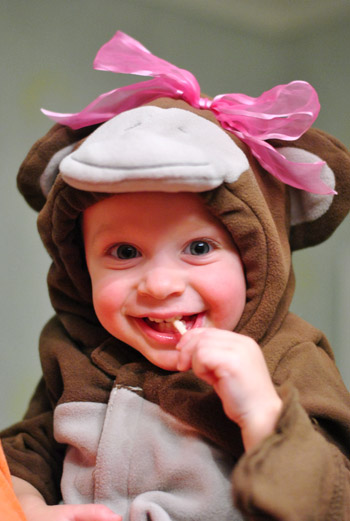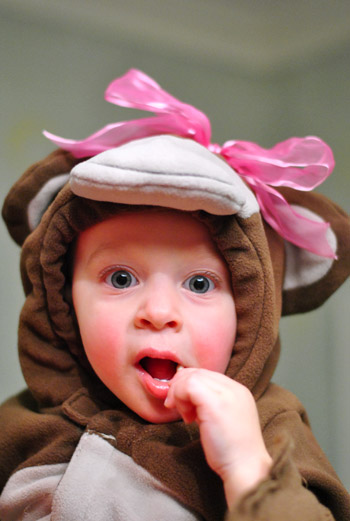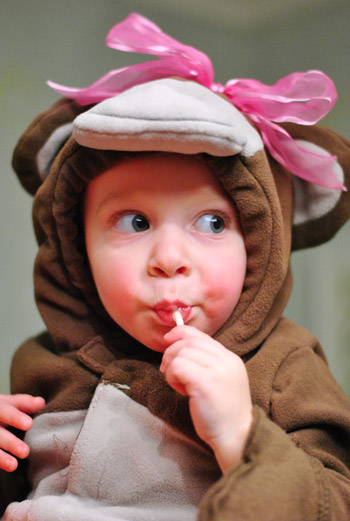 And we, her parents, agree. Best. Halloween. Ever.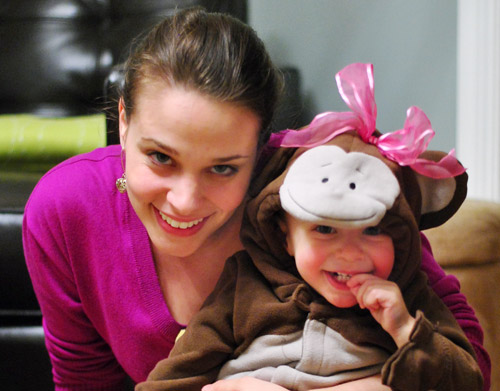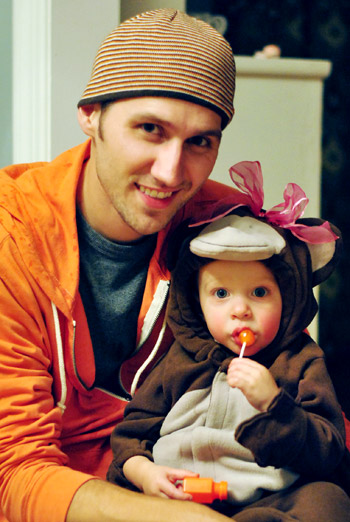 Oh, and we did get fair amount of trick-or-treaters at our place (mostly older kids with more rain-tolerant parents). Clara enjoyed helping us hand out candy and Burger enjoyed barking his head off at the "intruders." Plus, Clara got some quality time pushing her mini-me (aka: Monkey Baby) around in her toy stroller.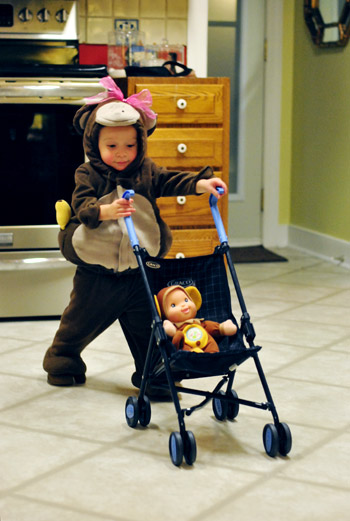 Already counting down the days until next year. We already have some costume ideas…
In an effort to create some sort of annual tradition, we took Clara to a pumpkin patch (or "punkeen" patch as she would say) last week.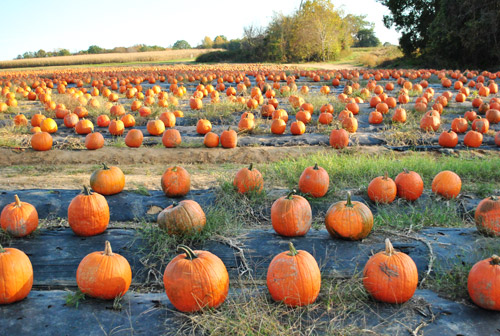 Here she was last year at the Ashland Berry Farm (more photos here)…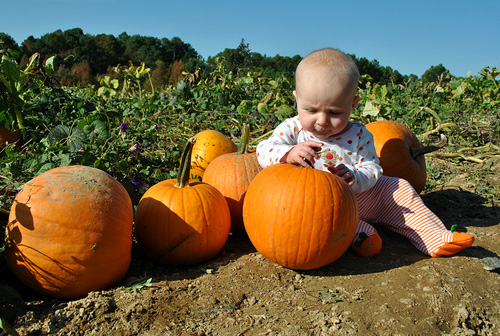 …and this year at the Chesterfield Berry Farm: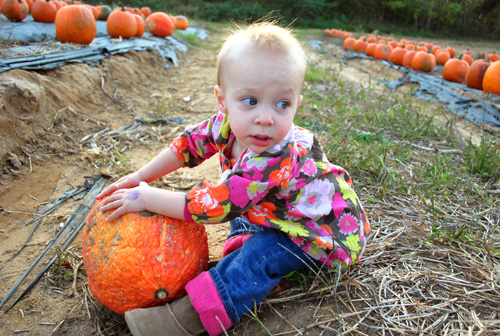 Oh the difference a year makes (though not so much in the hair department). After going last year on a swamped Saturday, we dodged crowds this year by going on a surprisingly empty Wednesday evening. Though a bit less "festive," it definitely meant Clara could enjoy the trip without getting trampled by older kids.
She was the lone bunny feeder for the afternoon.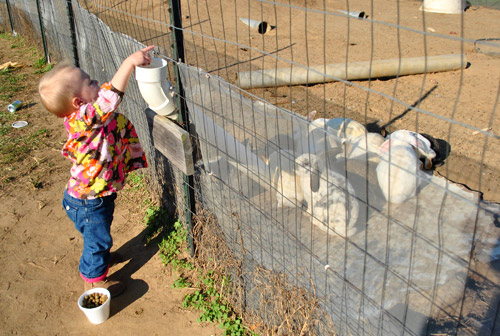 We also had full reign of the moon bounce (Clara's first!).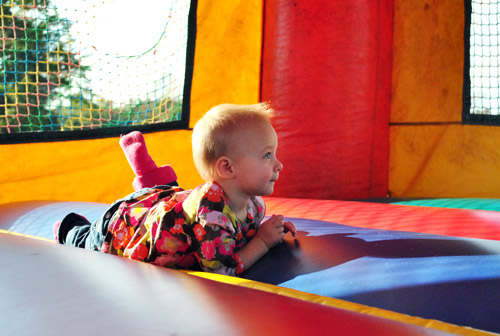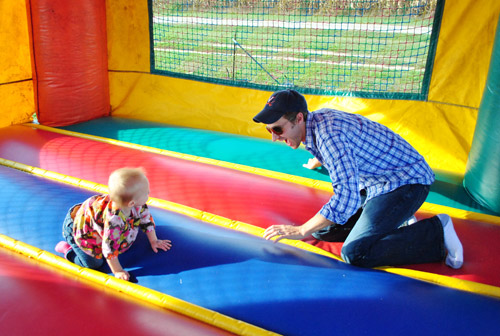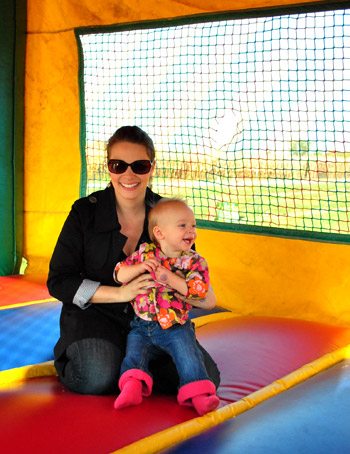 Likewise, we were the lone patrons at the "Corn Bin" play area.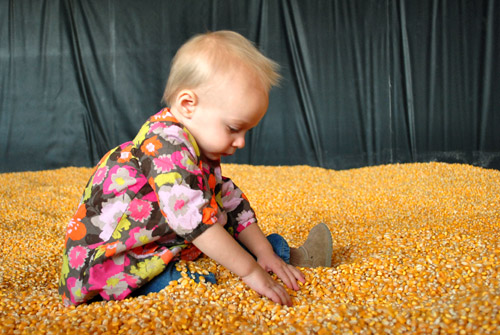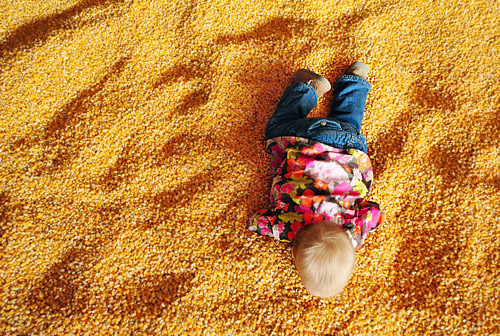 And since the girl loves blowing bubbles in the bath, she gave that a go in the corn as well. Naturally.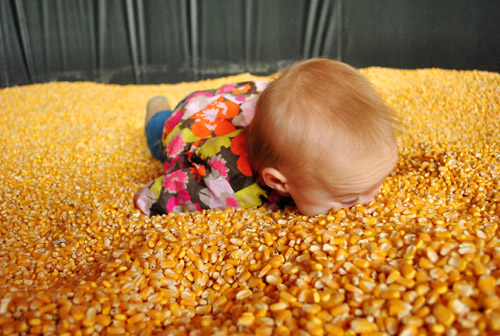 I don't understand little girls sometimes. Then again, sometimes I don't understand big girls either. Take Miss Corn Princess below for example.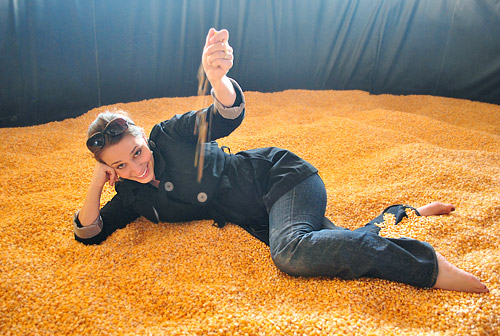 But as fun as bunnies, bounce houses, and bins of corn were – the hayride out to the pumpkin patch was the highlight of the evening. Especially since we had it pretty much all to ourselves.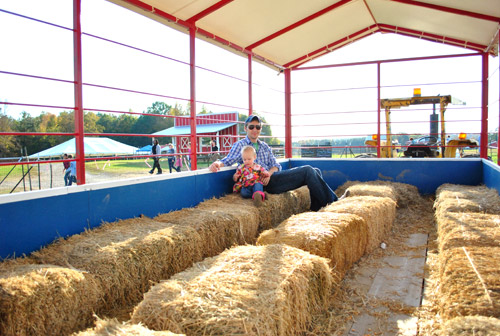 Clara probably enjoyed the ride more than the destination actually. Between lounging in the hay…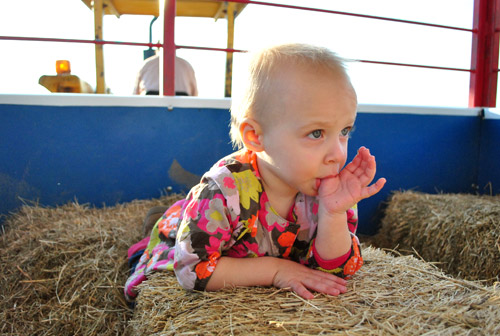 … and watching the tractor wheels, it was heaven for her.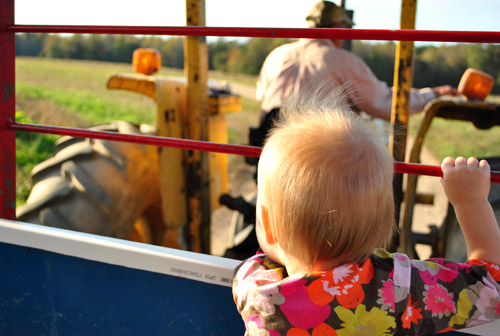 And we loved that we got the best seats in the house – er, hayride.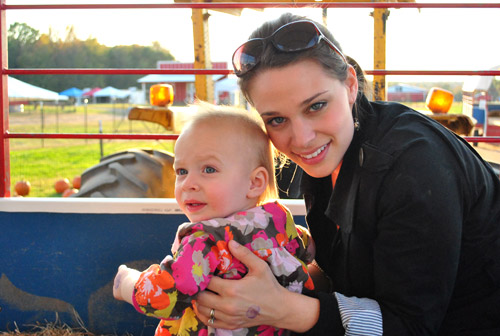 Once we got to the pumpkins, she was less interested in them and more so in the dirt around them. We finally convinced her to pay attention to the pumpkins by showing her that it's fun to put dirt on them. Ooooh, fascinating….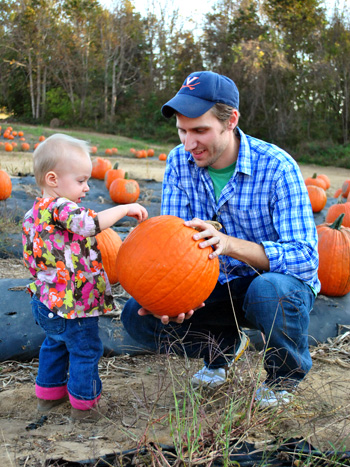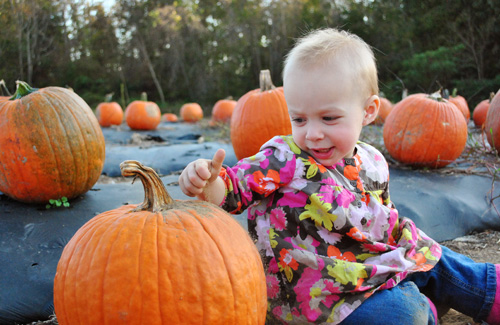 In the end we did come home with one pumpkin, even though we've already painted ours for the year. But you can't leave a pumpkin patch without a pumpkin, right??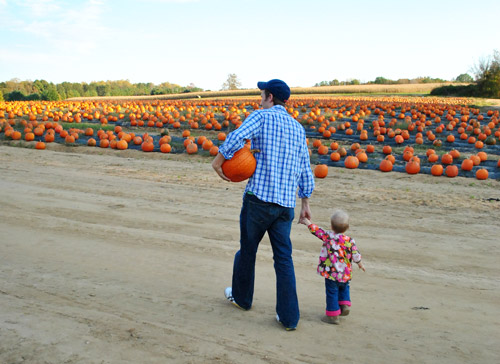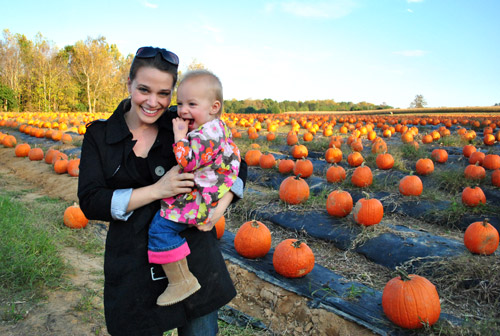 Maybe next year we'll try to find some middle ground between a busy Saturday and a deserted Wednesday. As long as it's not too crowded to take another shot like this.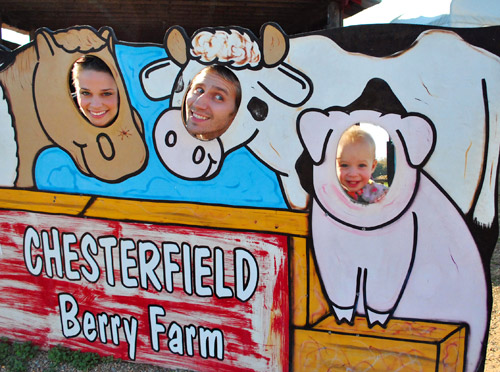 By the way, this is totally three pictures photoshopped together. There's no way this was happening in one take!