Clara Conversations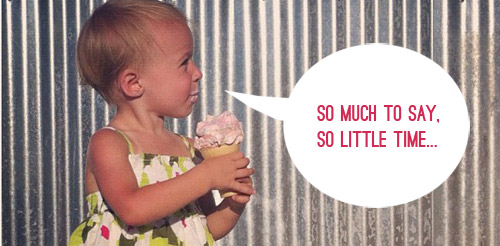 Convo #1
Clara (out of nowhere while riding in the car): Mommy, can I push your buttons?!
(we looked all around and realized she was referring to our water cups from Wendy's in the cup holder, and she wanted to push down the circles on the top of them for diet, cola, etc – so we handed mine back and she pushed them down).
Clara: Daddy, now can I push your buttons?!

Convo #2
Clara: My bottom doesn't hurt because I didn't fall down. But my dolly's bottom hurts because she tripped on a dinosaur.
Convo #3
Clara (singing to a song that she was making up as she went along): Merry Christmas to your friendsssss! And you love yourselffffff.
Convo #4
Clara (out of nowhere while we were all eating dinner): Daddy, what's cool about snakes?
Convo #5
Clara's teacher: … and then our caterpillars are going to break out of their cocoons…
Clara: And that's going to make a really loud noise! And it might scare me!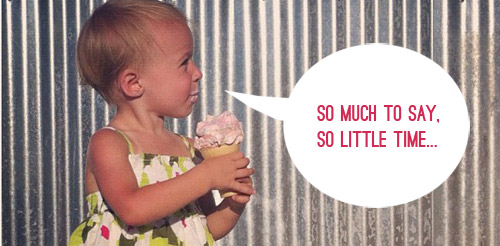 Convo #1
Mommy: If you had an empty room all to yourself, what would you put in it?
Clara: Well… I'd put some gloves and some hats and some coats and… that's all. That will be very cozy. 
Convo #2
Clara: These are my big girl undies. They have princesses on them.
Emanual (her four year old cousin): My daddy used to drive a porche.
Clara: I can drive a… princess carriage!
Convo #3
Mommy: Hey Clara, do you want to paint with me?
Clara: Yes sweetie! That's a great beautiful idea!
Convo #4
Daddy: What does peanut butter taste like to you?
Clara: Maybe it tastes like a… tomato? No! A potato.
Convo #5
Clara (shouting, while chasing a few bigger kids down a rocky trail): THIS. IS. NOT. FUN!