Clara Conversations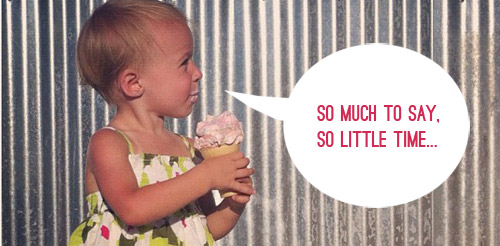 Here are a few of my recent favorite conversations with Clara (check out the first few posts about our chats here, here, and here). We tend to think she gives funny gals like Amy Poehler a run for their money (or should I say, a run for their monies?) but we might be biased…
Convo #1:
Daddy (while pointing to a ferret at Petco): Do you know what that is?
Clara: Ooh, a polar bear!!!!
Convo #2:
Mommy: Are you going to be a good girl in the store?
Clara: I'll be good. No screaming. Thank you. You're welcome.
Convo #3:
Mommy (while paying with Clara's play kitchen): Ooh did you make me a sandwich? Is it yummy?
Clara: Yes! It's a-licious!
Convo #4:
Clara: Snuggle in my crib with me!
Mommy: I'm too big for your crib.
Clara: I'm getting bigger. You're getting so tiny!
(*She totally Benjamin Buttoned me. Does she think old people shrink while young people grow?)
Convo #5:
Clara (singing): I'm a little teapot, short and shout, here is my cupcake, here is my shout.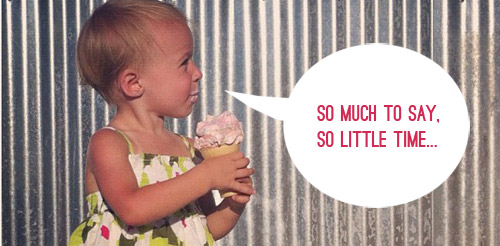 Here are a few of my recent favorite conversations with Clara (check out the first and second post about our chats here and here). Is she not hilarious? I think she gives Jerry Seinfeld a run for his money. Might be biased though…
Convo #1:
Mommy: What shirt should mommy wear?
Clara: This one (points to blanket)
Mommy: That's a blanket. What about this shirt? (picks up Maui shirt with whale on it)
Clara: Ok. And this shirt (points to bra)
Mommy: That's mommy's bra.
Clara: That's Clara's bra!
Convo #2:
Clara (arriving at Grammy and TomTom's house and letting herself in the front door): Hello? Anybody is here? Where is anybody?
Convo #3:
Clara (while watching Alvin And The Chipmunks): Look! I see the munkchips!
Convo #4:
Clara (while playing with fake coins): I have one monies. Ooh I have two monies!
Convo #5:
Clara (singing, while holding an octopus balloon daddy got her from Kroger): Twinkle twinkle little octopus, how I wonder what you are. Up above the world so high, like a octopus in the sky…"