Clara Conversations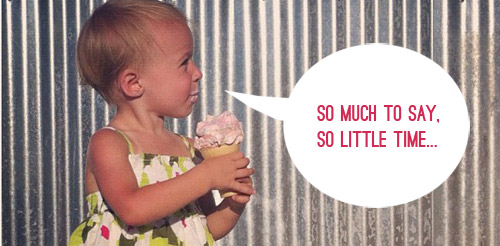 Convo #1:
Clara (as Burger came trotting into the room): Oh hi Burger-cita! (she must have heard us call him that)
Convo #2:
Clara: Where's Daddy?
Mommy: Daddy's out. Because Daddy's car is broken. He's driving Grammy & Tom Tom's car.
Clara: Clara's car!
Mommy: Clara can't drive, silly goose.
Clara: I can drive! In the back seat!
Convo #3:
Clara (staring at a big truck): What's what? It's scaring at me?
Mommy: You mean it's staring at you? Or it's scaring you?
Clara: It's scaring at me.
Convo #4:
Clara (giving herself a pep talk before seeing my brother Dan and his wife Ali): Go see Dan and Ali. You're being shy, Clara. Don't be shy. Be friendly!
Convo #5:
Clara (while carrying her doll and her sheep into the room): Ok everybody, we're going to Home Depot to change your diaper. (walks out of room)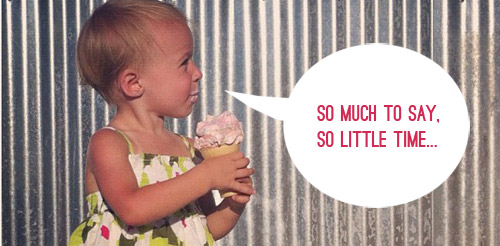 Convo #1:
Clara (touching Daddy's scruffy chin): Your beard.
Daddy: Haha.
Clara: I don't have my beard. I just have my little chin.
Convo #2:
Clara: Mommy's a good big girl. And I'm a good little girl. And daddy is a good big boy. I don't want a little boy. I want a little girl.
Mommy: What do you mean? You mean you want a sister? Like Elsa?
Clara: Yeah.
Mommy: What will her name be?
Clara: Her name will be Santa Claus and she will bring me toys.
Convo #3:
Clara (changing the words to a song while holding a plastic chicken): Baa baa black sheep, have you any chickens?
Convo #4:
Clara (on fireflies): I love those silly buggies. They make the light in your hand.
Convo #5:
Daddy: Good morning! What did you dream about?
Clara: Gee was being a bad boy and teasing me. (Gee is Clara's stuffed giraffe that she takes everywhere)
Daddy: Uh oh, do you need me to talk to Gee? That's not nice.
Clara: No daddy. It was just a dream!