Clara's Penpal
Hi guys, Clara here. This is a fun monthly letter about my life that I'll be sharing with my pen pal who is also named Clara and lives all the way in Germany! Each time, my friend Clara will also be sharing a letter with me, so I'll get to read all about the life of a little girl with the same name in Germany. I think it's really cool – and hope you guys do too!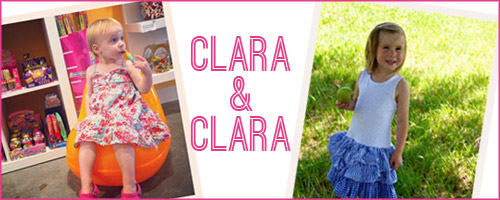 Oh and I get a little help from mommy when it comes to writing my letter, and my friend Clara's mommy helps to translate my letter at the bottom of this post into German so my friend Clara can read it. And you can drop in on her letter to me right here (which is translated into English at the bottom of her post).
Hi Clara!
My name is Clara too. And we both have last names that start with a P! Mine is Petersik. My birthday was also in May, but on the 14th and I turned two. You're so big. I'm excited to be three someday. Then maybe I can go on the big girl swings instead of the little kid swings that I swing on now. I live in a city called Richmond, and it's known for having a giant river that runs right through it.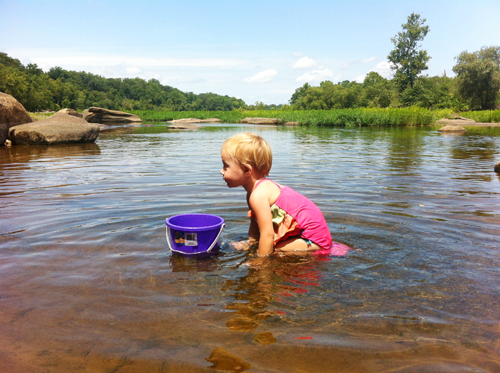 We drive over it all the time on bridges and even swim in it and watch people kayak there. I think you would like it here. Germany sounds great too because I love chickens and cows and sheep so much. I think my brother Burger (he's a five year old chihuahua) would love Germany too because he could run with all of the animals and bark at them.
It's so cool that you're going to Kindergarten in August! I'm starting preschool in September and I can't wait because they have a really fun playground. I will only go two days a week in the mornings but mommy and daddy say they won't know what to do with themselves without me. I think they're going to miss me more than I'll miss them. I'll be busy playing on the playground and painting pictures. I love to paint and play with Play Doh.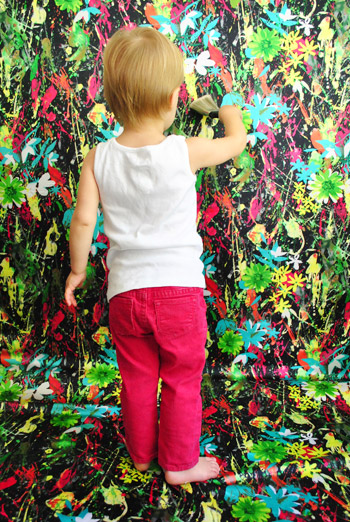 Your version of Kindergarten with your mornings out in the woods sound really fun! I love the woods. Sticks, rocks, and sand are my favorite things to play with in the whole world. I think someday if we meet we should play in the woods together and sing songs. I love singing and dancing too. My new favorite song is Put A Ring On It by the Chipmunks. I think some other lady sang it first, but I like their rendition the best. I also love any song by Adam Levine. Whenever his songs come on the radio in the car I shout his name and my parents laugh.
I'm excited to learn more about you and have you as my pen pal. Ballet sounds really cool! I go to a music class every week and my parents are talking about signing me up for a dance class because I love that so much. Maybe I will get to do ballet like you! It will be really fun to learn about another little girl from Germany with the same name. It will be interesting to hear how your life is the same in some ways and very different in others. Thanks for your letter and I can't wait for the next one!
xoxo,
Clara
____________________________________________________________
Here's our Clara's letter translated in German for her pen pal:
Hallo Clara, mein Name ist auch Clara und unsere Nachnamen beginnen beide mit einem P. Meiner ist Petersik. Auch ich hatte im Mai Geburtstag, am 14. und ich bin jetzt zwei Jahre alt. Du bist schon so groß. Ich finde es sehr aufregend auch irgendwann einmal 3 Jahre alt zu werden. Dann kann ich vielleicht endlich auch auf der Schaukel für große Mädchen schaukeln und muss nicht mehr in die Babyschaukel klettern, wie jetzt gerade. Ich wohne in Richmond. Richmond ist bekannt für seinen großen Fluss, der mitten durch die Stadt hindurchfließt. Wenn wir durch die Stadt fahren, überqueren wir ständig über Brücken den Fluss. Ich mag es auch im Fluss zu schwimmen, oder anderen Leuten beim Kajakfahren zuzuschauen. Ich glaube, dir würde es hier auch sehr gut gefallen. Deutschland klingt auch großartig, besonders da ich Kühe, Ziegen und Schafe auch so gerne habe. Auch mein "Bruder Burger" (ein 5 Jahre alter Chihuahua) fände das bei euch toll. Er würde die ganze Zeit hin und her rennen und wild bellen, um die Tiere zu beeindrucken.
Es ist so toll, dass du nun in den Kindergarten gehst. Ich starte mit dem Kindergarten im September und kann es gar nicht mehr abwarten. Im Kindergarten haben sie einen so tollen Spielplatz. Ich gehe am Anfang nur zwei Vormittage in der Woche dort hin. Meine Mama und Papa sagen, sie wissen gar nicht was sie alleine ohne mich zu Hause anfangen sollen, in dieser Zeit. Ich glaube, sie werden mich mehr vermissen, als ich sie. Ich bin schon ganz aufgeregt endlich dort auf dem Spielplatz spielen zu können, oder tolle Bilder zu malen. Ich liebe es, zu malen und mit Knete zu spielen.
Dein Waldkindergarten hört sich aber auch sehr lustig an. Ich liebe es, im Wald zu sein. Stöcke, Steine und Sand sind meine allerliebsten Lieblingsspielzeuge auf der ganzen Welt. Wenn wir uns treffen, müssen wir unbedingt zusammen im Wald spielen und zusammen singen. Ich singe und tanze genauso gerne wie du, musst du wissen. Mein Lieblingslied im Moment ist "Put A Ring On It", gesungen von den Chipmunks. Außerdem liebe ich wirklich jeden Song von Adam Levine. Wenn immer ich auch im Radio ein Lied von ihm höre, rufe ich ganz laut seinen Namen und meine Eltern müssen lachen.
Ich bin so aufgeregt und glücklich mehr über dich zu erfahren und dich als meine Brieffreundin besser kennenzulernen. Dass du zum Ballett gehst, finde ich auch sehr spannend. Ich gehe zur musikalischen Früherziehung, einmal pro Woche. Meine Eltern haben mir versprochen, mich auch in einem Tanzkurs anzumelden. Vielleicht gehe ich auch schon ganz bald zum Ballett, so wie du. Ach Clara, es wird so ein Spaß werden, die Welt mit deinen Augen zu sehen und zu lernen wie es ist in Deutschland ein kleines Mädchen zu sein, dass auch noch ganz genauso heißt wie ich. Es wird bestimmt vieles geben was für uns beide gleich ist und trotzdem in vielerlei Hinsicht ganz verschieden.
xoxo,
Clara