Author Archive
By now you probably know going to the State Fair of Virginia each fall is a family tradition of ours (here are pics from 2012 and 2011, which started off with a very similar picture – although Clara was willing to pose for it that time). This is one of those you-sit-in-a-fake-roller-coaster and take the picture shots – and then you turn it upside down to look like you're really riding. I love that Sherry pulled her ponytail up to add to the illusion.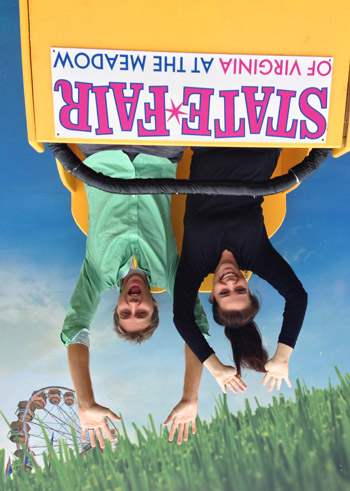 This year we went while Nonna was in town, so we ended up there on a crowded, cloudy Saturday afternoon instead of our usual weekday evening approach. It was a bit tougher to navigate and the sights weren't quite as pretty, but a good time was still had by all.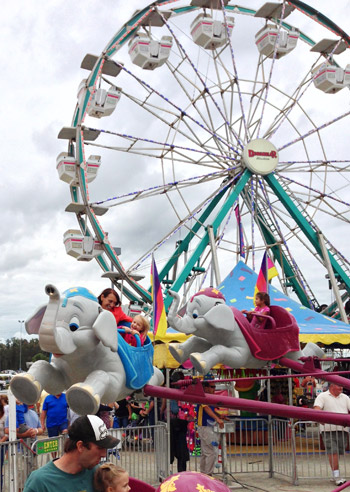 Most of our time was actually spent riding rides this year, marking a slow transition away from the animal- and food-centric trips from before. So there was a spin on the imitation Dumbos and the Nemo-ish fish.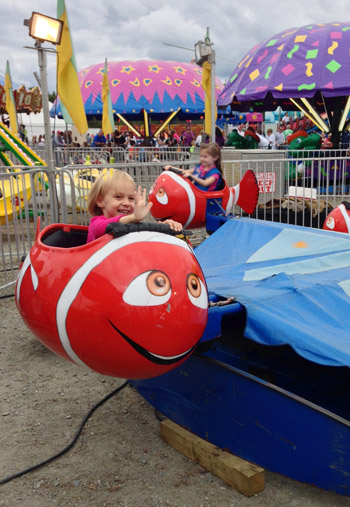 And rounding out our knock-off Disney trip, there was even a stop at the teacups. Which I was convinced Clara was going to hate (and tried to talk her out of, partly for my sake too) but we both ended up having a great, not-too-dizzy time.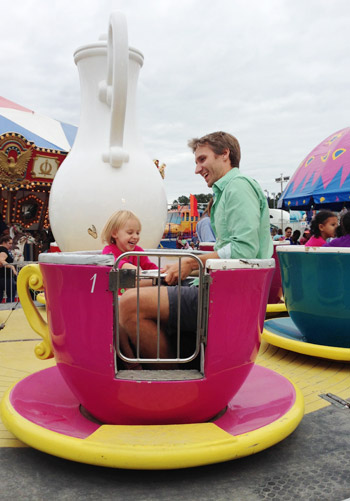 Although my favorite ride moment was on the "Rockin' Tug" which spun you around while it went back and forth. Clara dubbed the scary face behind the ride as a "shark" and everytime we passed it she excitedly screamed "Don't get us shark!" No fear. All fun.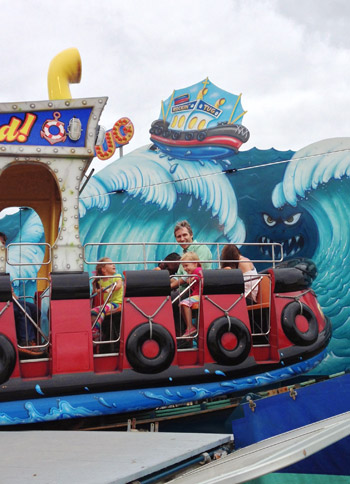 And of course there was another trip down the big slide together.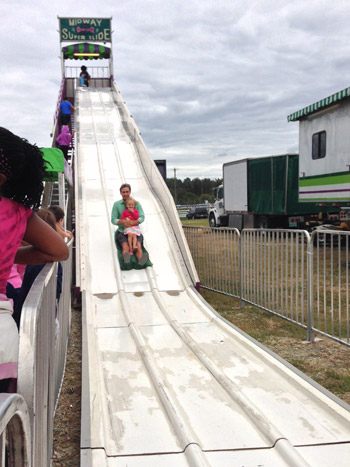 Clara finally got the joke of putting your face in these holes to make it look like that's your body, so we stopped at just about every one we saw. Here she and Nonna are rocking American Gothic.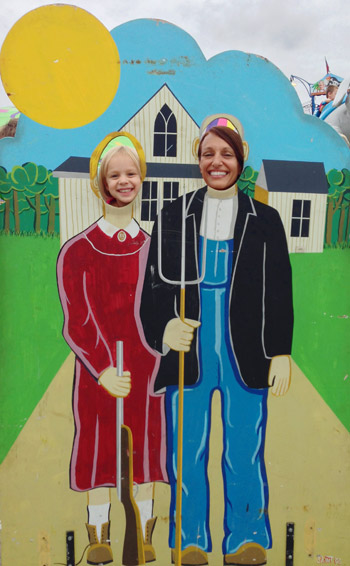 And she even went solo at the Sesame Street one (why an Ernie, but no Bert? Isn't that against the law or something?)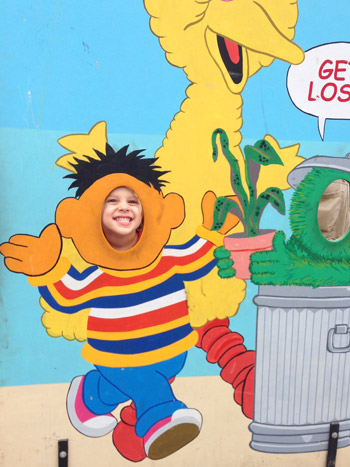 We did take some time out to look at the animals and eat some food, but none of the stereotypical fried-on-a-stick variety. So no good photo ops there. Is anyone else hitting up the state fair these days? Or otherwise enjoying the fall weather?
We've had a bunch of beautiful weekends lately so we've been eating up as many summer-ish activities as possible before the weather turns. One such activity was Richmond's 2013 Street Art Festival. We'd been to the inaugural festival last year, but this one certainly took it up a notch.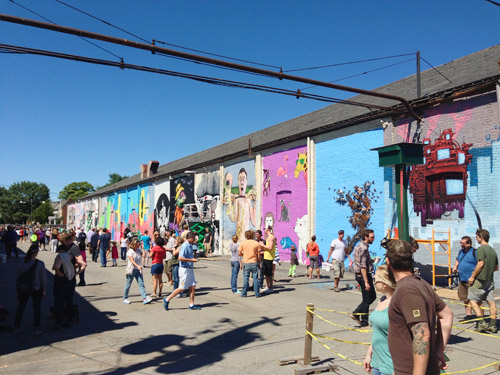 The site was an old bus depot that was once a repair station for Richmond's 19th-century electric street car system (which was the first in the country, preceding the now famous San Francisco system). There were tons of old buildings not being used, so bravo to whomever thought up the idea of allowing local artists to cheer them up with a little paint.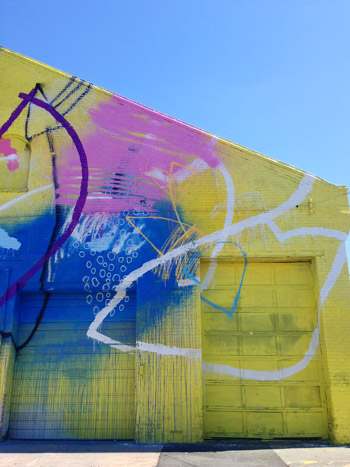 It's just another reason we love this city.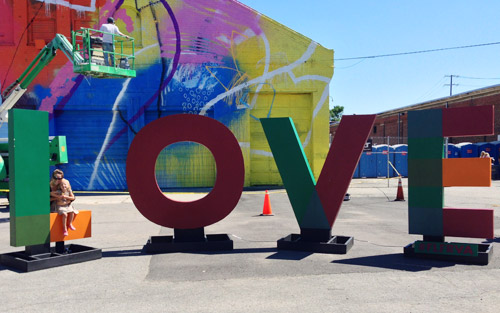 There was plenty of eye candy, like an appearance by our favorite wheeled bees by painter Matt Lively.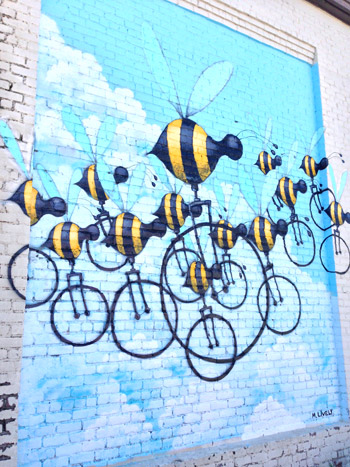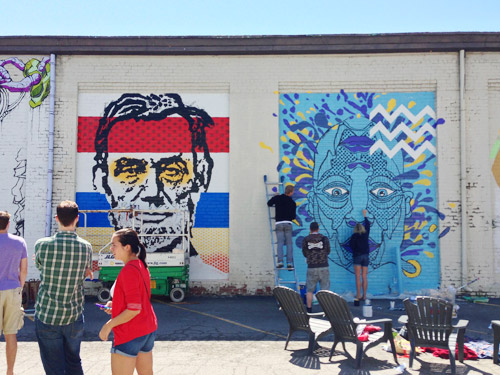 There was lots of interactive stuff that got people involved in the art taking place. This drip art mural invited kids to ride up in the lift to help drip paint down the wall. Had the line been a bit shorter and had Clara been a smidge older, we totally would've been up there.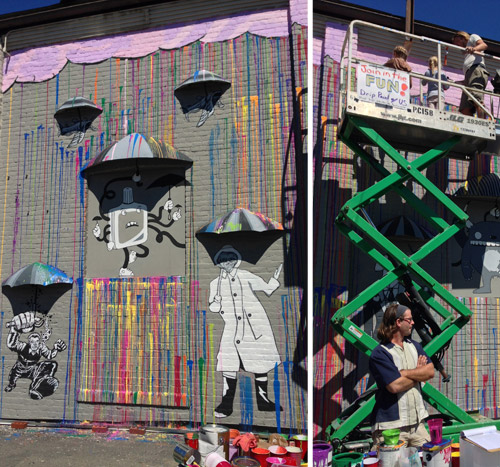 They also debuted a mural called The Light of Human Kindness that was inspired by acts of kindness that people submitted online. It's laced with LED lights that illuminate when people continue to post kind acts online (you can see more of the mural and read or submit stories here).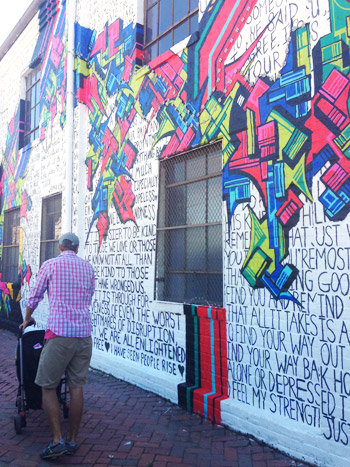 And as if this giant woodcut map wasn't enough to get me excited…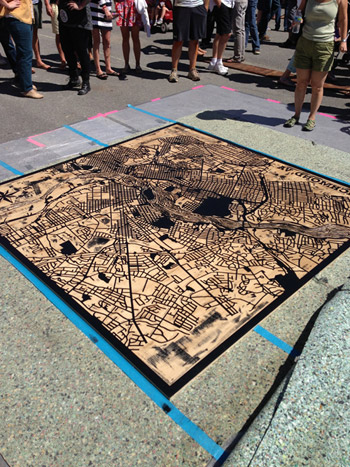 It was actually a giant print that Studio Two Three was using to create a huge piece of art… using a STEAMROLLER. We were all pretty mesmerized by the process. Clara especially liked the "digger" (which is what she tends to call every piece of construction equipment these days).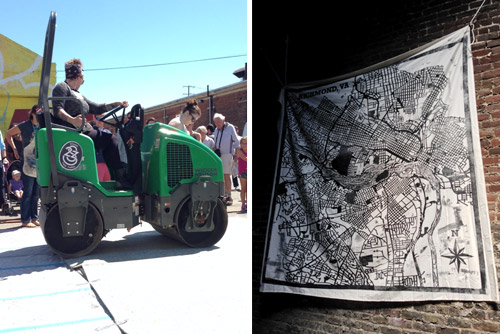 Clara was also very much into any art that featured animals in it. Word.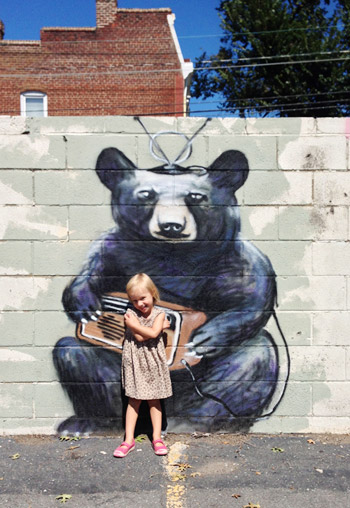 Sherry was particularly fond of this small Escher-ish painting.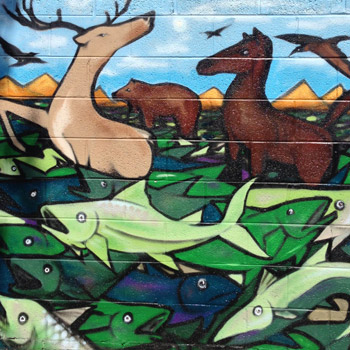 And I like just about anything with a president on it.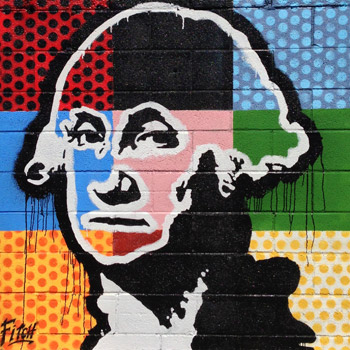 A president or bikes, I guess.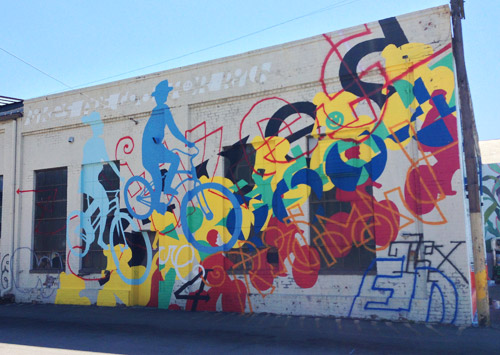 And beyond just being able to watch the artists at work, there was a pretty festive vibe this year. There were TONS of people and everywhere you looked there was something going on – usually with some bright paint involved, like this cheerful half pipe.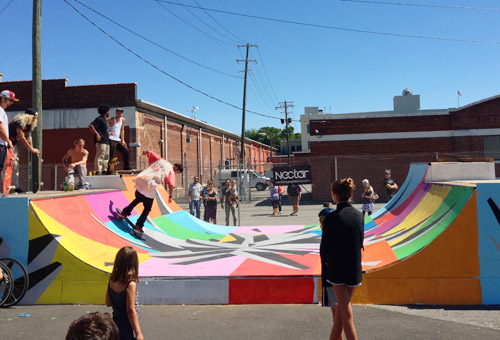 There were also a bunch of food trucks lined up (like most cities these days, food trucks are EVERYWHERE in Richmond). We skipped the traditional lunch and just got donuts instead. We'd heard awesome things about Mrs. Yoder's and they did not disappoint. It's like the biggest meltiest Krispy Kreme you ever did taste.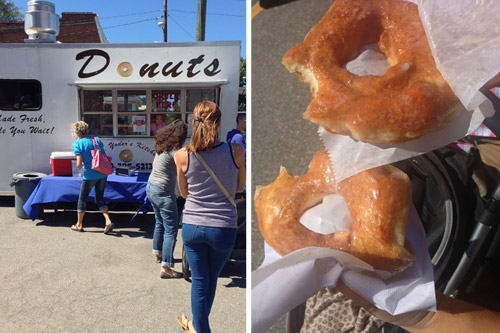 It's events like this that make us feel very lucky to live in a city where there's always something interesting and fun (not to mention 100% free) to help Clara experience the world. So thanks RVA!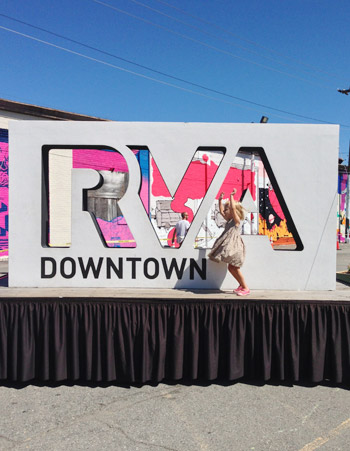 Of course it begs the question. How are they going to top this next year?