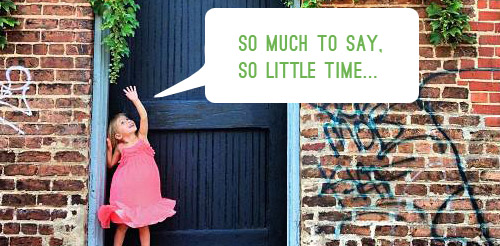 Convo #1
Clara: Mom, you know what I love?
Mom: What?
Clara: Girl cows.

Convo #2
Girl at park: Can I pet your dog?
Clara: Yes, but don't lay on him like me. He doesn't like that very much.
Convo #3
Clara: Did I wake up too early Dad?
Dad: Nope, you had a great nap today.
Clara: Yeah, I'm getting better at napping. Just like I can open the refrigerator by myself!

Convo #4
Mom: What's shaped like a circle?
Clara: An orange!
Mom: Yes! What else?
Clara: The bottom of my cup!
Mom: Yes! What else?
Clara: Um… a… (excitedly points to my round belly) BABY!!
Convo #5:
Grammy: What do you think your brother's name will be? What about an A name like Austin?
Clara: Yes! Let's name him Awesome!
Psst- Check out dozens of other conversations with Clara here.
&nbsp Comment

&nbsp&nbsp&nbsp

&nbsp

&nbsp
If you enjoyed this post, please leave a comment or subscribe to the feed and get future articles delivered to your feed reader.
80 Comments