Archive for September, 2013
At the very start of summer we decided we were going to take Clara to see her first movie at the theater. We felt like she was old enough to pay attention through the whole thing and the sequel to her favorite movie at home, Despicable Me, came out in July. Well… it took us 'til September to actually make it happen.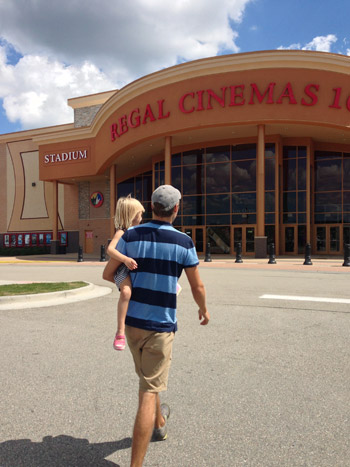 It was the last Friday before school started the following week, so we figured it was a nice exciting event to close Clara's summer. By some miracle Despicable Me 2 was still playing, so we figured the chances were good that we'd have some little theater all to ourselves (i.e. no other people to disturb). Well, we did have the theater all to ourselves. Only it wasn't little. How a movie that had been out for so long ended up getting assigned to this giant theater, we'll never know – but we loved it.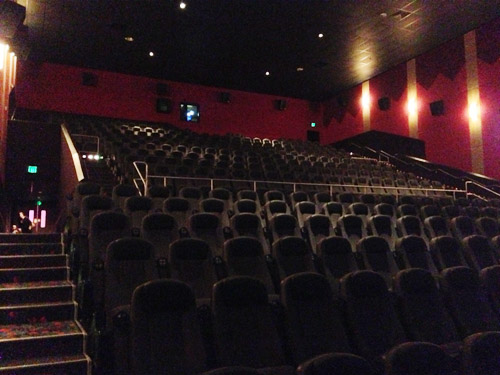 Even though we had full reign of the stadium theater we still thought it would be good practice for Clara to learn not to scream out "I love Gru" everytime he walked on screen. So we employed some of the techniques that our mom-friends had suggested, which mostly boiled down to "keep them busy with food."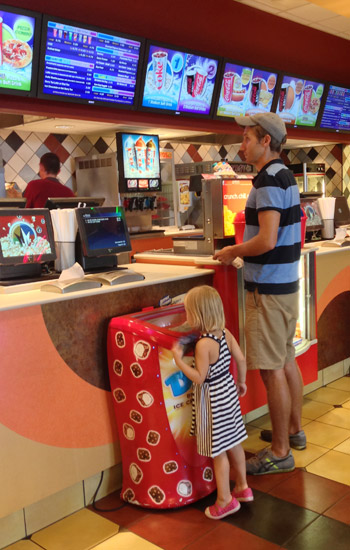 Before we even entered the theater, Clara was already thoroughly enjoying the movie-going experience thanks to this talking display.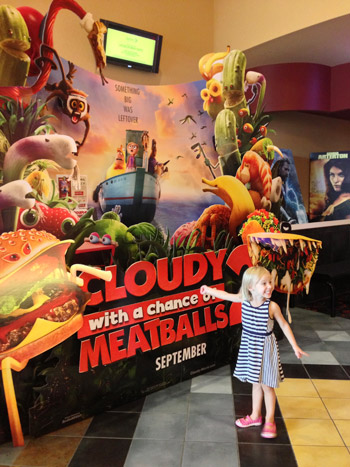 It was fun seeing how novel the experience was through her eyes. Everything was exciting. Walking up the stairs to our seats. Chowing down on some movie popcorn. Sitting in the folding seats that were determined to fold her up.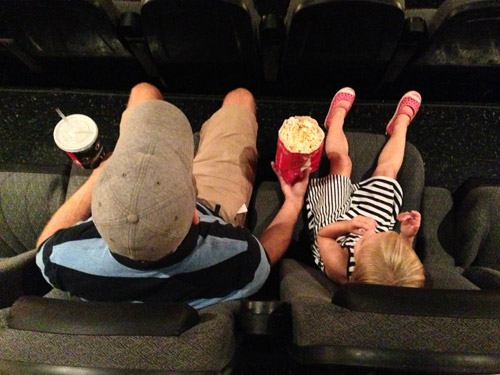 And of course the big screen. There was lots of pointing and marveling at the big screen for a while. Sherry was in mom-mode. Intent on documenting everything, she even hopped up to get some photos from the row behind us. #momsandtheircameras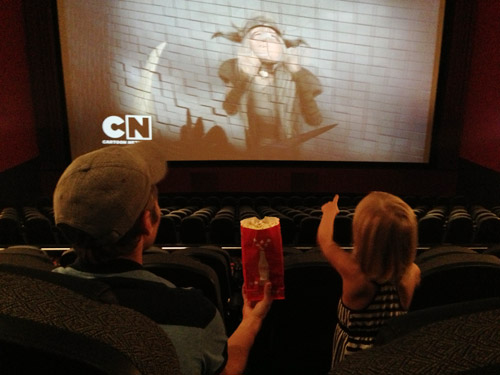 Even though there was no one around us to disturb, we still practiced being quiet. I won't say Clara completely succeeded in that throughout the movie. She might have a future career as a film narrator.
Despite being a bit vocal in some parts, she did really well. She sat in her seat nearly the entire time (she got up once to dance with the characters) and we didn't even have to dig into any snacks other than the popcorn. Our only rough patch was when we had to convince her to take a potty break even though we couldn't pause the movie. But overall, we're quite proud of our freshly minted cinephile.
Our family tradition of capping off summer with a weekend spent at my parent's beach house in Delaware continued this year (with some bedroom painting squeezed in there too for good measure). And, just like last year, we did our best to fight our compulsive urges to photograph and document everything we did at the beach instead of just enjoying it.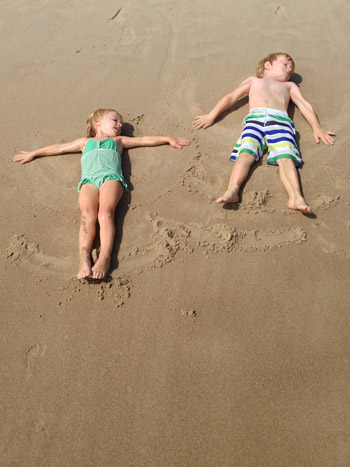 We didn't even bring our good DSLR camera with us, deciding to just rely on our iPhones if a moment struck us as particularly photo-worthy, like Clara and her cousin Emanuel's attempt at sand angels above. Or Burger trying to keep his cool next to his much larger cousin Tuck.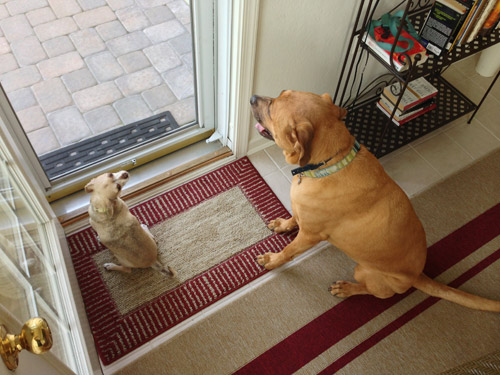 Being Labor Day weekend, the beaches were pretty packed. We have plenty of early risers in our family, though, so we managed to get there early enough to reserve a good spot before things got too crowded. This is what 10am looked like.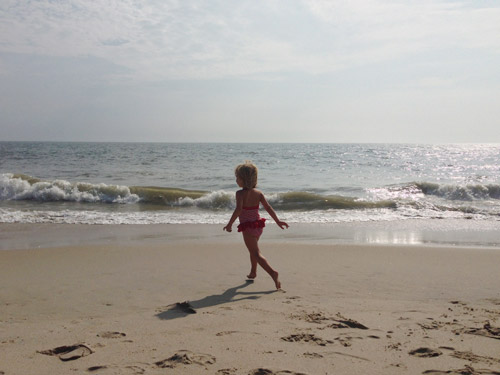 And here's what 1pm looked like: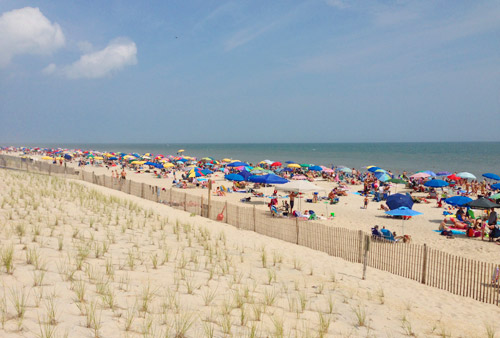 We didn't really venture out to do much more than hitting the beach (i.e. no bike rides or kayak trips like usual) since most of the kids just napped in the afternoon, but one exciting evening addition was our brother-in-law's new toy: a drone.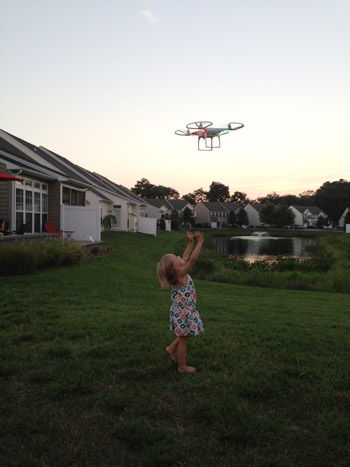 It's actually a work tool for him. He's a photographer and people in his industry are starting to use these more and more (the little braces underneath it can hold a camera) so he brought it to practice his flying skills. But the kids (okay, and us adults) mostly enjoyed chasing it around and making alien invasion jokes.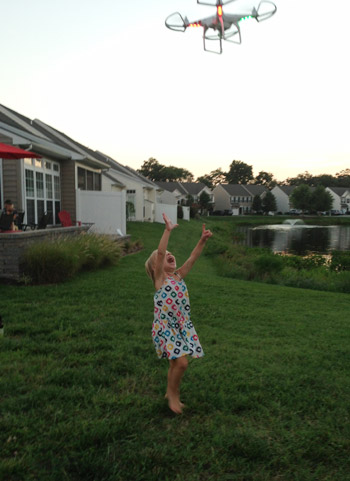 So there you have it. Pretty much the only six decent pictures we took all weekend. I guess for people whose job description includes taking lots of photos, we achieved a pretty labor-less Labor Day after all, except for that bedroom painting mission that we tacked on (but that felt really good to knock out). How'd you guys say goodbye to the summer season? Do anything fun? Take any good pictures?