Archive for August, 2013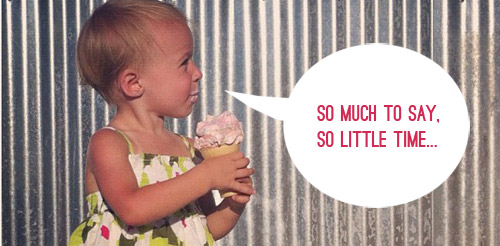 Convo #1
Clara: I like skipping. It's like making my feet clap. 
Convo #2
Clara (overheard while talking to her dolls): Ariel isn't here today because she went to the gym. And then she had a meeting. And then she got kicked in the face.
Convo #3
Clara (sitting in a chair intently watching me sweep): Look, I'm watching a movie of you, Mom! I'm watching a movie of you sweeping the floor.
Convo #4
Mommy (talking to daddy): Have you noticed how much this plant grew?
Clara (running in from another room): Gru?! From Despicable Me? Is he coming over?!

Convo #5
Clara (holding two Lego people and making them talk to each other): "Hi, I'm Eric!" "Hi, I'm Italian!"

Psst- Check out other Clara convos here, here, here, here, here, here, here, here, here, here, here, here, here, here, here, here and here. 
One of our favorite things about Clara is how she randomly bursts into song (like both of her parents). It never ceases to crack us up. Her latest musical number was Starship's "We Built This City" which has become a new favorite song of hers, thanks to The Muppets soundtrack. She even went all-in with Amy Adam's high note.
And speaking of Clara's singing, here's a longer version of the clip that we posted to Instagram last week where she tackles the latest Rihanna song.
Someday I'll remember to hold my iPhone horizontally when I take these videos.