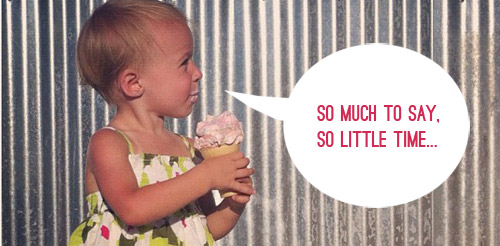 Convo #1
Mommy: What do you want to be when you grow up?
Clara: I want to be a GRINCH when I grow up!!!
Convo #2
Mommy: What number is that? (pointing to a 15 on a box)
Clara: Twelve
Mommy: You're close…
Clara: Horsey!
Convo #3
Clara (eating pickles): Mommy, did that pickle go in my belly… or in my back? 
Convo #4
Clara (skinned her knee and needed a band-aid): Momma, will you be the doctor and I'll be the cryer?
Convo #5
(Pumba passes gas in the Lion King and daddy laughs)
Clara: Why are you laughing? What was that?
Daddy: It was a toot.
Clara: You or me?

&nbsp Comment

&nbsp&nbsp&nbsp

&nbsp

&nbsp
If you enjoyed this post, please leave a comment or subscribe to the feed and get future articles delivered to your feed reader.
81 Comments