Archive for April, 2013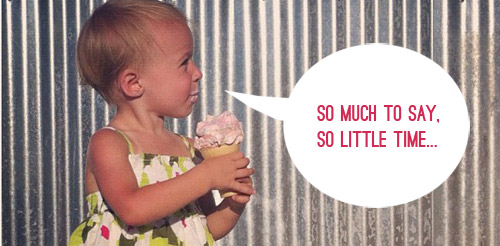 Convo #1
Mommy: If you had an empty room all to yourself, what would you put in it?
Clara: Well… I'd put some gloves and some hats and some coats and… that's all. That will be very cozy. 
Convo #2
Clara: These are my big girl undies. They have princesses on them.
Emanual (her four year old cousin): My daddy used to drive a porche.
Clara: I can drive a… princess carriage!
Convo #3
Mommy: Hey Clara, do you want to paint with me?
Clara: Yes sweetie! That's a great beautiful idea!
Convo #4
Daddy: What does peanut butter taste like to you?
Clara: Maybe it tastes like a… tomato? No! A potato.
Convo #5
Clara (shouting, while chasing a few bigger kids down a rocky trail): THIS. IS. NOT. FUN!
Clearly someone's been noticing her mother's fondness for "phone dates" with her long-distance friends.
And FYI – the "Mary" she's talking to is Marian, our babysitter during our Charlotte book tour stop and Katie Bower is, well, Katie Bower. Apparently it was a conference call or something.