Archive for March, 2013
Even though St. Patrick's Day is about two weeks away, we got the month started off in full holiday mode by going to the St. Patrick's Day Parade in Alexandria, VA this weekend (as some of you may have seen on our Instagram feed).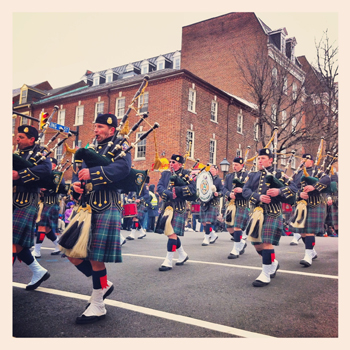 We went as part of a quick overnight trip to see some of our family that lives in Northern Virginia (about 2 hours away). You can see them all the photo below, starting from left, my little sister Carrie, her boyfriend Robert, Sherry, some guy we don't know in the background, my cousin Travis (holding almost-2-year-old Edison) and his wife / Sherry's BFF Cat (who is sporting a "Kiss Me I'm Iowish" shirt to show off her Iowa pride). Oh yeah, and that's Clara and Elsa (Travis & Cat's 3 year old) in the strollers.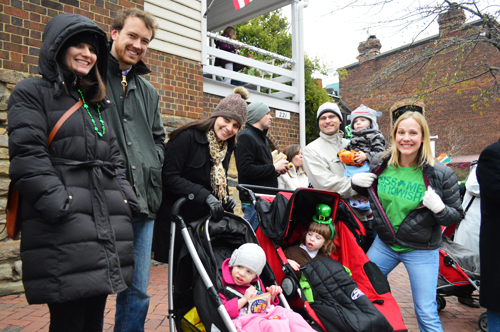 As you can tell by how everyone's dressed – particularly Carrie – it was FREEZING. The forecast was originally for somewhere near 50 degrees, but instead was in the mid-30s. We thought the temperature might make the outing miserable – especially with three toddlers. But, surprise, they seemed oblivious to the weather (yanking off their gloves every chance they got) and everyone had a great time. Phew!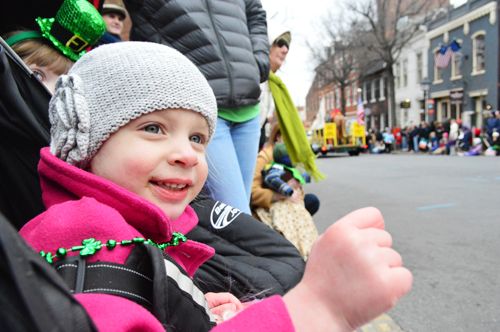 Clara must take after her Grammy, who could be happy watching parades (or fireworks) all day every day.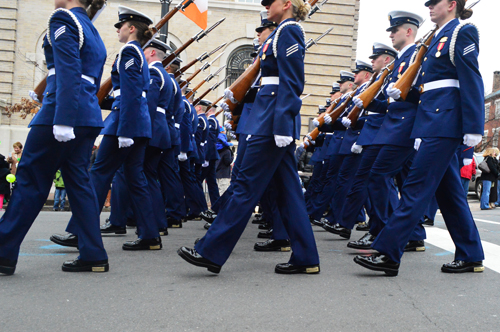 Since we were in the historic part of Alexandria (Old Town) there of course had to be some old school marchers (complete with fifes).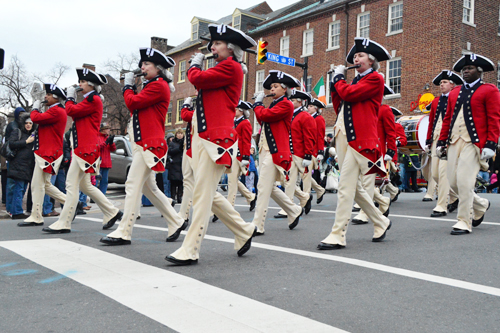 We ended up finding a spot on the parade route after hitting up a very cool toy store called Why Not? (see my bag below) – which gave us the chance to encounter this dog character who Clara absolutely adored (just check out that smile). She was convinced it was Snoofy (that's her version of Snoopy) and totally leaned in with a giant grin.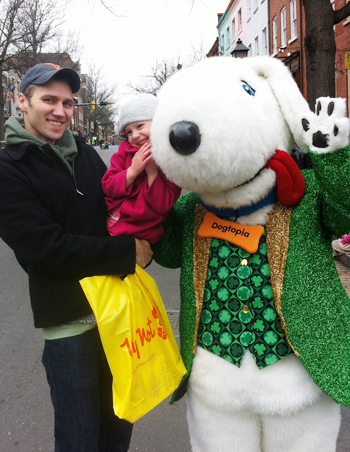 And these sweet Irish dancers got us all into the Irish spirit (my mom's maiden name is Kelley after all). You should have seen Clara's face as they danced by. She was mesmerized.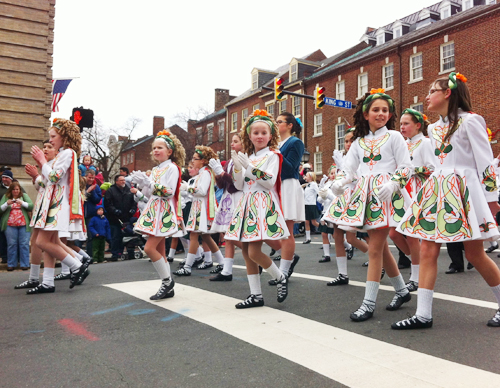 I'm not sure these Kena Shriner cars are Irish, but I'm not one to complain whenever they show up in a parade. They're always a crowd pleaser – along with the free lolly pops that banks or credit unions hand out as they parade by (Clara screams "thank you lady!" or "thank you man!" whenever she gets offered one).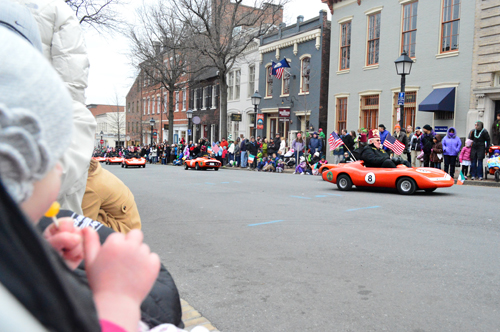 And of course, there was an appearance from the fabled St. Patrick's Day Unicorn who's believed to show up at your doorsteps in the night so that the leprechaun on his back can deliver chocolate gold coins to the good little boys and girls inside. Okay, I totally made that up. I think this was just a local restaurant's attempt to be festive. But I think the St. Patrick's Unicorn should become a thing.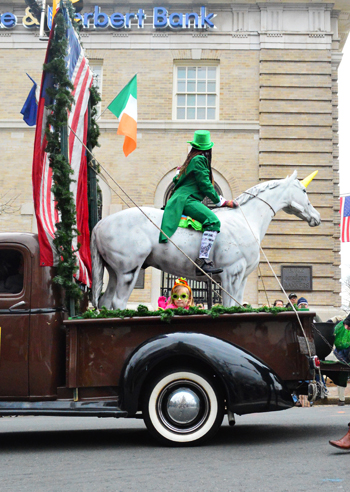 We didn't quite survive the temperatures all the way to the end of the parade. The kids were doing fine, but us adults were starting to loose feeling in our hands and feet since we didn't get to be snuggled under blankets. We felt terrible ripping the girls away from the fun, but luckily we still got to watch a bit more as we the made the long (and toe-numbing) walk back to where he had parked.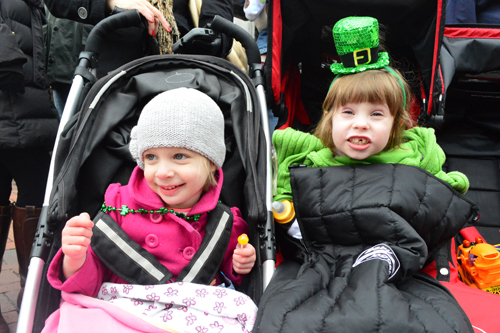 How hilarious is Elsa in that pic above? She'd doing the classic toddler expression of "You told me to smile. Am I doing it right?This is a smile, right?"
Happy early St. Patrick's day folks!